Aishwarya Pissay ended last year on a high as she clinched her fifth straight national rally title in the Ladies Class. But just a few months prior, she had sustained fractures to both wrists. Nevertheless, after months of rehab and training, the TVS-backed rider says she feels stronger than she did before the accident.
We caught up with her to discuss her recovery journey, her latest rally triumph, racing opportunities for 2022 and more.
Recovery after wrist injury
Pissay was competing in Round 2 of the FIM Bajas World Cup in Jordan when she suffered a heavy crash just 60km into the first stage. The incident left her with fractures to both her wrists – a potentially career-threatening injury considering how crucial wrist control is while riding a bike.
After a few surgeries, what followed was months of painstaking rehab as she slowly worked towards regaining her strength and endurance. Not one to give up easily, Pissay was back on the bike three months later, preparing to make her competitive return. Looking back at the ordeal, she remarks, "I came out of it stronger."
Like most other professional rally racers out there, Pissay has endured her fair share of grave injuries. In 2018, ruptured pancreas left her out of action for months. After any injury, the recovery requires steadfast determination. When asked what keeps her pushing through the tough times, she credits her team. "I understand that I race individually, but I think it's more of a team effort," she says.
"The ecosystem that I have around me, be it my entire racing team or my team manager - who was quite supportive from the time the accident happened and saw that I kept the best health to be able to recover in the best possible way - and then my rehab, physios, as well as my fitness and riding coach. All of these people being in place and working on things together is what helped me come back stronger. So yes, the power of me alone is important, but I feel that it's teamwork that's got me back stronger and on a winning streak."
Nearly a year after that accident, Pissay says she's back to being 100 percent in terms of comfort, but there's always room for improvement. "I feel like the accident doesn't influence my riding anymore because I'm stronger than I was before the accident at this point - from a riding perspective as well as my physical strength perspective," she adds.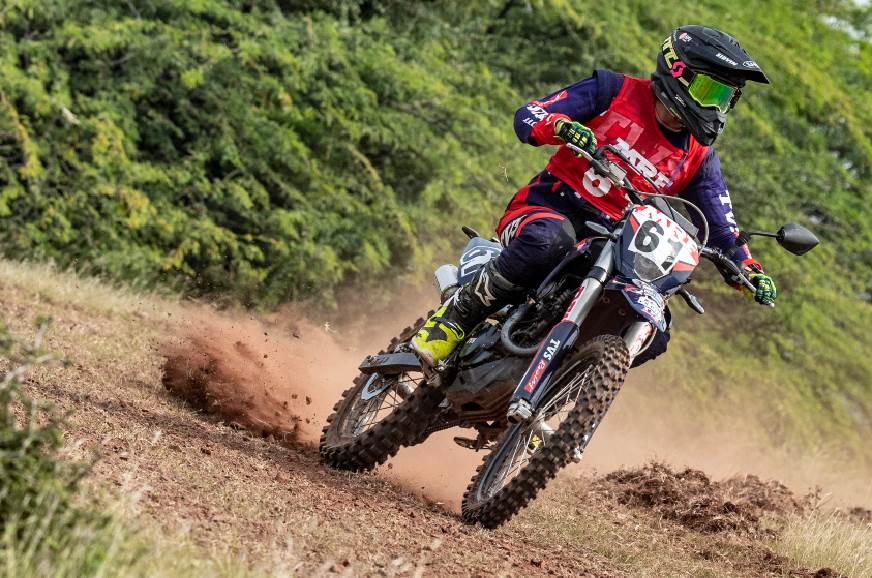 Fifth straight national rally title
Pissay returned to action with renewed determination and went on to enjoy a dominant season in India. She took wins in the women's category of the Rally De Hampi and Rally of Himalayas. She also took home the Ladies Class title in the 2021 Indian National Rally Championship with six straight wins. This was her fifth consecutive national rally title, and her eighth overall if you take into account her road racing and rally efforts combined.
She also credits updates to her TVS Apache RTR200 bike for the commanding victories she's collected in the ladies class. "With the whole pandemic and the accident and everything, I think the goal was to be able to be back on the bike, keep training and be able to come back and give the best performance. And also, this season we had a better, improved bike. Year-on-year our team is working on giving us the best machine and, even in this season, we were given the best machine and every race there were some tweaks that helped us go faster. And I think the results of me and the machine being able to give 100 percent was a win at the championship," she says.
Pissay's going to spend the beginning of this year training in France as she looks to continue working on her skills. "To get faster I need to work on the small little things that will make a difference," she says.
Future plans
Pissay is still waiting to return to competing in international events. Rather than preparedness, it's now a matter of how the pandemic plays out globally. "Based on the pandemic situation, based on how many races might be happening, the team and I will choose what races we do depending on what's available to participate in," she explains.
Her end goal is to be the first Indian woman to compete in the behemoth of all rallies – the Dakar. But she also has her eyes set on the Abu Dhabi Desert Challenge and Andalucia Rally.
Women in racing
In the recent past, Pissay has emerged as a poster child for women in the Indian bike racing scene. While admitting that even globally, participation of women in various fields of motorsport is still low, she also points out that there has been a small turn in the tide in India.
"When I started road racing I was the only woman racing with the men at that point. There were 41 men and there was one girl on the grid. Today there is a whole 16-women grid racing that happens on road where TVS has a one-make series. Even with the rally scenario, women participation has been increasing year-on-year. Last year, we saw about eight women come in to ride in the INRC," she says.
Pissay also credits the work being done by the FMSCI Women in Motorsport commission for further pushing participation at the grassroots level. Additionally, she touches upon just how vital it is to have a manufacturer backing you. "Motorsports overall is a very expensive sport," she explains.
"Why TVS is so important in my journey is because to be a top motorsport athlete, it's not just about being fast on the bike, it's about all the other things that goes into it - the regular training of even being on the bike, having the best bike to train on or a facility to go train at. This is something that TVS provides which helps me be a better rider. Apart from that they also facilitate my physical and mental fitness training. When it comes down to being the best, it's all these small things that add up. And with having a factory team backing you, I think it helps facilitate all of these things, which helps me be a better rider."
Also see: