A small Bengaluru-based start-up intends to build a car to end all cars. We get behind the wheel of their engineering prototype for an exclusive deep dive into what's in store.
Game-changing, disruptive, paradigm shift, just a few words frequently bandied about by marketing folk describing their new cars, new features or even new services. Never have they been truer, however, than right now.
With the electric vehicle finally coming of age, the automotive industry has been stirred up to such an extent that the world's largest selling EV today is built by Tesla – a company that didn't exist two decades ago – and not by any of the century old conglomerates.
Yes, the EV has heralded the return of the automotive start-up, the garage works, the independent builder, and joining these ranks is Bengaluru-based Pravaig Dynamics who not only want to build a better car but also a better way of using it.
The car you see here, the Extinction, isn't exactly it though. It's an engineering prototype that we've had an opportunity to drive in Bengaluru. It's always a thrilling experience to drive a prototype and this one was not any less. Let me begin with the styling, simply because, unlike other prototypes, the Extinction carries a fully styled body with no camouflage whatsoever; after all, it's meant to draw attention to the company and its work.
The production car will look different but minimalistic styling will remain.
In the flesh, the car is easily identifiable as a garage project, but its lines are interesting and it's quite the looker. Dhawal Vinayak Khullar, the COO and one of the founding members, says that, while the final car will be a four-door and with a higher roof, the current car's edgy character and style will remain. And edgy is quite literally the case with much of the Extinction's details. The tail-lights and fender-mounted turn signal indicators are rounded out edges of an acrylic sheet sticking out of the bodywork, and much of the body lines, like the top of the rear bumper, have sharp stylistic edges. The rear of the car is definitely my favorite angle, though regulatory approvals may put paid to the current car's tail-lights.
The car's sides are neat with only the turn indicators breaking the clean surface, the door handles are flush, pop-out style units and there is no charging flap visible; it's hidden behind the rear number plate. The massive, flat shoulder atop the rear wheels does add a lot of flare and muscle, however.
Lighting is minimalistic with a narrowed out section housing two projector headlamps and a continuous LED strip.
At the front, a narrow hollowed-out section runs the width of the car and houses two projector headlamps and a continuous LED strip. For a car with no engine, the bonnet area is massive and houses a boot, given the car's application. The production car's front end will get shorter though, giving more room to the passenger area instead.
Tail-lights nothing more than rounded off acrylic sheets popping out of the body work.
At 4,820mm, the Extinction is a big car and as I step into the hot cabin – there's no AC and the windows are all sealed – I notice that the space, while plenty, could have been better still. In any case, the final car will offer more interior room with what I can see will be a longer wheelbase but with a similar length.
Coming back to the AC or the lack of it, Dhawal explains that this prototype was built mainly to evaluate the powertrain and suspension. The final car will have a cooled cabin and also an onboard air-filtration system with a PM2.5 filter. Siddhartha Bagri, the CEO and Pravaig's other founding member, lets on that the company will also offer a high-end audio system from French audio specialist firm Devialet, which he's confident will be the sweetest sounding among anything on wheels.
Seating at the back of the Extinction is quite relaxed, and though they are not the final units, they are very comfortable. The steep recline is a clear indication of the comfort focus and the production car will carry over the Extinction's strict 4-seat configuration and reclinable seats. Dhawal says they are aiming for a 160-degree recline angle with a slight knees-up position; which is needed to hold a passenger in place in the event of an impact and thus pass safety regulation.
Rear seat legroom is impressive, production car will have even more room.
Between the two passengers is a massive centre armrest that currently doesn't houses anything. The final car will, however, get some cooled storage area and an airline-style fold-away tray that can take a 15.6-inch laptop. Apart from these, each passenger in the final car will get a lot of other goodies like dedicated AC vents, privacy screens, 12-inch illuminated vanity mirrors and charging facilities for phones and laptops.
At the top of the Extinction is a cool spaceship like control panel with buttons for mundane bits like the headlights to more complex prototype controls like the brake servo pump, the motor cooling fan, and a master electrical kill switch. Like the dash, the panel is finished in a machined silver plate and is also backlit through laser cut slits. It's not likely to make it to production, it's just the engineers having some fun here. A pity though, it really does look massively cool.
Overhead aircraft-style controls look very cool.
While customers may not drive the car, we naturally had to, and so after spending some time at the rear and also riding shotgun, I get behind the non-power-assisted and rather weighty steering wheel. Yes, steering gear is another area that this prototype is not setup for. It does not return to centre and is extremely heavy. At parking speeds, I'm heaving my whole body into it and have to rely on the two buttons just below the dash.
Steering is massively heavy, as the prototype's motor calibration is not yet done.
These left and right buttons operate a motor that automatically turns the wheel for you. So yes, there is a motor assisted system but right now its operational algorithm hasn't been developed to safely operate at speeds, and hitting the buttons sends the motor spinning wildly in the direction chosen.
The suspension, on the other hand, has had a lot of work done and I'm very pleasantly surprised at the ride and handling balance. Before the company publicly surfaced last year, they were hard at work building prototypes that included off-road buggies, one of which was a Paris- Dakar-style racer built to FIA Group T1 regulations, and the suspension lessons learnt are clear to see.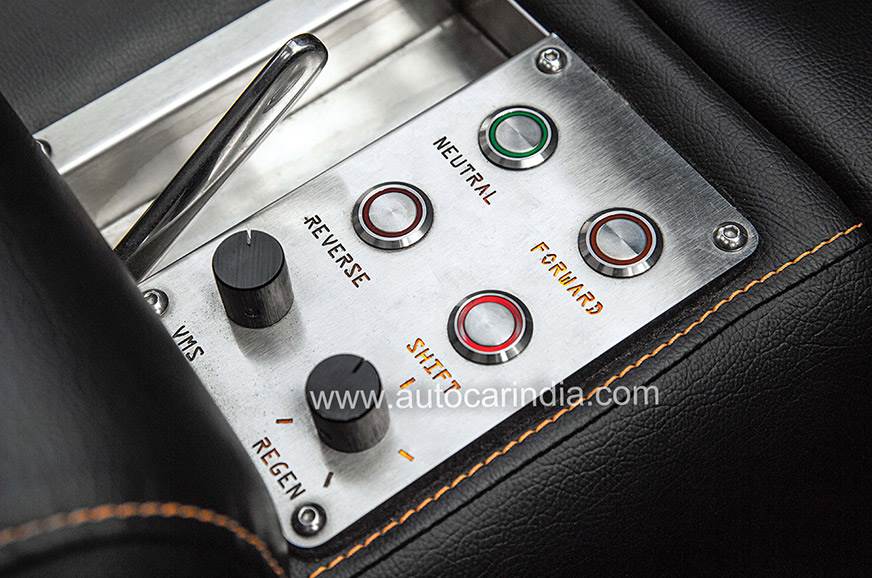 Drive selection is via buttons.
The Extinction has a mature ride (prototype noises not withstanding) and is tuned towards comfort, nicely rounding off bumps and potholes in a very pliant manner. Notably, it also keeps a level body and does not pitch or squat too much under hard braking and acceleration. I mention this to Siddhartha who's quite pleased, saying they specifically worked on this keeping in mind passenger comfort. He also says they are also working on the motor's power delivery character, keeping in mind G-forces and passenger comfort.
instrument panel is a simple LCD screen.
The motor puts out 203hp and is powered by a 96kWh battery pack, which the company says gives the Extinction a range of just over 500km. Thanks to electric motors making all their torque from the get go, power peaks early and then it's linear all through, and the Extinction is no different. There's a slight pause in the off-throttle response but that's more down to some play in the pedal and not the motor's responsiveness. After that, power comes in instantly and is linear all through. Pravaig claims a 0-100kph time of 5.4sec. But that's on full operational power, right now the prototype is running at 65 percent of its operating capability. Still, the acceleration is nice and strong and keeping up with traffic is quite easy, overtaking too is a breeze. Speed breakers, however, are a challenge but after belly scraping our way over one, Siddhartha points out that the final car will have a very high ground clearance, somewhere around 200mm, keeping also in line with its crossover-style body.
A 96kWh battery gives the car a range of around 500kms.
Speaking of which, the Extinction's body is made of aviation-grade, fibre-reinforced plastic, as will also be the production car. At an initial target of 2,500 units per year, sheet-metal tooling makes little sense and, in any case, Pravaig are quite confident of the fibre body's performance in crash tests; they are aiming for a very high Euro NCAP star rating.
Pravaig is also looking at building the car with far fewer parts. Not just with an aim to reduce costs but also complexity, and thus chances for failure. For instance, while in other cars the dashboard mounting bar is simply a sturdy hollow beam, in the Pravaig it will also double as the air channel for the front AC vents. Rather clever, and that pretty much sums up this entire operation; a bunch of clever folks with a clever idea and approach. It's all very promising and I'm eager to drive the production car, which I estimate should be about two years away, given the Extinction's level of development. But Siddhartha says it could happen in the next few months; I guess then being a light, flexible and well-funded start-up, they are working at 'Pravaig' or max achievable velocity in Sanskrit.