Passenger vehicle (PV) sales had lost their sizzle as fiscal year 2020 opened and most automakers had kept a lid on their expectations. It was felt that the customer surge in buying BS4 models ahead of the BS6 mandate in April 2020 would compensate for year-long tepid sales. However, PV sales crashed as a result of the fast-deteriorating consumer sentiment, sluggish economic growth and the uncertainty brought about by the shift to BS6. Such was the slump that industry body Society of Indian Automobile Manufacturers' (SIAM) own conservative estimates of low single-digit growth seemed rather ambitious.
The festive season did bring some respite, albeit aided by discounts and schemes. Still, few could ever have imagined a force majeure situation at the tail end of the fiscal, where the coronavirus pandemic sent the country into a lockdown, forcing carmakers to halt production and clobbering sales further.
According to SIAM data, sales of PVs – cars, utility vehicles (UVs) and vans – fell 17.87 percent to 27,73,571 units in the year ended March 2020. The hardest blow was felt in March as volumes plunged 51 percent due to the lockdown.
UVs were the sole sub-segment among PVs to buck the drop in sales. Volumes, however, remained flat over last year (9,46,006 units, up 0.48 percent), while those of passenger cars (16,95,441 units, down 23.57 percent) and vans (1,32,124 units, down 39.23 percent) came under severe pressure. Resultantly, the share of UVs among overall PVs increased from 28 percent in fiscal 2019 to 34 percent in fiscal 2020.
The heightened appetite for SUVs worked strongly in the favour of new entrants such as MG and Kia, with their respective debut models, the Hector and Seltos, allowing them to eat into the UV market share of other automakers at a time when the rest of the industry continued to feel down in the mouth. MG ended the year with 21,954 units in sales, with a UV market share of 2.32 percent, and Kia sold 84,903 units, capturing a whopping 8.97 percent UV market share in its debut year. More on this later.
Cumulative sales across all vehicle types (PVs, CVs, 2W and 3W) declined 17.97 percent to 21,546,390 units, a stark contrast from driving past the 25-million-vehicle mark for the first time in FY2019.
Meanwhile, sales of electric four-wheelers declined 200 units to 3,400 units, according to the Society of Manufacturers of Electric Vehicles (SMEV).
Further, the share of diesels among PV sales dropped from 36 percent to 29 percent, while that of petrols increased to 71 percent from 64 percent. Among UVs, the share of diesels dropped to 65 percent (FY2019: 83 percent), while that of petrol rose to 35 percent (FY2019: 17 percent).
Maruti Suzuki
PV market leader Maruti Suzuki saw its volumes drop 18.24 percent yearon-year to 14,14,346 units during FY2020. However, it continued to account for one out of every two cars sold with a market share of 51 percent, nearly unchanged from the previous fiscal. The carmaker launched the XL6 (22,117 units), a premium derivative of the Ertiga MPV, in August 2019, followed by its latest budget model, the S-presso 'mini-SUV' (56,962 units) in September 2019.
Maruti's entry-level models such as the Alto, Alto K10 (and later, the S-presso) were the worst impacted, with overall sales falling 33 percent to 2,47,776 units. Its compact segment cars such as the Ignis, Celerio, Swift, Baleno, Dzire and the WagonR together sold 7,87,610 units, down 9.7 percent YoY.
On the UV front, the Vitara Brezza sold 1,10,641 units, down 30 percent over FY2019. Maruti concluded its transition to BS6 shunning diesels, with the diesel-only Brezza receiving Suzuki's 1.5-litre petrol in early February. Combined with the S-Cross, Ertiga and XL6, Maruti's overall UV portfolio saw an 11 percent drop in sales to 2,35,298 units, but the decline was cushioned by a positive response to the Ertiga (90,543 units, up 39 percent).
Although Maruti insiders haven't completely written off diesels, as things stand, it drives into the new fiscal with a petrol-only portfolio, even for traditionally diesel-centric segments such as SUVs. It is positive that the rising preference for petrols among new vehicle buyers will work in its favour and – as far as the Brezza diesel goes – even result in a 'one-to-one replacement' of its volumes.
Hyundai
India's second-largest carmaker by volume recorded an 11 percent decline in sales to 4,85,309 units. The extent of the fall was the lowest amongst all carmakers affected by the slowdown on the back of strong demand for the Venue (93,624 units). In fact, the compact SUV helped the Korean carmaker expand its UV market share to 18.69 percent, up 5.32 percent and tantalisingly close to Mahindra (18.96 percent). Meanwhile, PV market share rose to an alltime high of 17.50 percent.
However, Hyundai's usual front runners like the i20 (1,08,091 units, down 23 percent), the Grand i10 – including the new Nios – (99,592 units, down 21 percent), and the Creta (82,074 units, down 34 percent) couldn't escape the slump.
Launched in the second half of FY2020, the Santro sold 51,614 units (up 8 percent). Although Verna's sales declined 47 percent to 20,894 units, the recent launch of the facelift should see its prospects improving in FY2021.
Hyundai goes into the new fiscal 2021 ready to take on the Dzire (the Xcent is now taxi-only) with its brand-new Aura. Interestingly, in a stark contrast to Maruti, Hyundai is pushing ahead with diesels, and even has the smallest BS6 diesel in India. It stands to gain if Indian buyers, especially of SUVs, are willing to fork out a premium for BS6 diesels for the promise of lower running costs.
Mahindra
Fiscal 2020 was challenging for homegrown carmaker Mahindra & Mahindra as it posted a 26.50 percent decline in sales to 1,86,942 units. Volumes of its highestmseller, the Bolero, dropped 30 percent to 50,265 units, while the Scorpio fell 18.83 percent to 38,826 units.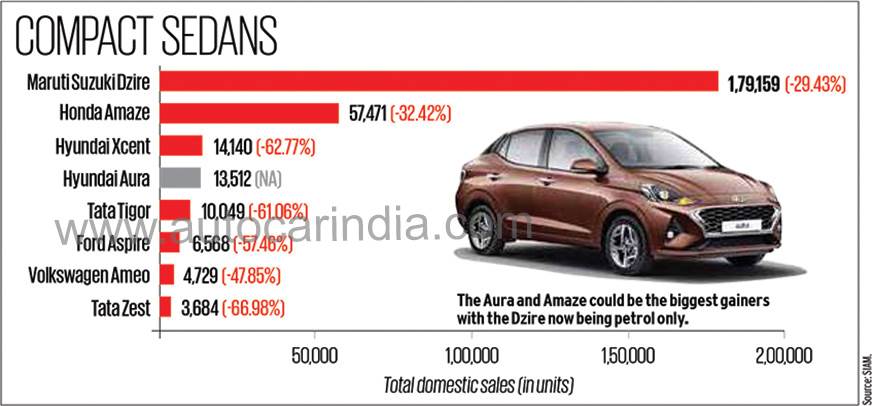 Mahindra's UV market share shrunk 6 percent, to 18.96 percent, leaving it staring at the possibility of being overtaken by Hyundai (18.69 percent). In its first full year of sales, the XUV300 went home to 37,576 buyers at an average of around 3,100 units per month.
The underlying slowdown in the market kept volumes subdued for most part of the year and the situation worsened in early 2020 as Mahindra couldn't ramp up its BS6 production as planned due to coronavirus-led supplier issues.
The automaker has just launched the BS6 Bolero, and has the BS6 Scorpio in the pipeline, both of which could prop up numbers once sales resume. The launch of the new Thar and XUV500, and the rollout of its new mStallion petrol engine family in FY2021 could help generatebuzz and momentum around the brand.
Tata Motors
Tata Motors recorded the second-highest percentage drop in volumes among the top 10 automakers, as it closed FY2020 with sales totalling 1,38,238 units, down 40.29 percent. Its usual top volume grossers such as the Tiago and Nexon declined 46.55 percent and 21.35 percent to 49,364 units and 43,260 units, respectively.
The Harrier, one of the most anticipated vehicles in its segment, sold 12,856 units during its first full year (17,219 units cumulatively), logging in a sub-par performance. One of the reasons was the lack of an automatic gearbox option and a sunroof, both of which are becoming must-haves for a lot of Indian car buyers. Tata has made amends with the 2020 Harrier which packs in an auto gearbox option and a largest-in-segment panoramic sunroof.
Toyota
Like most other carmakers, Toyota also witnessed a drop in sales. Volumes declined 24.21 percent to 1,14,081 units in the 2020 fiscal. Sales of the Innova, Toyota's topselling model in India by a huge margin, shrunk to 53,686 units, down 31 percent.
With the shift to BS6 marking the end of road for the Etios family, the Glanza, which sold 24,380 units in its debut year, is now the most affordable Toyota.
Despite a drop in sales, the Fortuner (12,963 units, down 38.68 percent) remained well ahead of its key rival, the Ford Endeavour (6,470 units, up 11 percent). The Yaris (3,602 units, down 70 percent) had a tough year but the company is making amends by rolling out finance schemes and even plans to launch a taxi variant, which could boost the midsize sedan's volumes.
Honda
Honda suffered the worst drop in PV sales among the top 10 carmakers. Volumes crashed 44.49 percent to 1,02,016 units, dragged by the weak sales of the Amaze (57,471 units, down 32 percent), the City (20,912 units, down 49 percent), and the WR-V (11,926 units, down 63.87 percent), among others.
The Civic, in its first full year of launch, sold 3,024 units, maintaining its lead over the Skoda Octavia (2,374 units, down 10 percent). The Civic might further benefit from the coronavirus-led delay in the launch of the new Octavia.
Honda's hopes for a volume model now rest with the soon-to-be-launched fifth-gen City. The sedan will come with a diesel-CVT combination for the first time, and the option of a diesel could give it an edge over the Ciaz, which will be a petrol-only model.
Renault
Renault was the only automaker to grow in a challenging FY2020, on the back of the new Triber, with sales of 89,534 units, up 12.40 percent. In fact, the Triber (33,860 units) enabled Renault to grow its UV market share by 3 percent, to 4.52 percent, and jump two spots to become India's sixth-largest PV maker.
Sales of other Renaults, such as the Kwid (46,766 units, down 28 percent), the Duster (7,837 units, down 24 percent) and Captur (719 units, down 80 percent) dropped due to weak demand.
Kia Motors
Kia made a smashing entry in India ending the fiscal with 84,903 units in sales, and its thumping success almost made it seem like the slowdown that grappled most other automakers was a myth.
The Korean brand's debut model, the Seltos SUV, struck a chord and how, with car buyers and critics alike. The model sold 81,716 units averaging around 10,200 units per month since its launch in August and helped Kia grab a robust 8.97 percent of the UV market share and a 3 percent share among PVs.
Interestingly, Kia's overall volumes peaked to 15,644 units in February 2020. Good news flowed fast and thick for Kia throughout the year: the Seltos was adjudged 'Car of the Year' at the Autocar Awards 2020.
Kia has further upped the ante by launching the luxurious Carnival MPV (3,187 units) in early February 2020. Raring to go, the carmaker now has the popular compact SUV segment in its sights with the Sonet being primed for launch later in the year.
Luxury Vehicle Sales Dive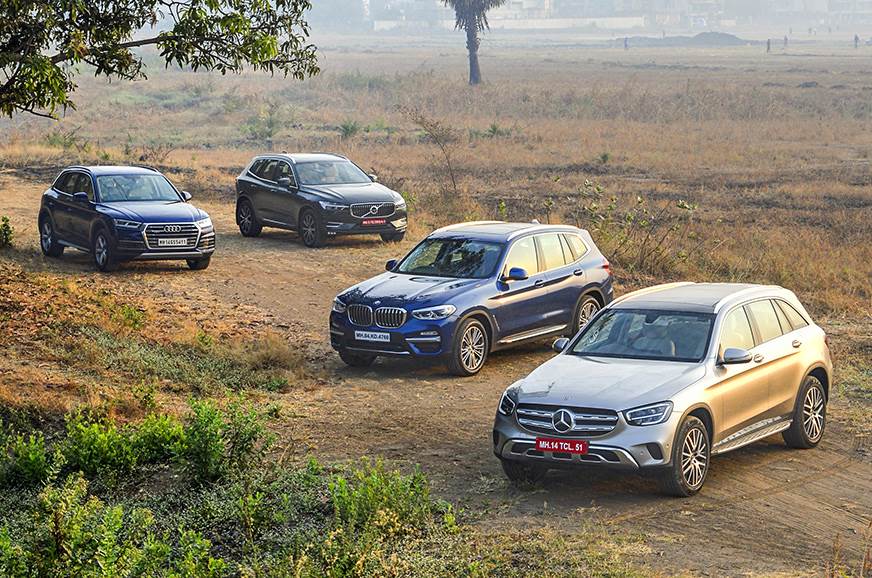 For luxury carmakers in India, there was no escaping the slump that had consumed most of the PV market. Rising interest rates, liquidity crunch and high import costs weighed heavy on sales. In calendar year 2019, total luxury segment volumes dropped to an estimated 35,000 units from 2018's estimated sales of 40,688 units.
Mercedes-Benz India sold 13,786 units, down 11.27 percent, but retained the crown of India's top luxury carmaker. Second-placed BMW (including Mini) sold 9,641 units, down 13.18 percent over calendar year 2018, and Audi India's sales fell to 4,594 units, down 28.91 percent during 2019 — its third consecutive decline.
Porsche bucked the trend, selling an estimated 355 cars, up from the estimated 348 units sold in 2018. JLR and Volvo did not reveal their sales numbers for the full year.
Outlook
While silent, car-free streets, clear skies and better air quality are just tiny silver linings of the extended lockdown, the situation has turned grim for carmakers. Going into FY2021, the auto industry is already staring at a 25-35 percent decline in PV sales initially, according to SIAM, as the coronavirus pandemic has brought manufacturing to a grinding halt. Fresh from a colossally expensive shift to BS6, automakers might face more pain with a drop in showroom walk-ins and uncertainty in future sales.
Once production cranks back into gear, albeit in a phased manner, some automakers might be faced with a wobbling supply chain, stress on the vendors' side, and, in case of large conglomerates such as Maruti, a big rise in unsold stock eating up factory space.
With launch timelines already out of whack, automakers will be forced to revisit strategies once operations resume. With 'social distancing' being the new normal in India, PV dealers will have to increase their online presence substantially. The focus is already on improving the digital purchase experience, with carmakers like Tata Motors, Hyundai and Toyota rolling out portals to that effect. While consumers might not shift to a complete online purchase immediately, the presence of such platforms could reduce the need to visit a showroom.
Moreover, the ensuing financial strain on the economy and disposable income of consumers could extend the purchase timelines and shrink the allocated budget for some car buyers. The latter could possibly even see buyers settling for a lower-segment model than originally planned, potentially shifting more demand to the mid/entry-level segment.
With April 2020 being a washout month and May threatening to be so too, there's little doubt FY2021 is going to be a difficult fiscal. However, it could still spring up a surprise or two. With commuters likely to shun shared mobility and public transport for some time, the demand for personal vehicles could go up. Also, demand for SUVs, in line with global trends, is not going to go away very soon either, and with a gaggle of new products lined up this year from brands old and new, expect the UV segment to again perform the sales buffering act.
NISHANT PAREKH
Also read:
Seven Maruti Suzuki models in FY2020's top-10 bestselling PVs list