Porsche is the latest luxury carmaker to go down the 'coupe-SUV' route, following the likes of the BMW X6, X4 and X2, the Mercedes-Benz GLE Coupe and GLC Coupe, and the Audi Q8. As with the aforementioned cars, the Cayenne Coupe takes an conventional SUV and gives it sloping or 'fast' roof, for a far more aggressive look, but with a penalty to rear headroom. The Cayenne Coupe will be launched in India in two guises - the base V6 and the V8-powered Turbo - in December 2019. The top-spec Cayenne Turbo S e-Hybrid Coupe with the 680hp V8 PHEV powertrain, could be launched at a later stage. Read our review here.
The powertrains remain unchanged from the standard Cayenne, with the turbocharged petrol V6 serving up 340hp and 450Nm, and the Turbo variant powered by a 550hp, 770Nm twin-turbo V8. Both cars get all-wheel drive and an 8-speed automatic gearbox.
There are some changes, however. The Cayenne Coupe is 18mm wider at the rear with a wider rear track, and while the standard Cayenne has its active spoiler mounted on the roof, it sits lower on the tailgate here, as in the Panamera. Boot volume is at a very substantial 625 litres (600 in the Turbo). As standard, the Cayenne Coupe gets a fixed glass panoramic roof, but as an option, you can get a carbon-fibre roof which helps keep weight low and lower the centre of gravity as well.
While there is no indication of the price as of now, expect to pay a seven-digit premium over the regular Cayenne.
Click here for all Porsche India models, prices, reviews, images, videos and more
Porsche Cayenne Coupe India video review
35800 Views|2 years ago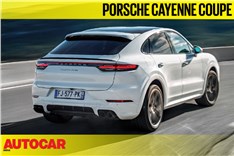 Porsche Cayenne Coupe video review
14399 Views|3 years ago