Mitsubishi is working on a new strategy that will reorganise its SUV line-up so as to create more space and differentiation between the brand's SUV models sold in the international market like the Outlander, Eclipse Cross and ASX. This new strategy is set to roll out by 2020 and will make use of the Renault-Nissan-Mitsubishi Alliance, which the carmaker joined back in 2016. This alliance provides Mitsubishi with access to the shared platforms from Renault and Nissan.
The exact changes in the SUVs' size and positioning have not yet been mentioned. However, sources have stated that there will be around a 200mm gap in overall lengths between the SUVs. This suggests that Mitsubishi's new SUV line-up will have a similar structure to Nissan's current international SUV range – specifically the size and positioning of the X-Trail, Qashqai and Juke SUVs. This is expected to translate to the Mitsubishi Outlander growing in length, while the ASX will likely reduce in length.
According to the Japanese carmaker, the next generation of the Outlander SUV will be offered with a plug-in hybrid variant in addition to the existing petrol and diesel variants. The next-generation Eclipse Cross will be available as either a hybrid or a plug-in hybrid, while the next-generation ASX will get the option of full battery-electric.
The Mitsubishi Engelberg Tourer displayed at the 2019 Geneva motor show earlier this year, showcases the look of the next-generation Outlander as well as a new four-wheel-drive, plug-in hybrid powertrain.
Although Mitsubishi has not confirmed which SUVs it is planning to bring to the Indian market, it currently offers the Outlander, which was launched last year in a single, fully loaded variant and the Pajero Sport, which has been in the Indian automotive market since 2012.
Also see
Click here for all Mitsubishi models, prices, reviews, images, videos and more.
Renault, Nissan, Mitsubishi announce creation of new joint board
Mitsubishi Xpander Limited revealed
Mitsubishi Eclipse Cross image gallery
Mitsubishi Cars
Mitsubishi Outlander
₹ 31.26 lakh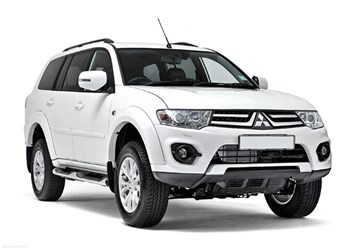 Mitsubishi Pajero Sport
₹ 33.86 - 35.47 lakh