Earlier in June this year, Mini revealed a full-scale model of its Urbanaut MPV concept, and has now taken steps to make it a reality after giving it another public showing at the Munich motor show.
Mini is developing a plan to put its Urbanaut into production, once it solves the technical challenges of bringing such a radical concept to life.
Urbanaut concept features flexible interiors with configurable layouts
Future Mini models to gain styling cues and tech from this concept
Concept is drivable, although technical details haven't been revealed
Mini Urbanaut Concept: what's new at Munich?
The concept, that made its motor show debut in Munich, is 4.5 metres long and was designed to showcase just how flexible an interior can be. Mini designer Oliver Heilmer, speaking to our sister publication Autocar UK at the Munich motor show, said conversations inside BMW have shifted from him having to explain the purpose of the concept to discussions about how to make it a reality.
"With what we achieved, BMW is now thinking there is a chance for production, and how," he said. "As you can imagine, it's a long process. It's a different platform [to any current Mini], and from a technical point of view it's a challenge as it has things like steer-by-wire, that's not in production yet. But we'll never give up on it."
He said it would appeal to a new type of buyer for Mini, of larger families looking for more space and flexibility in a compact package. "Every normal car is too small," he said, unless you have the budget for a much larger car.
Heilmer further said, "The Urbanaut is created with the same spirit and ethos as the original Issigonis Mini in its clever use of space. The car only contains what is necessary, with no superficial elements. However, even if it enters production, it is still at least five years away.
Urbanaut Concept to inspire future Mini models
Whether or not it makes production, the Urbanaut will still influence the next generation of Minis beginning with the fourth-generation BMW-developed hatchback due by 2025. It will mirror the Urbanaut in "focusing only on what is necessary", according to Heilmer.
The next Mini will be marginally shorter than the current car and have better proportions, particularly at the front, with the wheels pushed to the corners again. This is possible by switching to an electric vehicle architecture, with the hatch tipped to be EV-only. By the end of the decade, all Minis will be electric-powered.
Mini in India
Back here in India, Mini recently launched the updated Cooper hatchback range including the range-topping JCW version. However, just like parent firm BMW, Mini too has not announced any solid plans with respect to electrification for India.
Also See:
Mini's last combustion engine model coming in 2025
Mini Urbanaut concept showcases blueprint for company's future
Mini Cars
Mini 3-Door
₹ 40.69 lakh
Mini 3-Door Electric
₹ 60.37 lakh
Mini Countryman
₹ 45.77 - 50.28 lakh
Mini Aceman EV concept image gallery
12739 Views|7 months ago
2019 Mini Cooper SE image gallery
9062 Views|3 years ago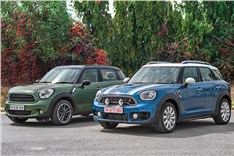 2018 Mini Countryman India image gallery
14955 Views|4 years ago
Mini Cooper SE India video review
8585 Views|10 months ago
Autocar Drag Day 2021: Skoda Octavia RS245 vs Mini Cooper...
13337 Views|1 year ago