Italian supercar maker Lamborghini has released its global sales numbers for the first-half of 2021. The Sant'Agata-based brand delivered 4,852 cars, making it their best six months ever in terms of sales. Lamborghini further states that it has already taken orders to cover the next 10 months of production, up until April 2022.
Lamborghini sales are up by 37 percent over the same period of 2020

Urus is the top-selling model with 2,796 unit sales

The United States market saw the most sales during this period
Lamborghini 2021 global sales breakdown
With overall global sales for the first-half of 2021 pegged at 4,852 units, Lamborghini saw a 37 percent increase over the same period of 2020 and a growth by 6.6 percent over the first-half of 2019, which was the pre-COVID-19 period.
Unsurprisingly, it's the Urus performance SUV that is the top-selling model for this period, accounting for 2,796 units, which is a 35 percent increase. Lamborghini's V10-powered Huracan supercar range was the next bestseller, going home to 1,532 buyers and registering a 46 percent increase. Meanwhile, the V12-powered Aventador saw 524 unit sales during this period, which is a 21 percent uptick. Lamborghini's flagship model, the Aventador, is reaching the end of its lifecycle and will be replaced by an electrified model in 2022.
As for the markets, the United States saw the most sales in this period (1,502 units) and was followed by the China Mainland, Hong Kong and Macau region (602 units). The German market saw 391 unit sales, while the UK market saw 318 deliveries and Japan had 258 unit sales. These were followed by the Middle East market (226 units) and the Italian market (197 units). Lamborghini says the sales distribution is well-balanced in the three macro-regions of America, EMEA (Europe, Middle East, Africa) and Asia-Pacific. The Italian brand currently has a network of 168 dealers in 51 markets.
Lamborghini in India
In similar vein to its global fortunes, Lamborghini India doubled its volumes in FY2021, bucking the trend that saw every other luxury carmaker in the country lose significant sales in the face of the pandemic. "We are definitely doing far better than all the other players in the super-luxury segment. We are outperforming them," Sharad Agarwal, head, Lamborghini India, told us in an interview last month. "If we look at the business performance from the October-March 2020-2021 period, vis a vis October-March 2019-2020 – this was a period when there was no pandemic – we have clocked plus 20 percent in terms of our new order intake," he said to Autocar India in a more recent interview.
In India, Lamborghini recently launched two new versions of its Huracan supercar – the Evo RWD Spyder at Rs 3.54 crore and the hardcore, track-focused STO at Rs 4.99 crore (ex-showroom, pan-India).
Also see:
Lamborghini Huracan STO first look video
Lamborghini Aventador Ultimae marks end of an era
Lamborghini Cars
Lamborghini Aventador
₹ 5.78 - 7.22 crore
Lamborghini Huracan
₹ 4.30 - 4.73 crore
Lamborghini Urus
₹ 3.58 crore
Lamborghini Huracan Tecnica image gallery
3265 Views|4 months ago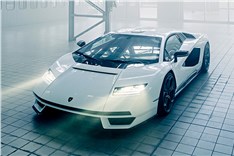 Lamborghini Countach LPI 800-4 image gallery
9534 Views|1 year ago