Lamborghini Huracan Evo India launch on February 7
Published On Jan 16, 2019 01:25:00 PM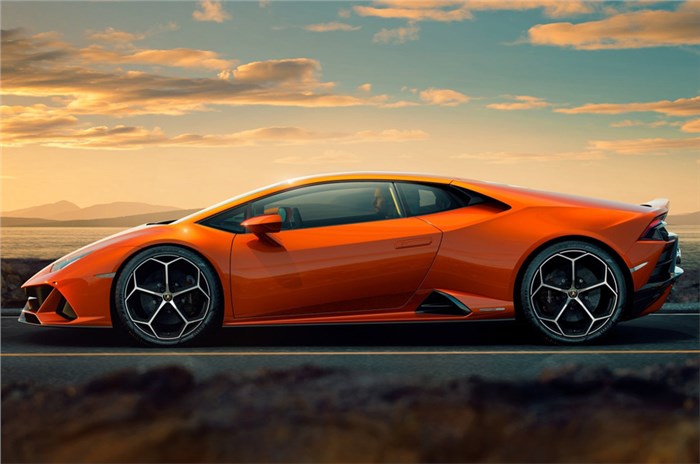 Updated supercar gets styling tweaks, better aero and even more power.
Lamborghini is set to launch the new Huracán Evo in India on February 7, 2019. In essence, this is a facelift for the Huracán as it comes with refreshed styling, more power and better aerodynamics.
Exterior changes on the Huracan Evo include a new front bumper, rear bumper and diffuser, and twin exhaust pipes that are positioned higher up the rear fascia compared to the outgoing model. A new integrated ducktail spoiler better balances downforce and drag. The new Huracan also features a super-slippery underbody.
The engine has been carried over from the Nürburgring record-holding Huracán Performante that had launched in India in 2017. The motor is a naturally aspirated 5.2-litre V10 unit that produces 640hp (a 30hp increase over the previous Huracán), and 600Nm of torque, which helps the Huracan Evo sprint to 100kph from standstill in a claimed 2.9sec (down 0.3sec) and do the 0-200kph run in 9.0sec. Top speed is unchanged at 323.5kph.
Lamborghini has also introduced a new chassis control system called Lamborghini Dinamica Veicolo Integrata (LDVI). This system will control every aspect of the car's dynamics – sensors constantly monitor the vehicle's acceleration, roll, pitch and yaw rate, and can actively predict driver behaviour, while a new generation of magnetorheological damping has been brought in.
Enhanced torque vectoring in the all-wheel-drive system allows power to be directed through any of the four wheels, while the brand has also worked on the dynamic steering system to "provide higher responsiveness in corners which require the lowest steering angles".
The Huracán Evo's interior has also been updated as it now has a new 8.4-inch capacitive touchscreen in the centre console. The infotainment system has controls for everything from the climate control to Apple CarPlay, and includes a more advanced voice command system. New options include a dual-camera telemetry system with a high-capacity hard disk.
When it first arrived in India in 2014, the outgoing Huracan LP610-4 was priced at Rs 3.43 crore (ex-showroom, Delhi). While prices for the Huracán Evo will be announced on February 7, 2019, expect it to be priced in the same region.
Also see:
2019 LamborghiniHuracanEvoimage gallery
What do you think about this News