Ferrari has taken the wraps off the Monza SP1 and SP2 models – the first two of the limited-run series of special models dubbed by the carmaker as the 'Icona' series. Less than 500 of the two launched models are slated for production.
The SP1 is a fixed single-seater and the SP2 is a two-seater. The unit production is split by demand between the select groups of Ferrari collectors that were invited to buy the cars. There's no official news of the pricing, but it is thought to be in the region of $3 million (about Rs 22 crore).
The SP1 and SP2 have been inspired by the original Ferrari Barchetta models – particularly the 1948 166 MM and the 750 Monza of the 1950s. Like the Barchetta models, the SP models feature the most powerful engine produced by the Italian automaker. The 6.5-litre V12 delivers 820hp at 8,500rpm and 719Nm of torque at 7,000rpm. The engine has also gained variable inlet tracts taken from F1 engines – another first for a road-going Ferrari.
The company claims a 0-100kph time of 2.9sec and a 0-200kph time of 7.9sec with a maximum speed of 300kph. Loosely based on the underpinnings of the 812 Superfast, both cars are clothed in carbon-fibre composite panels. Design boss Flavio Manzoni says that the composite exterior and interior are made in exactly the same way as the structure of Ferrari's F1 cars. Using composites allowed the SP models to be fitted with a huge clamshell bonnet that could not have been manufactured any other way. The cockpit doors open upwards and forwards and the exterior gets bespoke LED headlights and a unique 'signature' LED rear strip.
At the Maranello unveiling, Manzoni said that the simple Barchetta-inspired form language is a deliberate move away from "visually complex solutions". This interesting move suggests there has been some customer backlash against the extreme modernity of recent Ferrari models. Ferrari has also promised to move back to more classically elegant design for its upcoming GT models.
Both SP models have minimalist cockpits, with a simple carbon-fibre control panel to the right of the driver. Ferrari has also managed to replace the standard windscreen with a patented 'Virtual Wind Shield' mounted in the bonnet fairing ahead of the driver. It is designed to divert some of the airflow over the driver's head; although the company says that these Monza models will offer a raw driving experience similar to driving an F1 car.
No more information was given about future 'Icona' models – other than that they will account for well-below five percent of Ferrari's sales. The two Monza SP models will make their public debut at the upcoming Paris motor show. The production run is expected to have been allocated by then.
Also see:
Ferrari Monza SP1 image gallery
Ferrari Monza SP2 image gallery
Ferrari Cars
Ferrari 296 GTB
₹ 6.23 crore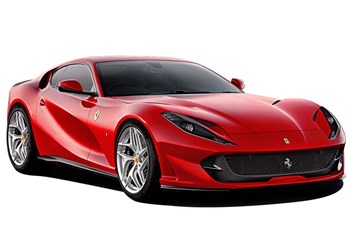 Ferrari 812 Superfast
₹ 6.93 crore
Ferrari Portofino
₹ 4.66 crore
Ferrari 296 GTB India video review
12933 Views|4 months ago
Ferrari Purosangue SUV first look video
4486 Views|4 months ago
Ferrari Portofino M video review
5897 Views|1 year ago