Audi Q4 E-tron electric SUV revealed
Published On Mar 05, 2019 01:02:00 PM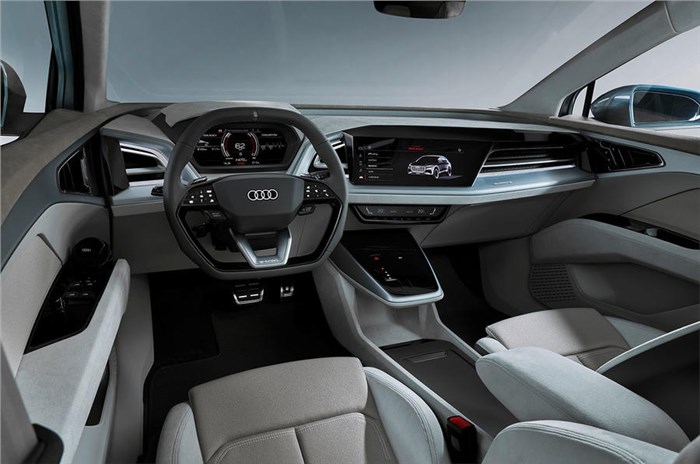 Set to be introduced in international markets in 2020, the MEB platform-based SUV EV has a claimed range of 450km.
Audi has unveiled its new Q4 E-tron, a new all-electric SUV that will slot below the full-size E-tron, at the ongoing Geneva motor show. Expected to be introduced in international markets by 2020, the Q4 E-tron is Audi's fifth EV.
Set to arrive a year after Audi's first series production EV, the E-tron SUV, the Q4 E-tron shares some styling and some of its mechanical setup with the larger SUV. The smaller model is part of Audi's plan to have twelve electric cars on sale by 2025.
Audi describes the Q4 E-tron as a premium model in terms of size and market positioning. The SUV is 4.59-metre long and 1.9m wide, making it slightly shorter and wider than the current-gen Audi Q5. It borrows exterior styling cues from the E-tron (and E-tron GT concept), albeit in a smaller and sportier package.
The special 'Solar Sky' paint scheme, which makes its debut on this concept, has been developed specifically to reflect a short-wave fraction of sunlight to 'significantly' reduce heat build up on the body and in the cabin. This reduces the power needed to cool the cabin and could improve range.
The interior is claimed to be more spacious than its dimensions suggest thanks a substantial 2.77m wheelbase and the lack of a transmission tunnel. Despite its official status as a concept, the interior of the model on display at Geneva gets a dual-screen layout and minimalist, touch-operated switchgear; it appears like these features could translate into production relatively easily.
The Q4 e-tron is underpinned by the VW Group's bespoke all-electric MEB platform, rather than the adapted MQ platform of the larger e-tron. Not only is it a platform designed to underpin EVs, it should reduce complexity and build cost of the model.
Powering the Audi Q4 E-tron is a synchronous electric motor that sends output to the rear axle most of the time; this motor makes 205hp and 310Nm of torque. There's also a second, smaller electric motor powering the front wheels – the total system output is 306hp - around 100hp less than the full-size E-tron.
The 82kWh battery is mounted under the vehicle floor, and can be charged at a maximum of 125kWh. Doing so would result in an 80 percent charge in 30 minutes. The total range is said to be 450km on the WLTP cycle.
Also see:
Audi Q4 E-tron SUV image gallery
What do you think about this News