While the sales teams at Audi are busy marketing and selling their first all-electric model, the E-Tron, the skunkworks team at Ingolstadt have the second one ready – at least in concept form. Meet the Audi Elaine – a more advanced or rather smarter iteration of the Audi Sportback concept. The Elaine is 4,900mm long, which makes it similar in length to the new Audi A7 Sportback.
Its all-electric drivetrain consists of a single motor driving the front wheels and two motors driving the rear, making a combined 429hp. There's a special mode, too, that bumps the power to 496hp and takes just 4.5sec to do the 0-100kph dash. The Elaine's batteries are good for 95kWh (same as the E-Tron SUV) and features inductive charging as well as a 150kW fast-charging capability. Audi is aiming at a range of around 500km on a single charge. What the concept also gets is Audi's Highway Pilot – a Level 4 automated driving system with a more advanced iteration of the zFAS controller, permitting pilot-free driving upto 130kph. This feature also gives the car the ability to initiate lane changes (only between 60kph and 100kph).
The Elaine's Vehicle-to-Infrastructure (V2X) tech helps safety systems predict road hazards early. There's also an Audi Fit Driver system that keeps a check on the driver's vital signs, like body temperature and heart rate, along with offering guided breathing exercises and seat massage. All this, according to Audi, is aimed at keeping the driver relaxed.
The smart Elaine concept is also capable of driving itself (without the presence of a driver) to designated areas, called Audi AI Zones, where it can park itself till it's called back by the owner. Audi has also incorporated a Personal Intelligent Assistant (PIA), which is actually a vehicular iteration of something like an Alexa or Siri, that continuously observes the driver's behavioural patterns and gives recommendations.
Though still in concept form, the Elaine is a promising move in the direction that'll take us a lot closer towards advanced, self-driving, autonomous tech, which is only gaining more traction year after year.
Audi Aicon - THE NEXT LEVEL
The Aicon concept looks further into the future and has an interior devoid of a traditional cockpit, steering wheel and pedals. It creates a luxurious, lounge-like environment that offers the very latest in digital infotainment and communication solutions. It incorporates Level 5 autonomous driving technology that Audi says will bring about a dramatic reduction in road accidents. Audi's design team has also equipped the Aicon with a mini drone that illuminates the passengers' walking path when it's dark.
It features brushless asynchronous motors mounted low down at each corner to provide direct drive to each of the Aicon's 26-inch wheels. They are the basis for the electronically controlled, variable four-wheel drive.
Audi Urbansphere image gallery
2700 Views|1 month ago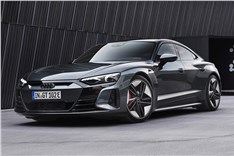 2021 Audi E-tron GT image gallery
6975 Views|1 year ago