Final report: It came to us as a standard Thar and left as more of a weapon. Here's what 28,000km and over a year in it have been like.
I finally got a locking differential for the rear axle. It's a cable-operated manual locking diff made by Lamda Components of Bangalore and took about two days to fit (they sent their engineers to Mumbai on special request). I like it because I can engage and disengage it at will, which is, in my opinion, a better system than those torque-sensing auto locking diffs over which you really don't have control. It works very well — the Thar's off-road abilities have improved by a big margin and it now gets through obstacles as long as one of the rear tyres has grip. The locking diff's biggest advantage, though, is how it allows you to use minimal throttle, and that gives you a lot of control. With an open diff Thar, you generally have to rev it, use all the momentum you have and attack obstacles. While that looks dramatic, I prefer the locking diff's way of making obstacle crossings look calm and unstressed (which is how it should be).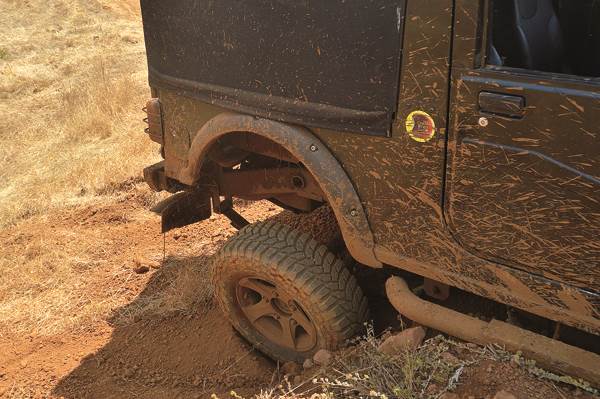 ARTICULATION: There are complaints about the front suspension's articulation, but the rear mostly makes up for it.
Even a locking diff can't help in deep slush though — the Thar digs in with its transverse front suspension arms and then beaches itself. At that point, it's time to use the winch.
The last couple of months have been unbelievably fun. With the tail-end of monsoon upon us, the off-road community in Mumbai were busy making the most of what was left of the slush. So most Saturday nights (for a night off-road session) or Sunday mornings, the Thar and I would be on the outskirts of Mumbai, slinging mud with other Thars, MMs and Gypsys. Continued..