With its strong engine, long equipment list and SUV pretence, the Venue 1.0 turbo-petrol seems to be the car that does it all. We find out if it can better the competition.
You may have seen, last month, our mega comparison test of eight midsize SUVs featuring the likes of the new Kia Seltos and MG Hector. Yes, that's currently the hotspot in the Indian SUV market – and the Indian market, in general – right now, but let's not forget the sub-four-metre SUV segment, and the capable new entrant that launched a few months ago. Yup, it's the Hyundai Venue, the compact SUV that finally allowed the Creta to leave the budget game behind and play properly with the big boys. But the Venue itself is such a good product in its own right, representing great value and offering buyers a lot of choice, with many trim levels and four powertrain options. We've already done comparison tests of the petrol-automatic and diesel-manual, but today we're going to do the fun one – petrol-manual, the de facto driver's choice. We've brought along every sub-four-metre SUV that has a petrol engine, and that means the Nexon, the EcoSport and the XUV300, but no Brezza (yet). Can the Venue make a hat-trick of it?
Spec Talk
This is all about these cars' petrol-manual powertrains, so let's get right into it. The Venue is also available with the i20's 83hp, 1.2-litre petrol engine, in lower trims, but that engine already feels weak in an i20, so we can't imagine what it would be like in the heavier Venue. No, we're testing the new 1.0-litre T-GDI turbo-petrol engine, which packs 120hp and 172Nm of torque – numbers more befitting a car this size. The XUV300, with 110hp, might not have quite as much power as the Venue, but its 1.2-litre turbo-petrol has the class-leading 200Nm of torque! The Nexon doesn't do too badly either, with its 1.2 turbo-petrol making 110hp and 170Nm, but it's the EcoSport that is the anomaly in this bunch.
Venue's 1.0 is quickest, most efficient.
Ford pioneered the small-capacity, three-cylinder, turbo-petrol engine – the 1.0 EcoBoost – in India on this very car when it was launched in 2013, but unfortunately, we don't have that version with us today. The fact is, few are buying that engine anymore, largely due to the price premium and its reputation for poor fuel economy – to the point that even Ford wasn't able to find us a car to test. In fact, the engine is set to be killed off when BS6 norms come into play. The bigger reason, however, is that Ford's other petrol unit, the 1.5-litre 'Dragon' naturally aspirated engine introduced in 2017 has proven to be as good – or even better in some areas – than its turbo-petrol sibling, so it is the one we have here. Its 123hp (just 2 less than the EcoBoost) is the highest in this test, and despite not having a turbo, it still makes a healthy enough 150Nm of torque, so don't count it out right at the start.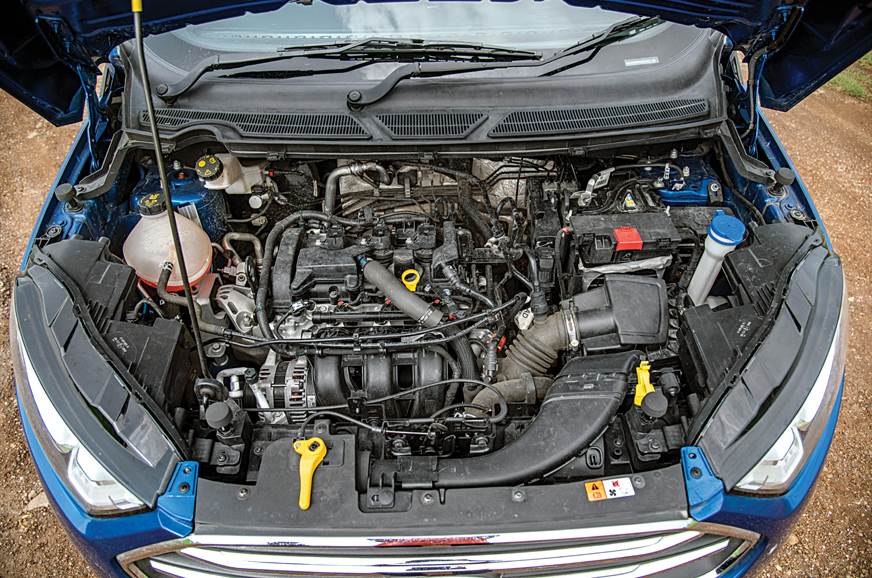 Ford's non-turbo 1.5 packs some pep.
Put up against our testing equipment – it's actually the second-quickest car here, hitting the ton in 12.10sec. Okay, sure, its in-gear acceleration figures (13.27sec for 20-80kph in third, 18.51sec for 40-100kph in fourth) aren't quite as good as some of its turbocharged rivals, which deliver a solid shot of torque in the mid-range, but it's not too far off. In a hard acceleration run, the Nexon is the first to get to 60kph (4.87sec), but by the time 100kph comes around, it's dropped to third place at 12.33sec. When talking in-gear acceleration, the taller gearing means it's actually the slowest of the bunch, with 20-80kph in 14.62sec and 40-100kph in 19.89sec. Surprisingly, despite all that torque, the XUV300 is the slowest to 100kph, at 12.80sec. And that's likely down to its portly 1,360kg kerb weight (172kg more than the Nexon), and to the noticeable wait for the turbo to spool up. After around 2,000rpm, the XUV300 simply flies, and you can see that in its in-gear times; it's the quickest here (20-80kph in third – 11.65sec, 40-100kph in fourth – 13.96sec). The quickest car from 0-100kph is the Hyundai Venue. The ton is done in just 11.24sec and in-gear times (20-80kph in third – 11.96sec; 40-100kph in fourth – 13.89sec) are only slightly bested by the XUV300.
Dimensions
Hyundai Venue 1.0 T-GDI MT SX (O)
Mahindra XUV300 Petrol M T W8 (O)
Tata Nexon Revotron MT XZ+
Ford EcoSport 1.5 MT Titanium+
Length
3995mm
3995mm
3994mm
3998mm
Width
1770mm
1821mm
1811mm
1765mm
Height
1590mm
1617mm
1607mm
1647mm
Wheelbase
2500mm
2600mm
2498mm
2519mm
Boot capacity
350 litres
257 litres
350 litres
352 litres
Fuel tank capacity
45 litres
42 litres
44 litres
52 litres
Kerb weight
-
1360kg
1188kg
1274kg
Ground clearance
195mm
180mm
209mm
200mm
Tyre size
215/60 R16
215/55 R17
215/60 R16
205/60 R16
On the move
The reason you wouldn't expect the Venue to be the quickest is that, in everyday driving, it doesn't feel urgent or particularly quick. In fact, the biggest compliment you can give its turbo-petrol engine is that it doesn't feel overtly turbocharged, and this despite having the smallest swept volume of just 998cc. Power delivery is smooth and gentle, so if you're transitioning – as many would be – from a naturally aspirated petrol engine, this one will feel right at home. It has a strong mid-range, as with any turbo engine, but you don't get that pronounced slug of torque at a certain point in the rev band. That means it is friendly pottering around at low speeds, and strong enough when you want to overtake, and this is all helped by a light clutch and gearshift action. In fact, the way each gear 'clicks' into place is rather satisfying. Refinement is pretty good too, with just a bit of three-cylinder thrum coming through.
The EcoSport has a similar three-cylinder thrum, but it actually sounds a bit sporty here. And, being a naturally aspirated engine, you're inclined to rev it harder to access its power – unlike the turbocharged motors, where it's all about savouring the mid-range. That said, this is no Honda i-VTEC motor that requires you to cross 5,000rpm to find the real power. It actually offers great pep low down and in the mid-range (by naturally aspirated standards, at least), and that means it's more than tractable enough for you to get your city duties done in third gear. This is a good thing, because this engine is saddled with Ford's ageing IB5 gearbox – the only 5-speeder in this test – which has a vague, imprecise feel, and the clutch requires a bit of muscle too.
XUV300 motor packs a 200Nm punch.
In total contrast to this is the XUV300's gearbox. Its throws are quite long and – this has probably never been said before – so light that it takes a bit of getting used to; you sometimes wonder if you've not slotted it in properly. Overall, though, it's easy to use, as is the light clutch, which too has quite a long travel. As mentioned, there is a bit of turbo lag, but off-boost at low speeds, it has enough pep to make smooth progress. Once the turbo does spool up by around 2,000rpm, however, you'd better have your wits about you, because the XUV300 just takes off – it's hard to believe it's the slowest from a standstill. There on it flies effortlessly to the redline accompanied by a whoosh and whistle from the turbo, but, other than that, it's a rather quiet engine; the most refined of this lot.
Nexon engine feels jerky at low speeds.
The Nexon has possibly the least refined engine, with a coarse grumble that follows you around at all revs. Performance, though, feels adequate, especially if you have its unique drive mode selector in Sport. Actually, Sport or City modes are where you want to keep the Nexon, as Eco feels far too weak. Still, you can maintain a steady cruise on the highway and, should you need a downshift, the gearshift is quite slick too. The issue arises when you aren't trying to go fast – low-speed driveability is compromised by a seriously jerky power delivery, which can make your daily commute annoying.
We haven't had a chance to put all these cars through our rigorous fuel efficiency test just yet, but going by their ARAI ratings, the Venue comes out on top, with 18.27kpl overall. The XUV and Nexon are rated at an identical 17kpl, while the EcoSport gets a 16.5kpl rating. But know that these numbers are all achieved in ideal conditions, not the real world, and small-capacity turbo-petrol engines are notorious for turning into gas-guzzlers if you're enthusiastic with the throttle.
Engine and Performance
Hyundai Venue 1.0 T-GDI MT SX (O)
Mahindra XUV300 Petrol M T W8 (O)
Tata Nexon Revotron MT XZ+
Ford EcoSport 1.5 MT Titanium+
Engine
3-cyl, 998cc, turbo-petrol
3-cyl, 1197cc, turbo-petrol
3-cyl, 1198cc, turbo-petrol
3-cyl, 1497cc, petrol
Power
120hp at 6000rpm
110hp at 5000rpm
110hp at 5000rpm
123hp at 6500rpm
Torque
172Nm at 1500-4000rpm
200Nm at 2000-3500rpm
170Nm at 1750-4000rpm
150Nm at 4500rpm
Gearbox
6-speed MT
6-speed MT
6-speed MT
5-speed MT
Fuel Economy
Overall (ARAI rated)
18.27kpl
17kpl
17kpl
16.5kpl
Performance
0-20kph
1.18 sec
1.55 sec
1.21 sec
1.32 sec
0-40kph
2.72 sec
3.05 sec
2.55 sec
2.93 sec
0-60kph
5.00 sec
5.62 sec
4.87 sec
5.23 sec
0-80kph
7.56 sec
8.47 sec
7.74 sec
7.92 sec
0-100kph
11.24 sec
12.80 sec
12.33 sec
12.10 sec
0-120kph
16.13 sec
18.03 sec
17.48 sec
17.16 sec
0-140kph
24.02 sec
27.38 sec
27.48 sec
24.78 sec
Performance in gear
20-80 (in third)
11.96 sec
11.65 sec
14.62 sec
13.27 sec
40-100 (in fourth)
13.89 sec
13.96 sec
19.89 sec
18.51 sec
On a roll
It's a real shame the Nexon's engine has its flaws, because if not for it, this would have made for a compelling driver's car, as the dynamic setup is just superb. The steering is quick and responsive and body control in corners is great too. What's more, the Nexon has, overall, the best ride in this bunch. Low- and high-speed bump absorption are both really good, apart from a slight clunkiness that is forgivable. The EcoSport has a similarly good ride and handling balance, especially now that Ford has gone back to 16-inch wheels across the board from the 17-inch wheels you used to get on the higher trims previously. The suspension was softened a bit with the 2017 facelift, but it still errs on the firm side and that can be felt on a rough patch of road. This, in true Ford fashion, remains the go-to choice for handling, with a steering that's pin-sharp and its hatchback-like agility.
The XUV300 isn't too bad from behind the wheel either, with a reasonably well-weighted (if a tad slow) steering that you can weight up further using its unique steering mode settings. Low-speed ride quality is really good, thanks to a softly sprung suspension that will eat up most bumps on your daily grind. It's just that, as you go faster, your passengers will get bounced around a bit, and hit a sharp bump too hard and you'll feel a solid thud from those 17-inch alloy wheels. Another thing to note is that, though it's light on its feet and its length is the same as the rest, the Mahindra feels the largest from the driver's seat, thanks to its longer bonnet and greater width. Uncharacteristically for a Hyundai, the Venue's suspension is set up a little firm. Sure, that means it feels quite sure-footed at speed despite its small footprint, but you do get quite a lot of short-frequency vertical movement in the cabin, especially at low to medium speeds. The steering is a big improvement from Hyundais of old, in terms of weight and feedback, but it's still a long way from the Tata and the Ford, feeling a tad slow and lifeless. It must be noted, however, that it is very easy to steer in traffic or for parking manoeuvres, and thankfully that can be said of all the cars here.
Step right in
Now yes, driving pleasure is a big part of these petrol-manual compact SUVs' repertoires, but you've got to know what else your hard-earned money is getting you. One of those things should be space and comfort – or else you'd just have a premium hatchback, right? The XUV300 has the most spacious passenger cell, with the greatest width as well as the most legroom in the back. The light colours give it a sense of airiness and, at the rear, you'll find a three-point seatbelt and adjustable headrest for the middle passenger – something the others don't have. What you won't find, however, is a set of rear AC vents, and that's a shame.
The XUV300's got the most spacious back seat, especially on width.
The EcoSport doesn't get rear AC vents either, and while space for occupants is decent, it's not the best, and an all-black colour scheme lessens the sense of space some more. The Ford makes good use of its height, seating you higher up so that space doesn't feel too compromised, but, ultimately, legroom at the rear isn't as good as the Mahindra. And while sitting high up at the front gives you the most 'traditional SUV-like' feel from the helm, the huge, Y-shaped A-pillars create a massive blind spot, and the view out the back is not good either.
EcoSport uses height to give greater sense of space.
The Nexon has a surprising amount of space for its size, despite the fact that its curved roof seems so low. Clever packaging and a low-set seat mean that leg- and headroom at the rear come surprisingly close to the Mahindra, but cabin width and the sculpted bench means it works better for just two, and the rising window line impedes your view out. Rear passengers will also get the benefit of a rear AC vent. The low seating applies to the front also, and the Tata feels the most like a hatchback from behind the wheel.
Surprisingly good space on the Nexon but you sit lower down.
The Venue feels the smallest on the inside and, as in the Ford, its all-black colour scheme doesn't help. It's not too much of an issue from the driver's seat, where you'll get a great view out and a good seating position. The rear seat (AC vent notwithstanding), however, feels the most compromised of this bunch on space. Although headroom is not too bad, width and legroom are noticeably lower, and squeezing three adults back here would be quite a big ask.
Back seat space in the Venue not quite as good as the others.
You can tell some of this compromise has been made to give it a sensibly sized 350-litre boot, which is about the same as you get in the Nexon and the EcoSport, although the Hyundai and Tata's luggage areas are better shaped than the Ford's, which is tall and narrow. This is where the Mahindra takes a huge hit, as its 257-litre boot is almost 100 litres down on the others.
Feel Good Inc.
The Venue's dashboard is contemporary Hyundai, with a smart new steering wheel and an ergonomically friendly design. The touchscreen is at a good height and the controls fall easily to hand, and there's plenty of storage around as well. Quality is really good and it's a close match between it and the XUV300 on this front. The Mahindra's, however, isn't the most cohesive interior design, not just in its look – which is a mishmash of colours and shapes – but also in its functionality; some controls, especially on the centre console, aren't where you'd expect. Still, it is practical on the storage-bay front. The Ford EcoSport is practical too, especially with the revisions that came in 2017, like the closed box between the seats that works as an arm-rest. The design was heavily updated too, and quality is not bad, but you will find a few hard, scratchy bits, and it is starting to show its age. The Nexon dashboard looks neat and contemporary, with some interesting textured plastics that lend it a rich feel. But elsewhere you'll find a number of rough edges and flimsy switchgear. Moreover, the door bins are really small and even the centre storage bay is too narrow and deep to be practical.
The Venue's cabin has quality, practicality and good ergonomics.
Each of these cars gets the basics right when it comes to equipment (for an exhaustive breakdown, refer to the comparison chart), with each having at least one unique feature. For the Tata Nexon, it's those driving modes, which let you tailor the car a bit better to suit your needs. However, that aside, the Tata lags behind the others, missing out on some important features. The Venue and XUV300 are the ones that really push the boundaries of kit, and apart from the basics you'd expect, they offer some great feel-good features. The Hyundai gets connected tech via an embedded e-SIM, which opens up a number of new ways to interact with your car, and it also gets a wireless mobile phone charger. The Mahindra, on the other hand, gets steering modes, dual-zone climate control, heated wing mirrors and tyre-pressure monitoring. The EcoSport is a bit confusing due to the number of times Ford has revised its model range recently. Our test car is a Titanium, but this 1.5 petrol-manual has since been made available in Titanium+ as well, so this is the one we'll consider. What's really disappointing is Ford's decision to not offer its brilliant Sync 3 infotainment unit (and with it, Apple CarPlay and Android Auto) for the 1.5 petrol; it's only available on the S variant, with the diesel or EcoBoost engines. The lower-spec touchscreen available here functions smoothly but misses many features. The EcoSport still gets six airbags though, as does the Venue, and the XUV300 even offers a seventh. The Nexon makes do with just two, but it's equipped with the clout of a five-star Global NCAP crash-test rating. None of the others have been tested by Global NCAP yet, but the EcoSport and SsangYong Tivoli (on which the XUV300 is based) scored four stars in the more stringent Euro NCAP tests. The Venue is yet to be crash-tested.
XUV300 cabin offers most space and quality is great as well.
Equipment
Hyundai Venue 1.0 T-GDI MT SX (O)
Mahindra XUV300 Petrol M T W8 (O)
Tata Nexon Revotron MT XZ+
Ford EcoSport 1.5 MT Titanium+
Touchscreen
8.0-inch
7.0-inch
7.0-inch
9.0-inch
Android Auto/Apple CarPlay
Available
Available
Available
NA
Satellite navigation
Available
Available
NA
Available
Auto climate control
Single-zone
Dual-zone
Single-zone
Single-zone
Rear AC vent
Available
NA
Available
NA
Leatherette upholstery
Part
Available
NA
NA
Projector headlamps
Available
Available
Available
Available
Automatic headlamps
Available
Available
NA
Available
Automatic wipers
NA
Available
NA
Available
Cruise control
Available
Available
NA
NA
Keyless entry & go
Available
Available
Available
Available
Rear-view camera
Available
Available
Available
Available
Auto-dimming inside mirror
Available
Available
NA
Available
Heated wing mirrors
NA
Available
NA
NA
Sunroof
Available
Available
NA
Available
Drive modes
NA
Steering
Engine
NA
Safety Features
Airbags
6
7
2
6
Parking sensors
Rear
Front + Rear
Rear
Rear
Tyre pressure monitor
NA
Available
NA
NA
ISOFIX child seat mounts
Available
Available
NA
NA
ABS with EBD
Available
Available
Available
Available
ESC
Available
Available
NA
Available
Hill hold
Available
Available
NA
Available
Traction control
Available
NA
NA
Available
Rear disc brakes
NA
Available
NA
NA
All the car you'll ever need
That does sum each of these four up quite nicely, doesn't it? They're compact, affordable, economical and easy to use, yet they're spacious, comfortable, fun to drive, well equipped and can tackle bad roads better than a sedan or hatchback. Eliminating any of these is no easy task, as they all have something going for them. The Nexon, as always, plays the price card, with even this top-spec version costing just Rs 9.39 lakh. For that money, it delivers a superb ride and handling balance and a surprising amount of space. But you can also see where the money's been saved – it's got an equipment list that falls shy of the others, a lower level of interior fit and finish, and a petrol engine that needs to be a lot smoother.
After you've wrapped your head around Ford's various model rejigs, the EcoSport 1.5 MT Titanium+ at Rs 9.99 lakh seems like even better value. This price is partly because you've opted for the 'lesser' of the EcoSport's two petrol engines, but frankly, it doesn't feel that way when you're driving. In fact, the 1.5 Dragon feels a lot friendlier to drive (apart from the gearshift), not to mention more efficient. It's also the best handler of the bunch with a ride that's not too bad, but unfortunately, it's starting to feel its age, and the rear-seat experience can't quite match up.
The XUV300 is a car full of superlatives – the most torque, the best refinement, the longest equipment list, the most spacious cabin. And even when it isn't class-leading, it's close to the best. That small boot may be inexcusable to some, and I wish it was a little bit sharper on the dynamics front, but that aside, it seems to do just about everything right. But, in this price-sensitive part of the market, is all this worth Rs 11.64 lakh – or Rs 1 lakh more than the next most expensive car here?
And that's when you realise Hyundai has once again pulled the same trick it has been pulling since the original Santro. At a price that's a slight premium (Rs 10.60 lakh in this case), but not exorbitant, it high on feel-good factors. That comes in the form of interior design and quality, a comprehensive equipment list with a few segment firsts, and a refined engine. Although, in this car, it just so happens to deliver the strongest performance too. The compact back seat, which seems like a compromise made to distance it from the Creta, and a ride that can at times feel a bit fidgety are really the only downsides in an otherwise deftly balanced package. And that's why the Venue wins this test.
Price and Verdict
Hyundai Venue 1.0 T-GDI MT SX (O)
Mahindra XUV300 Petrol M T W8 (O)
Tata Nexon Revotron MT XZ+
Ford EcoSport 1.5 MT Titanium+
Price (ex-showroom, Delhi)
Rs 10.60 lakh
Rs 11.64 lakh
Rs 9.39 lakh
Rs 9.99 lakh
Rating
8/10
8/10
7/10
8/10
Verdict
A deft balance of premium feel, performance and VFM.
Class-leading in many areas but it comes at a price.
Killer price and dynamically sorted, but has its issues.
Solid and a treat to drive but showing its age now.