The Viaterra M200 is a highly effective rain jacket.
You may or may not agree with me, but I don't like the idea of being drenched to the bones while riding a motorcycle. It takes away the sheer fun of riding in the rain, which is why I got myself this purpose-built rain jacket from Viaterra.
A disclaimer at this point is required. Up until I got the Viaterra M200, I used to wear a Decathlon sourced Quechua poncho over my riding jacket. It did an okay job of keeping me from getting completely soaked but the fit was loose and I hated the constant flapping of the sleeves and hoodie, while on the move.
That's certainly not the case with the M200, with its precurved sleeves and slim cut ensuring a relatively snug fit over my riding jacket. It is available in sizes S to 3XL and the Viaterra website has a handy size chart to tell you which one to choose, based on the size of your riding jacket.
The hoodie tucks inside the tall collar that also acts as a shield to cover your neck against raindrops that hit you like pellets. I'm also a fan of the adjustable Velcro wrist closures that make it easier to wear the jacket over gloved hands. Also, a nifty slit on the back acts as an exhaust vent to help manage perspiration.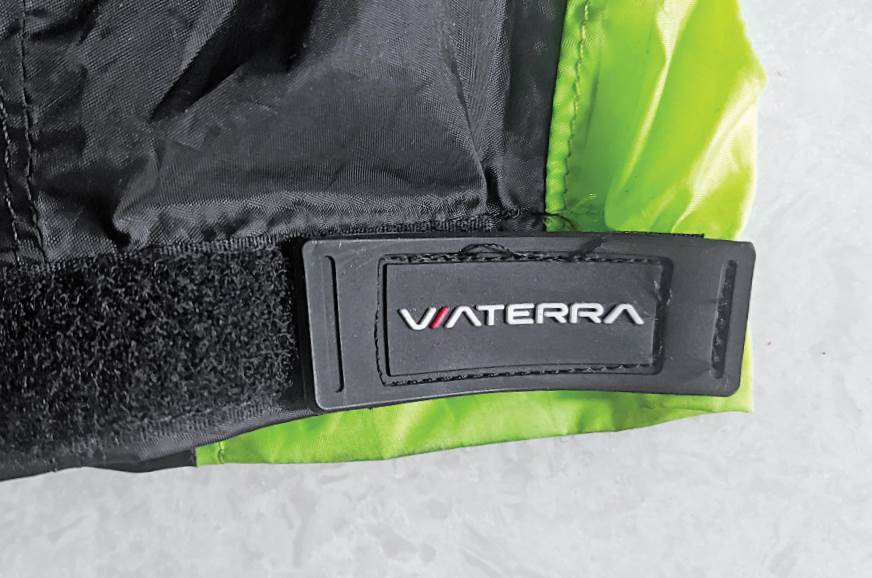 Velcro wrist closure for proper fit over gloves.
In terms of waterproofing, the M200 did a pretty good job of keeping me dry. Whether I was riding in moderate rain or on days where the rain gods unleashed their full fury, there was no water ingress. This has to do with some effective techniques that Viaterra has employed in the construction of the rain jacket.
The jacket itself is made of a PU-coated waterproof fabric rated for 5,000mm water pressure. All seams have been hot-air sealed, while the main closure uses a 100 percent waterproof YKK Aquaguard zipper. There's also a neatly integrated rain gutter behind the zip to prevent rainwater from entering. In all, I'm happy with how well the jacket does its job of keeping me from getting soaked.
However, there are a couple of areas where there is scope for improvement. Firstly, I wish the jacket was also available in a uniform fluorescent green colour for better visibility, especially on a rainy night. Second, the jacket could've had a zippered waterproof pocket to store a phone or small wallet for convenience sake.
That apart, there is no faulting the Viaterra M200 and with the six-month warranty against material or workmanship defects, it is worth the investment.
Where: www.Viaterragear.com
Price: Rs 1,499