When TVS launched the RR 310 late last year, the company also promised a high-end, one-make racing championship based on the same machine. That championship is now a reality, and TVS offered me a taste of the motorcycle through a wild card seat in the first round of the championship at the Kari Motor Speedway in Coimbatore. This caused considerable internal conflict because a handful of expensive crashes at the racetrack last year had me promising never to race again. But like with a heavy hangover, the bad memories were forgotten all too soon and I happily agreed to dive right into the deep end.
And boy is this talent pool deep. Unlike most one-make championships that act as an affordable springboard for aspiring racers, the RR Cup is not open to every bright-eyed youngster with a headfull of racing dreams. Instead, TVS set the bar quite high and the RR Cup is only eligible to those who have scored a podium finish in any previous national-level or one-make racing championship event.
Forty such riders then faced off at a selection round held in May; and that number was further distilled down to the quickest 12 who qualified to compete in the inaugural RR championship over six rounds this year. So there we were, some of the fastest riders in the country, many of them National Champions, and two guest riders from the journalism fraternity – my friend Ashok George from Top Gear and yours truly. Oh dear.
Predictably, the story goes just as logic would have it and there are no fairy tale finishes for me to wow you with. The best my talents allowed over the weekend was a lap time that was one second slower than the 12th-fastest rider, and I was still a whole 3.5sec off Deepak Ravikumar's blistering pace that had him leading the pack right from the selection round. So instead, let's talk about what you're here for – the RR 310 Cup race bike.
More aggressive rearsets.
If you're looking at these images and thinking 'hmm, that looks good, but not very different', you're on the right path. That's because TVS has stuck with the stock bodywork from the road bike, and the only visual changes are covered up lights, new switchgear and removed flab, like the mirrors, rear mudguard and pillion foot rests. Tasty TVS racing graphics make the handsome RR look even sharper, and a closer look will reveal a few functional bits that add to the racy form.
For starters, the bike gets further rear-set footpegs, which increase its cornering clearance. The clip-on 'bars remain the same, but they will be lowered slightly for faster, more flowing tracks like Chennai – the stock position provides better leverage to get the bike turned in for Kari's many slow and tight corners. A shiny new quick-throttle also takes care of one of our gripes with the stock bike and this one is super quick (65 degree action vs 80 degree on the stock), going from closed to wide open in just a small twist of the wrist. Finally, there's the slim, free-flow exhaust that works with modifications made to the air intake and ECU to liberate four more horses, taking the total to a respectable 38hp.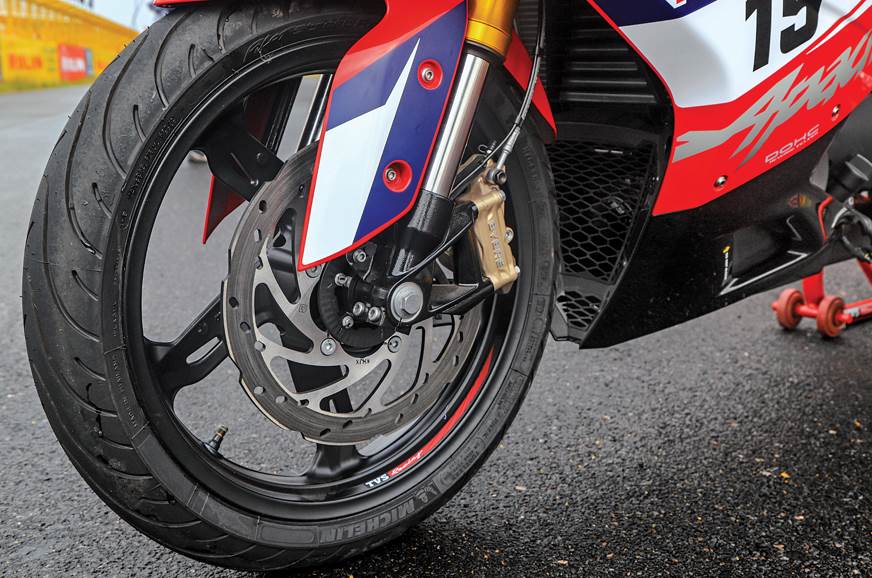 Suspension, brakes, tyres remain unchanged.
Beyond this, the bike is familiar, running the same suspension, brakes, sprocket sizes and Michelin Pilot Street tyres. The result is an extended and enriched experience of the stock bike's speed, stability and friendliness. The race bike has more track-appropriate ergonomics, feels a little more free-revving and I'm sure a Vbox test will reveal that it is faster as well.
But I can't help wish that the RR Cup was more. Since these are racers of a higher level, TVS could help further improve the breed by giving it a more advanced bike. Adjustable suspension would do wonders in terms of developing bike set-up skills, but most of all, I believe the RR deserves to lose more weight. At the moment, the new exhaust and removed body parts have helped the race bike shed a good 13 kg, but it could go lighter still by replacing the heavy stock bodywork with a race fairing. Also, while the Michelins are perfectly adequate, stickier rubber would always be welcome as well.
Quickthrottle lives up to its name.
In this spec, performance is strong, but the levels of acceleration are still not in the ballpark of an RC390. Beyond this, the race RR is not a big departure from the road bike and it feels reassuringly planted. Braking and suspension are happily up to the job and the bike pulls no nasty surprises. Ultimately, it's a testament to the fine package the road bike already is.
The RR Cup bikes are quicker than Honda's CBR250R race bikes, but they're still a good 2-2.5sec slower than the race-spec RC390s and Yamaha R3s around Kari, and this gap is only likely to grow at Chennai or the BIC. However, it's clear that there's still a vast potential to unlock with the RR Cup bike and TVS says that the machine will evolve with time. The series will even be taken to some overseas markets when exports begin, but the company isn't commenting on when or where this will happen just yet.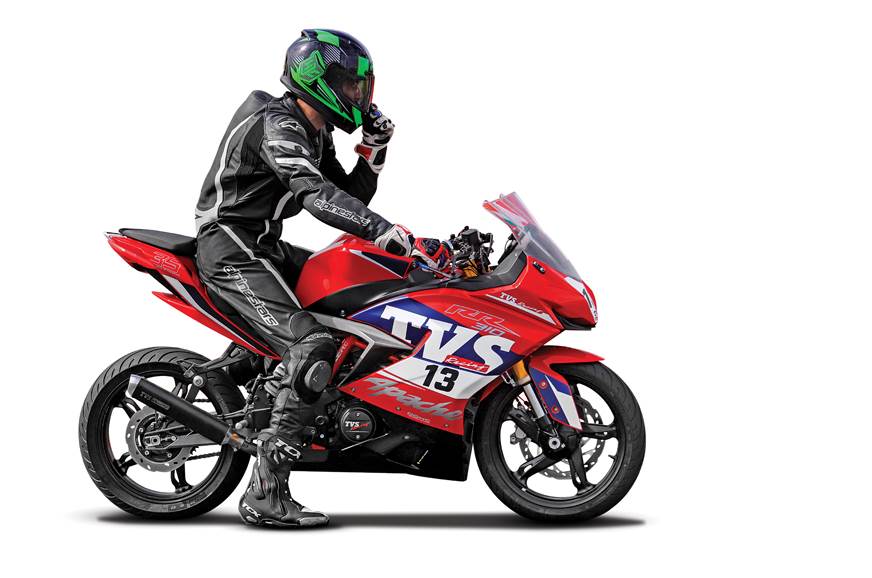 On a personal note, I'd love to see a factory team on a focused race-spec RR 310 mixing it up with those mental KTMs and Yamahas in the Pro Stock Open 300-400cc category of the National Championship. That would be a fascinating David vs Goliath showdown!
As far as my personal experience goes, wildly varying weather patterns at the Kari Motor Speedway meant I was in for one of the most intense and memorable experiences I've ever had on the race track. Look out for more in our video review that goes live in a few days!