The Honda Hornet 2.0 is a big step up from the motorcycle it replaces.
It's an incredibly hard task to unseat a market leader in the Indian automotive industry. Honda has been single-mindedly aiming for the top spot for a decade, but it remains a bridge too far. It would appear that the best possible scenario for change of crown would either be a catastrophic failure of some sort from the leader's side – which is highly unlikely – or a change in the rules of the game.
The transition to BS6 is exactly that sort of a moment – it represents a huge technological leap for such small machines and Honda is laying down its chips in a big style. In the space of a year, Honda has massively revamped its product range and instead of simple BS6 upgrades, most of its staple machines like the Activa, Dio, Unicorn and more are all new. No other manufacturer has launched this many products for BS6 that are actually all new.
The Hornet 2.0 you're here to read about takes it a step further. This new Hornet isn't just a replacement with incremental updates, it gets big mechanical changes like a new chassis, a bigger engine and the promise of a sportier character. We've just ridden it, and here's how this latest Honda delivers.
Honda Hornet 2.0 design details
The Hornet 2.0 is based on the international-spec Honda CB190R, but with plenty of changes for India. While the overall silhouette is similar to the CB190R, most of the body panels have been changed. The LED headlamp is new as well, while the gold-coloured USD fork is unique in this segment. A new engine cowl also adds to the sporty stance.
Viewed from the front three-quarters, the bodywork, with its larger tank extensions, looks taut and muscular, but the tank still holds the same 12 litres of fuel. The ignition key slot is now placed at the front of the fuel tank, which is something you normally see in more expensive machines. A new split-seat setup creates a sportier appearance from the side profile and when you move over to the rear, the new quarter panels have a more interesting design as well. However, they don't change the fact that the rear section, with its X-shaped LED tail-lamp, is very similar to the old Hornet.
Facing the rider is a negative LCD display with five levels of adjustable brightness, two trip meters, a battery voltage meter and a gear-position indicator. And finally, while the switchgear is still quite basic looking, it's a definite improvement over the old Hornet and you now get hazard lights as well as an engine kill switch.
The riding position is upright but with a dash of sportiness thrown in via a small lean forward to the handlebar, while the foot pegs are slightly rear-set. The seat height is decent too (we've reached out to Honda for the exact number) and overall, this is a bike that should fit riders of most sizes.
It all comes together quite nicely, and the gold USD fork gives the bike an aggressive streetfighter stance. But some things that could be better, and the side plastic panels, for instance, feels a little flimsy. The first lot of bikes had black mirrors, but the blue bike we tested had body-coloured mirrors that were done in coloured plastic and, up close, they looked quite tacky.
Honda Hornet 2.0 engine details
The new Honda Hornet is certainly a sportier looking motorcycle and it now has a bigger engine to back that up. Displacing 184.4cc, this fuel-injected engine is 22cc up on the old bike, and with 17.3hp and 16.1Nm, it also manages to produce a little more power and torque. However, it is quite a simple two-valve, air-cooled, SOHC unit and it appears that Honda has taken a similar approach here to what Hero has done with their 200cc engines.
Out on the road, the very first impression is that of familiarity. This engine has that same smooth feel, with a whiny intake sound that is typical of small-capacity Hondas. Our bike had a fresh engine, but refinement levels were still impressive, with just a mild vibration to be felt in the foot pegs and seat near the 9,500rpm redline.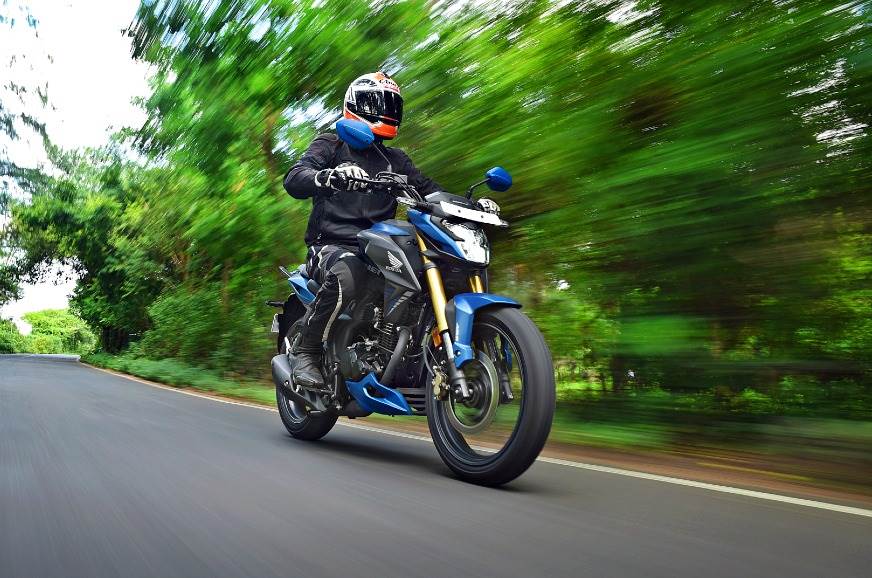 Peak power is rated at 8,500rpm and you do feel the engine start to get a little flat above this. Nevertheless, the fuelling is smooth, the engine pulls cleanly from low revs and there is a nice surge that develops when you cross 6,000rpm. Midrange performance is clearly the goal and the Hornet 2.0 feels enjoyably punchy at moderate speeds. We didn't get to test high-speed performance on the highway, but the bike should be able to sit at around 90kph without feeling like it's working too hard.
As to what the accurate acceleration and top-speed figures are, they will have to wait till we can test the bike with a Vbox data logger. But from what we've experienced, the performance feels more on par with the Hero Xtreme 200R, and it doesn't feel quite as quick as the 200s from either Bajaj or TVS.
Beyond flat-out performance, the 5-speed gearbox is smooth and light, as is the clutch action, and these are both things that you'll appreciate within the city. Honda's also kept the gearing quite short and the engine is flexible – I even found myself absentmindedly starting off from second gear a couple of times and the bike never protested.
Honda Hornet 2.0 ride and handling
While the performance still needs to be accurately measured, what's certain is that the Hornet 2.0 handles better than any 150 or 160cc Honda commuter motorcycle that has come before it. It only takes a couple of minutes to realise that the suspension setup isn't soft and soggy like most Honda 160cc machines. In fact, it's actually a bit on the firm side and the same can be said for the rider's seat.
Now the ride quality isn't harsh, but it's not plush either, especially over rough or rutted roads. In terms of practicality, there's plenty of ground clearance, so you won't have to worry about potholes or bad roads.
What comes as a happy surprise is how quickly the new Hornet wants to lean into corners. The low 142kg kerb weight definitely helps, but this bike is eager to change direction, and the fact that it now runs fatter tyres than before has had no negative effect on its agility. The Hornet 2.0 feels enjoyably nimble, but also quite confident when leaned over. We didn't encounter very high-speed corners but on some smooth and winding country roads, the new Maxxis Ultramaxx tyres had plenty of drama-free grip and the bike had generous cornering clearance.
Perhaps the only thing that still feels a little too soft is the bite from the front disc brake, as the lever needs a hard pull to slow down in a hurry. It's also a bit of a downer that this bike offers only single-channel ABS.
Honda Hornet 2.0 price and conclusion
It's pleasantly refreshing to see that Honda hasn't simply made another humdrum commuter with fancy body work. However, the price is quite optimistic and at Rs 1.27 lakh (ex-showroom), the Hornet costs just Rs 1,500 less than the TVS Apache RTR 200 and about Rs 2,700 less than the Bajaj Pulsar NS 200. It can't match either in terms of specification and it also lacks features like Bluetooth connectivity or a slipper clutch. In fact, TVS has just launched a new variant of the RTR 200 with single-channel ABS that actually costs about Rs 3,500 less than the Honda.
However, sheer value isn't the only thing that matters, and Honda has built an enjoyable motorcycle here. The very fact that this bike has an actual sporty feel has convinced us that it deserves a proper comparison against its seriously capable rivals.
Also see: