The Harley-Davidson Forty-Eight belts out tonnes of bold attitude, but a true report card involves more than mere appearances.
Harley-Davidson makes cult motorcycles. A motorcycle equipped with a 7.9-litre fuel tank may not sound like a qualified cruiser to many, yet this is what the Harley-Davidson Forty-Eight is all about. The Forty-Eight is named after the year this famous Milwaukee-based bike maker manufactured its first 'peanut'-shaped fuel tank. Sixty-four years ago, the peanut tank found its way onto the S-125, Harley's post-war solution to cheap transportation, further justifying the 'peanut' nickname. The company has adapted the peanut tank to many Sportsters since, giving it worldwide recognition.
The menacing-looking Forty-Eight is low slung, with a slim front fender neatly bolted onto its fork tubes. You can't miss the fat, robust-looking, spoked 130/90 x 16-inch front tyre on this motorcycle. Above, you can see a pair of classic-looking turn signal indicators, along with a chrome-ringed headlight and single-pod speedometer. A glaring oversight, however, is the absence of a fuel gauge. The bike comes with rear-view mirrors that sit unusually mounted under the handlebar; these look swell, but make a good case study of form over function, for compromising the rider's rearward vision. Palm grips are nice, as are the smart and chunky feeling clutch and brake levers. As with several cruiser bikes, the Forty-Eight's ignition switch is inconveniently located under its steering column.
Harley-typical switches provide good feel, but follow an unconventional format that takes a little getting used to. The switch for the right indicator sits on the right switch pod, with the left-indicator switch on the other side. Once activated, indicators self-cancel, or pressing the button twice completes the same job. And yes, as with other Harley bikes that adopt this safety feature, there's no switching off the headlight on a Forty-Eight.
The sleek fuel tank comes with a simple chrome filler lid. Adding to the macho impression are lustrous chrome, twin exhausts and the rear suspension located close to the Forty-Eight's toothed drive belt. The motorcycle's retro side panels sit below the low, rather thinly padded riding seat. The right-side panel has a chrome knob which pops up as an oil dipstick when pressed. The minimal look continues with a stout rear fender and neatly fitted turn indicators. A split seat for the pillion comes unfortunately only as a customised option.
The Forty-Eight is a true Harley for being built like a tank, with good overall quality and a reliable air about it.
It deploys a four-stroke, 1202cc, V-twin and air-cooled powerhouse. Each long-stroke cylinder bore and stroke measures 88.9mm and 96.8mm respectively, with a 10:1 compression ratio. The Forty-Eight uses a toothed belt to deliver drive to its massive rear wheel, the fuel-injected engine responding promptly to throttle inputs. The five-speed gearbox shifts in a one-down, four-up pattern, with a slightly heavy, even clunky feel to it.
A highlight of this engine is its lazy torque – 9.59kgm of it delivered at 3500rpm, and it doesn't require opening the throttle when releasing the well-weighted clutch to get the bike rolling away from a standstill. The Forty-Eight pulls hard from low down in its powerband, the exhausts outputting a crisp bark as one expects from a Harley-Davidson motorcycle. A problem that often proves a major irritant in torrid Indian conditions is excess engine heat being transferred to the rider's right thigh in low speed traffic conditions. Even so, cruising around and even over 100kph is a breeze, the tall fourth gear allowing for a smooth riding experience at speeds as high as an indicated 150kph, at which the Forty-Eight still has some power in reserve.
The stable, 260kg cruiser uses a conventional frame and suspension, with telescopic front forks and twin shocks at the rear, but it suffers from an overly stiff ride that transmits every bump and road undulation to the rider. The wide handlebar, forward-set foot pegs and thinly padded seat make for a less than ideal riding posture, where the rider's arms and legs feel too far outstretched for comfort. This riding position can get uncomfortable over long distances.
Harley also needs to move decisively to correct the high prices currently charged for parts customisation on its bikes, more so since several of these 'custom parts' are not far more than should be offered standard with the bike. A pillion saddle and foot pegs cost a hefty Rs 17,000 extra, while one could swap the Forty-Eight's riding seat for a more comfy 'springer' seat, for an absurdly high Rs 38,000.
Straight-line stability is solid at all times. Cornering abilities are decent, though the bike's low ground clearance could bother riders who try to hustle this cruiser and ride it like cruiser bikes are not built to be ridden. The Forty-Eight comes with disc brakes, front and rear, these working with a nice feel at the levers.
The Forty-Eight returns fuel efficiency of about 20kpl, which is pretty fair for a motorcycle with this much power on offer. Its small tank capacity, however, restricts the cruising range.
Although it's no plush long-distance cruiser, the Forty-Eight makes an attitude statement all of its own, asking riders to adapt accordingly. Priced at Rs 8,50,000 (ex-showroom, Delhi), this Harley-Davidson bike isn't about what it lacks, but rather stands more for what it offers, not the least of which is a 64-year legacy and a good helping of that puritan Harley-Davidson feel.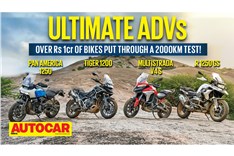 BMW vs Ducati vs Harley vs Triumph - 2000km ADV road trip...
6216 Views|8 months ago
Harley-Davidson Road Glide Special video review
6682 Views|1 year ago