The PraisePro is a feature-rich, lithium-ion offering at a competitive price, but what's it like to ride?
The Indian market is being flooded with electric two-wheelers. We receive emails from a new brand almost every fortnight and most appear to be rebranded Chinese products. Now, there is nothing wrong with that, but what really matters is quality control and some assurance that the product will age well. Electric two-wheeler brands that have been around for a while should fare better in this regard and Okinawa is one of them. Here's what their latest product, the PraisePro, is like.
In the buzz
It's quite tricky to describe this e-scooter's performance, and that's because the difference is so drastic on each end of the battery gauge. I first rode the Okinawa PraisePro fully juiced up and it had a reasonably satisfying punch. In traffic, it accelerated in complete silence at a pace comparable to an older generation 100cc commuter, and didn't feel compromised. It did slow down a little on flyovers, but not to a dangerous extent.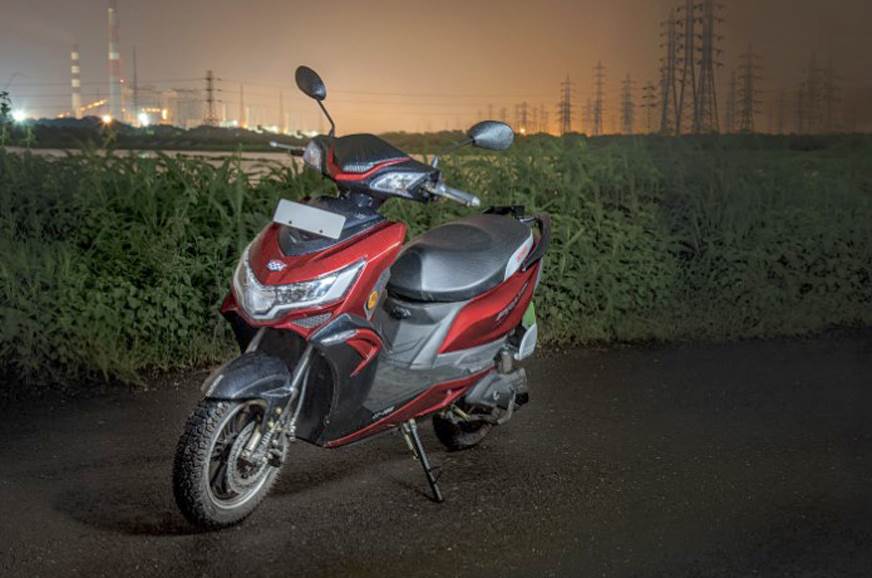 The scooter reached a speedo-indicated top speed of 73kph, which is quite quick on paper, but it didn't feel that fast. So, by sticking a Vbox on the scooter, charging it fully and engaging Turbo mode, we discovered that the true top speed was just 55.21kph – that's a speedo error of about 25 percent! Pressing the little green Turbo button on the left activates the mode for about 10sec. However, instead of increasing the rate of acceleration, it is the top speed that goes up; so it isn't very helpful when you need to make a quick overtake. 'Turbo' works similarly in both riding modes offered – Eco and Sport.
On a full charge, Eco mode will allow for a speedo indicated top speed of 45kph, or about 35kph on the Vbox, and that borders on being dangerously slow in fast-flowing big city traffic. At that pace, you have to stick to the extreme left of the road, like the cycles, and hum a couple of John Lennon's more famous tunes to keep it together. Riding Sport mode combined with repeatedly activating Turbo mode (there seems to be no limit on this) is much better, but that's also how you drain the battery the quickest, and then performance takes a turn for the worse as well.
Battery bar fluctuates wildly and there is no range display.
As the battery level drops, the performance significantly declines. With the battery gauge on its last bar, the scooter refused to cross a Vbox-tested top speed of 28.13kph, even with Sport and Turbo activated. While a drop in performance at low charge is common to electric vehicles, this is far from ideal. To put it into perspective – imagine your smartphone's network connectivity going from 4G to 3G to 2G as the battery level drops.
Range of motion
Okinawa claims an ARAI-tested range of 88km/charge in Sport mode and 110km/charge in Eco mode. While these figures are on the higher side, they don't seem that far from the truth. Testing an electric scooter without a proper 'distance to empty' range indicator is difficult, as you'd have to ride it till it runs out of charge and then push it until you find a charging point. So, we did the next best thing – we found out how far it would go on a single bar in the five-bar battery level display and multiplied that by five. It may not be the most accurate way to figure out the range but it did give us an estimate.
In Sport mode, the PraisePro covered 31km in two bars (15.5km each), which, in theory, should mean that the scooter would do approximately 77.5km in total. In Eco mode, it returned a slightly higher 17km per bar which means an impressive theoretical range of 85km.
Took around 3hr 15min to charge from zero to full.
However, there are two things to note. First, the bars do seem to drop a little faster as you go further down the gauge. We wanted to test this as well, especially the drop from the second last to the last bar. But this turned out to be almost impossible, because the battery gauge fluctuates wildly in a matter of seconds. A hard pull on the brakes will take you from two bars to five and opening the throttle fully for around five seconds takes it all the way down to one bar. There's no way the scooter is regenerating power on the brakes that quickly or even losing it that aggressively. It appears that this is more of a riding pattern-based gauge rather than an actual battery charge based one, which results in a fair bit of range anxiety.
In addition to the seemingly decent range, it's nice to see that the lithium-ion battery is removable and that it charges from 0 to 100 percent in about 3 hours and 15 minutes. Putting my 'vehicle' to charge right next to my smartphone on the same regular socket extension cord was an unusual experience, but one that I have to get used to as the future is electric.
You'll get suspicious looks hauling that large battery around!
The future is not all praise though, at least not yet. Finding power outlets in a parking space is difficult and removing the battery to charge it indoors is not as convenient as it may seem either. At 14.22kg, the battery weighs as much as an empty domestic gas cylinder and is not something you want to carry home after a long day at work. Also, there isn't sufficient storage space to carry the charger, and the charger doesn't seem to be weather proof.
Current flow
The PraisePro feels quite planted on smooth tarmac, despite having narrow 90/90 section tyres. However, even the smallest of bumps changes that feeling dramatically. Over bad roads, the ride is stiff to the point of harshness and the suspension barely absorbs impacts. Moreover, the narrow tyres, which contribute to the impressive range, create a sense of instability over road surface changes. The scooter sheds speed well, thanks to the strong disc brakes at both ends, although there is no ABS on offer. Do note that the E-ABS listed in Okinawa's brochure stands for Electronic Assisted Braking System, which is a fancy way of saying combined braking system.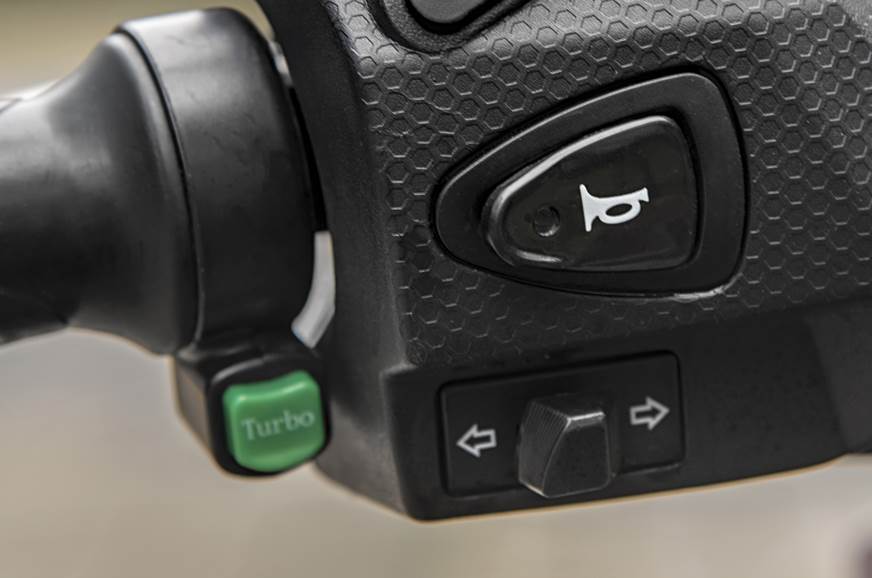 'Turbo' briefly increases top speed.
Okinawa's more affordable model, the Ridge offers conventional scooter-like ergonomics, but the same can't be said about the PraisePro. The footboard is placed too high and this messes with the riding position. My knees felt positioned too high and the handlebar too low, resulting in an odd riding position. Tall riders will find it unusable for longer periods and while short riders won't be bothered as much, they will find the 800mm seat height a bit high.
Static shock
The PraisePro is a good-looking scooter that manages to grab attention wherever you go. I had parked it outside a restaurant next to a bright green sports bike, and passersby still took a second look. The LED headlight is just about acceptably powerful, but it does look substantial on the apron and the diffused effect for the LED DRL looks quite nice as well. The scooter also has another set of lights at the front, which stay on for a few seconds after you switch off the bike, similar to the 'follow-me-home' lights on cars. Other features borrowed from the car world include a key fob and keyless ignition function. There's also a neat reverse and forward assist that automatically moves it backward or forward at parking speeds when it detects the rider pushing it; this gets deactivated when you tap on the brakes.
When a picture speaks a thousand words.
A good conductor?
The PraisePro scores well if you're looking for an unhurried runabout and want to forget about fuel bills. There are, however, a number of compromises that don't make it a good alternative to a petrol-powered scooter. The performance is highly inconsistent, and even at its best, it's not on par with a petrol scooter. Comfort and ergonomics are poor, and it isn't practical either because the battery occupies almost all the storage space. At Rs 72,000 (ex-showroom, India), it's not exactly cheap, and the same amount of money can get you some of the best petrol-powered scooters. If you're keen on doing your bit for the environment, we'd recommend waiting until a more convincing package comes along.