A limited-edition version of an already exquisite machine, the F3 800 RC is proper auto exotica.
If you buy an MV Agusta F3 800 RC, you'll receive your motorcycle and a very special wooden chest. In this goodie box that MV calls the 'Racing Kit', you'll find a bunch of tasty treats – the most special of them being a titanium and carbon-fibre SC Project exhaust system. MV also supplies a special power unit with a different map that lets the bike breathe easier through this exhaust and frees up a few extra horses along the way. And then you have the smaller bits of anodised aluminium jewellery like the special levers, race foot pegs and mirror caps for when you want to remove the mirrors. And of course, the whole bike is wrapped in the very same livery that MV Agusta uses at the World Superbike level of racing.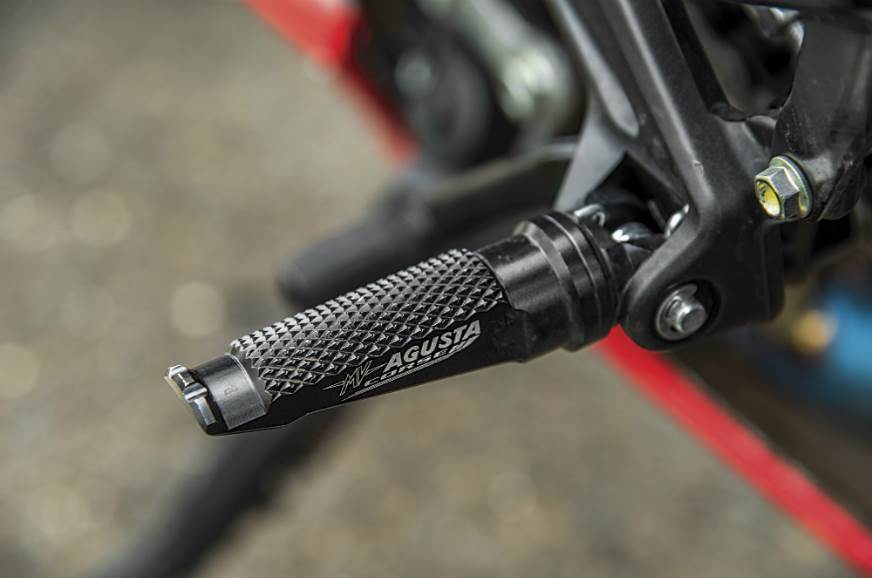 Machined foot pegs are a thing of beauty
Beyond this, what you get is effectively a standard F3 800 underneath. The chassis is untouched and the engine is the same 798cc, inline three-cylinder beauty that is one of the most emotionally charged motors you'll find on two wheels. MV engines have always been rabidly fast and with a level of aggression that makes the equivalent motor from Triumph feel polite and domesticated in comparison. The F3 RC is no different and it surges forward with a textured feel from the engine that manifests in the form of a constant fizz in the bars and pegs. You know it's there, but your mind is so occupied with being blown away by the performance that you couldn't care less.
In its stock form, this engine belts out 148hp, but the RC kit takes that up to 153, while the exhaust simultaneously brings the dry weight down from 173kg to 165 – 1kg less than the magnificent Triumph Street Triple RS. Accompanying the vision-blurring speed is an absolutely thrilling scream from the exhaust that borders on the anti-social. In fact, anti-social is the right word, because there's a sticker on the exhaust that clearly states it is for racetrack use only. And then there's the auto-blipper. Oh, the auto-blipper – I could write a love poem for this thing, it's that good. Crisp, clean and perfectly timed shifts arrive without fail in either direction, accompanied by all sorts of exquisite pop, bangs and burbles from the exhaust. I probably shifted about three times more than necessary in the half-day date I had with this supermodel.
And a supermodel it is. In the right environment, from the handling to the slim and tight chassis, it is downright addictive. The brakes are mighty and the electronics free spirited – dial traction control and ABS down to their lower settings and the wheels won't be shy to meet the sky under hard acceleration or braking. But take the F3 where it doesn't want to go and things get very cranky indeed. Heat pours out in heavy traffic, the clutch gives you a forearm workout from hell and the racy riding position, along with the suspension, will beat your lower back into submission if you don't hover over the seat through bumpy stretches. And for all the delicious design and detailing, there are a couple of unfortunate panel gaps, and the horrible switchgear and basic LCD display feel completely out of place.
But none of this matters. When this bike is in its element, it's nothing short of a drug. I can't remember the last time I whooped out in such unadulterated joy in my helmet this many times on a motorcycle; something that's in stark contrast to the other big superbike we rode recently. This is the ideal sports bike recipe in my mind – small, light, blindingly quick and just the right amount of intimidating. Of course, having one is a different matter – only 400 F3 800 RCs will be sold around the world and just six will come to India, of which this is one. Of course, there is also the matter that a stock F3 with a loud exhaust will be just as special to ride, and call me uncle, but I think it looks better without the shouty graphics, too.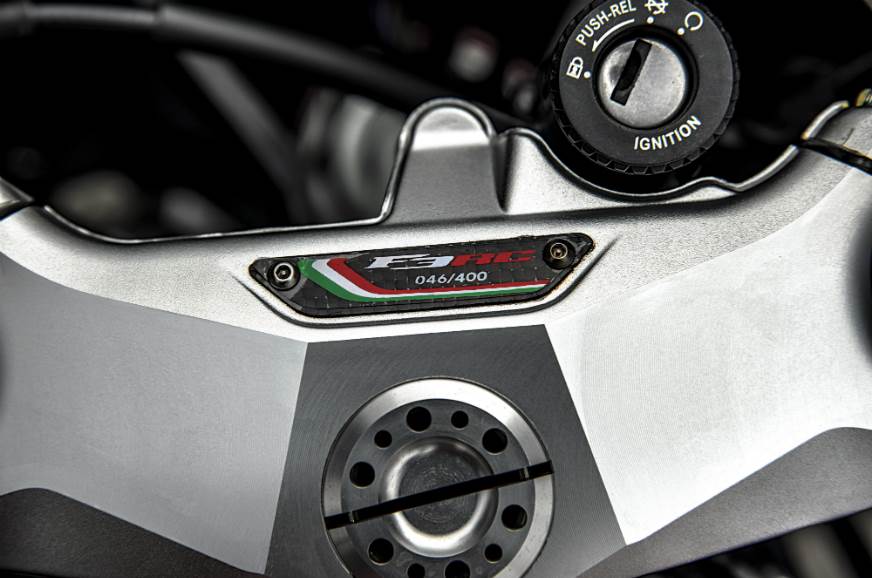 Only six will make it to India.
The F3 800 RC is the very definition of an Italian exotic in the way we've known them to be – stunning to look at, all-consuming to ride, temperamental to live with and with a, erm... less-than-perfect reputation for the aftersales experience. And not to mention the price – at Rs 21.99 lakh, it's Rs 3 lakh more than the already very expensive F3, and nearly on par with the range-topping S 1000 RR. But, hey, you could always buy a Honda if these things put you off. As for the six F3 RCs that find a home in India, I deeply hope they get to be enjoyed on the road and racetrack. It may look exquisite in a collector's living room, but believe me, this bike is even more life-reaffirming to ride.