I had a big crash and walked away from it.
I only saw the dog when he was under my front wheel. He had decided to bolt across the road from behind a passing bus; and by then it was too late.
I hit him at just under the National Highway speed limit and went down. The next 100-150m were a blur – I got separated from the bike, slid and tumbled on freshly laid tarmac and came to a stop not knowing which way was up. A quick check of my neck and limbs told me all was fine, so I stood up. That's when the adrenaline started wearing off and I discovered I'd dislocated my left shoulder. In the days following the crash I've had time to contemplate and here's what I think.
CRASHWORTHY: The bike is strong. Has survived both low- and high-speed crashes with just cosmetic damage.
First up, never ever skimp on good gear. My Scott 350 Pro helmet, Triumph Navigator jacket and pants, Alpinestars Spartan gloves and SIDI boots now look like they've been through a land-mine explosion but they are the primary reason I could stand up, brush myself off and walk away after. The whole kit costs about Rs 80,000 but the safety engineering that's gone into them stepped in at that crucial moment and did exactly what they were designed to do.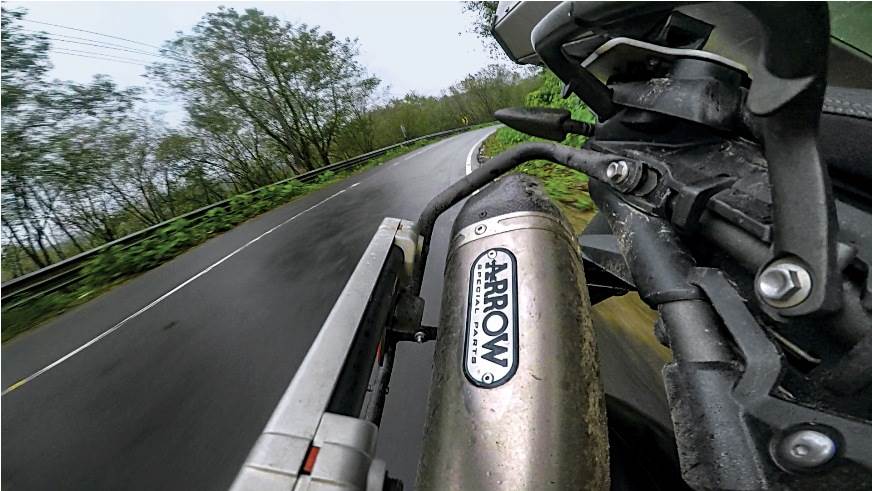 ARROW GROWL: I just got this Triumph-approved aftermarket exhaust and it really sounds awesome.
Second, invest in motorcycle protection. The Tiger slid down the road for about as much as I did when the luggage top box hit a roadside bollard and brought the bike to a halt. The brunt of the crash was borne by the aftermarket Barkbusters hand guards, the engine protection guard (standard on the XCx) and the pannier rack at the rear. The damage was therefore mainly cosmetic with no wrecking of important bits like the chassis and engine. I'm impressed by the inherent strength of the Tiger. I've dropped it at slow speeds when I'm off road many times but this was its first big crash and it came out better than I expected.
WHEEL OUT: You need a special tool to remove the front wheel, which most puncture-wallahs don't have.
Thirdly, spend a little extra and get the zero depreciation, bumper-to-bumper insurance. For the Tiger, the yearly premium comes to around Rs 18,000 and investing in this is what allowed my wallet to escape the crash unhurt as well. The insurance covers everything, so I haven't even bothered asking about what I assume is a pretty substantial bill.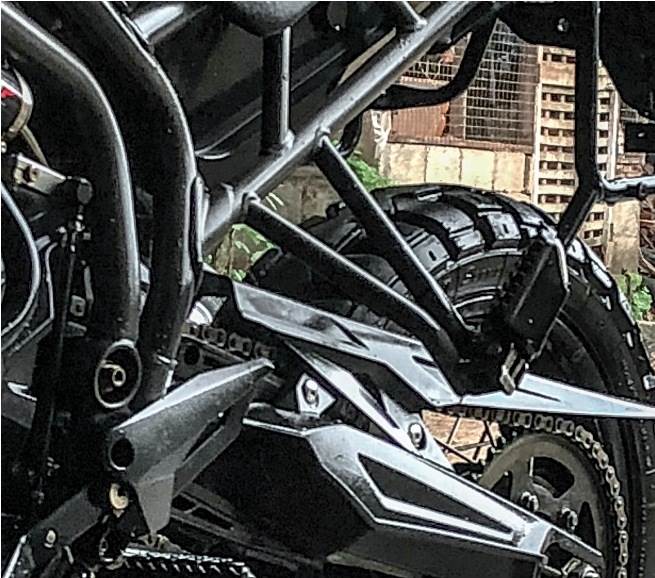 REAR FOOT PEGS: Welded onto the frame so can't remove them for off-roading. Can be a hazard to your feet if you fall.
Fourth: if you ride on Indian roads, this kind of thing is bound to happen. I've always known this but am now extra aware that you are up against everything on our roads – from driver/rider education, policing, road design and a general lack of common sense. The government may even introduce a poorly thought-out helmet law soon! In this scenario, the best you can do is to ride extra defensively and build a mental library of all the crazy things that happen on our roads and prepare for it. As for me, I was getting a bit complacent on the bike (the one thing you can't afford to do on our roads), and this crash served as a good wake-up call.