The recently launched Suzuki V-Strom 650XT is put through its paces in order to find out just how good is it, on-road and off-road.
The expanse of white, powdery stuff extended into the horizon in all directions. The horizon was itself a uniformly boiling water body – of course, it was only a mirage – and to see a Lesser Flamingo live up to its name, retiring to the life of a carcass, didn't contribute to my dwindling enthusiasm in the least. I'd been lured into getting this deep into a very hostile environment and to blame was the motorcycle you see here, the Suzuki V-Strom 650 XT.
The V-Strom nameplate isn't as legendary as, say, a 'KLR' or an 'Africa Twin', but it has proven itself the world over by being a practical, sensible and dependable motorcycle. I've ridden a few before, and while nothing about them kept me up all night, it had been a nice enough experience for me to be cheerful about riding a new one. Given the relative affordability and strong desirability of motorcycles in this class, Suzuki couldn't possibly have been able to shrug off the temptation to launch the 650 XT in India, especially since only one other prominent name has taken (and rather enjoyed, if such a thing can be said) the bait – Kawasaki, with the Versys 650. So here it is, and it's already gotten me into big trouble.
The day had begun on a very promising note, however. I was introduced to the V-Strom in the heart of Jaipur before the sun had risen, and while the white bike assigned to me looked underwhelming at first, finding myself making fast progress through the still-asleep city made me not mind it as much. To bystanders, I must've been a spectacle, though. The V-Strom is a fairly large motorcycle, after all, and its 645cc, liquid-cooled V-twin can make the right (if not exactly racy) noises when pushed. Despite the frantic rate of progress, I was seated in comfort, without having to latch on to the handlebar. The wind gushed by without drama, thanks to the minutely adjustable (by 9mm) windscreen and there was nothing the V-Strom did to make me feel unwelcome. I couldn't have been getting too comfortable, too soon, right?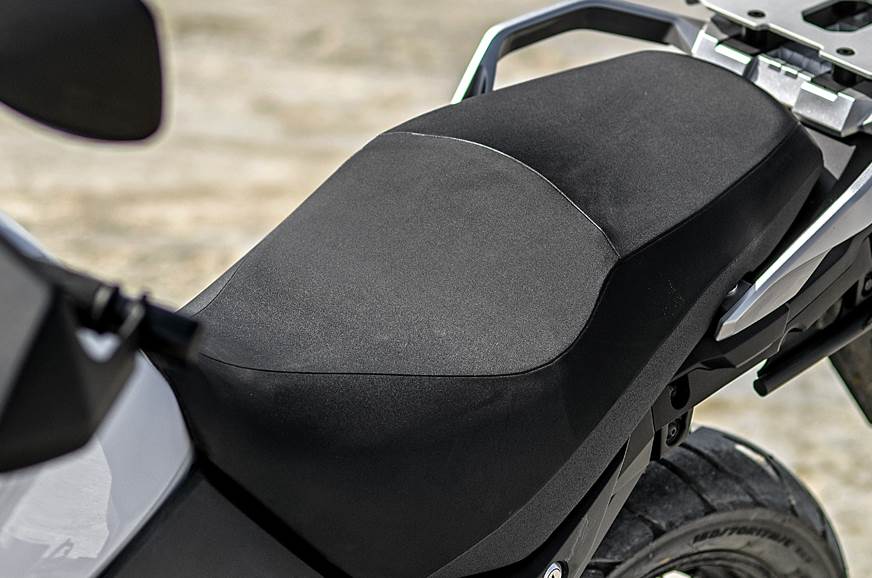 I should explain why this may have happened. The first suspect is the V-Strom's aluminium twin-spare frame, which keeps the bike pleasantly slim; no fat-shaming here, but some adventure motorcycles can get needlessly taxing due to their dimensions. Suzuki claims the frame keeps matters light, but what I can vouch for is the manner in which it keeps things agile and entertaining, without being too sportbike-y. This is a 216kg motorcycle, which is the same as the Versys 650, but its wheelbase (at 1,560mm) is well over 100mm longer. That, combined with the V-Strom's less sophisticated telescopic fork means there's an understandable lack of electric responses in the twisty bits, but it doesn't quite qualify as lethargy. In other words, you can still have a lot of fun with the V-Strom on tarmac, but it comes with a fairly rational limit.
The other crucial accomplice is the engine itself. The 645cc parallel-twin motor is meaty and garnished with ample feel, and is quite up there in terms of refinement and linearity. With 70.7hp on offer, the V-Strom's willingness to dart off the line isn't unsurprising, but it's the mid-range performance, propelled by the 62Nm of torque at hand, that has an addictive quality to it. The tractable motor turns most responsive bang in the centre of its powerband and that means stress-free overtakes can get over with before you know it. To reel off a few numbers, just so you have a reference, it sustains 100kph in sixth gear with the tacho needle resting at the 4,500rpm mark; another thousand revs later, you arrive at 120kph, where you continue to remain at ease. Even if just for a heavily influenced moment, the V-Strom does make you question the need for bigger motorcycles.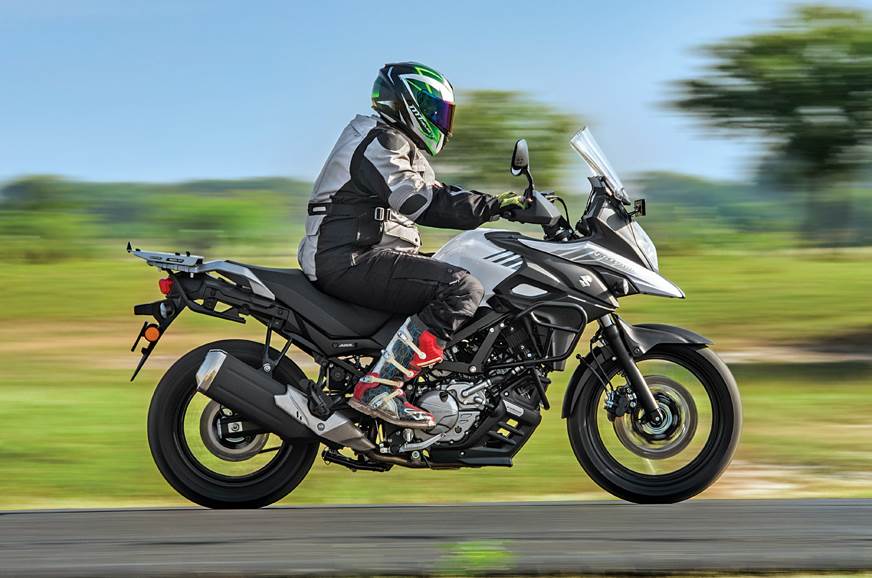 This packaging strength is elevated by what the V-Strom is at its very core – a rugged, capable adventure motorcycle. With a ground clearance of 170mm, very pliant suspension at both ends and seemingly built-to-last underpinnings, the V-Strom is instantly encouraging of abuse. The wire-spoke wheels, shod with tubeless Bridgestone Battlax Adventure A40 tyres, do a fine job of digging into dirt, while still remaining amicably planted on tarmac. Contributing heavily to the bike's approachability are the spot-on ergonomics – on the whole, it comes across as a motorcycle that's ever-willing to be taken into the wild. It transitions from tarmac to dirt seamlessly, leaving you to experience a plush ride and generous amounts of feedback. You know exactly what's going on at the ends of the motorcycle, and this is hugely helpful given how effortlessly the V-Strom eggs you on into exploring the depths of unfamiliar territory. Before you know it, you'll have executed perfect increasing-radius powerslides, all the way into a hostile neighbouring country. This may be mildly hazardous to your well-being, although on balance, it will make for a great story for your grandchildren.
Thankfully, off the road is not the only place you can really enjoy the V-Strom. Even at crawling city speeds, it assumes a relaxed demeanour, offering hiccup-free responses. Suzuki's patent-pending Low RPM assist feature helps cold starting and stable idling, and also automatically raises the idle speed when the clutch is engaged or at low rpm, which results in a linear throttle response. The V-Strom also features a two-stage traction control program; although, to be honest, the motor's easy-to-understand character means you'll enjoy riding it with the system switched off. A dual-channel ABS, too, is standard equipment and while the advantages of this needn't be enlisted, some of you may be disappointed to hear that it cannot be disengaged – at least, not unless you enjoy unplugging fuses and playing with wiring circuits. You are free to try, though (at the expense of a warranty, mind you), because the 310mm twin-disc setup at the front and the 260mm rear disc are convincingly dependable and progressive, even if they lack razor-sharp reflexes.
The running theme with the V-Strom is, undoubtedly, comfort – and I say this in a panoramic, all-encompassing context. In a world without the Honda Africa Twin, this would be the motorcycle I'd pick for a trans-continental odyssey because it has the legs to absorb the worst without even once trying to hog the limelight. It doesn't tug at your sleeve for attention, choosing instead to remain focused on getting you exactly where you want to go. At Rs 7.46 lakh (ex-showroom), the V-Strom isn't the cheapest of its kind, but it's a price worth paying for a motorcycle that can get you into a lot of trouble; especially one that can get you out of it, as well.
Also see: