If a cool, fun and versatile 125cc scooter is what you're looking for, you just have to read this first!
The evolution of the scooter has not been too dissimilar to that of the mobile phone. Its transition from being elementary and a mere convenience to being feature-packed and indispensable has been a fast and spectacular one – this applies to both, of course. The scooters of today, just like mobile phones, have to be multi-faceted – and be excellent at it, too. In the Indian context, this smartphone-level of expectation falls onto the 125cc segment. The 100cc segment can plod along a little longer while offering vanilla operating systems and sedate selfie cameras; but a 125 gets no exemptions. That should explain these bright, shiny-new scooters in the pictures, reaching out for your attention with intensity you haven't witnessed before.
Take a look at all the images of the bikes being tested, here.
LOOK BEFORE YOU LEAP
Going with the disclaimer of looks being subjective, let's take a quick look at the TVS Ntorq 125, the Aprilia SR 125 and the Honda Grazia.
The Ntorq is the newest design of the three (the SR 125 came later but its styling already existed in the form of the SR 150) and it does look flashy from most angles. The under-styled front is a disappointment, but the over-styled rear-end compensates for this and the overall effect is that of a sporty scooter that's not as blatantly boy-racer as the Aprilia. It's got too many textures and colours going on, however, which may not be to everyone's liking. While the overall visual package is a considerable effort from TVS, (it really has been getting its details spot-on – look at the pegs, the digital meter, the seat etc) it's not necessarily the scooter with the best fit and finish on this list.
That scooter is the Grazia. It's not a dramatic design in any way, and this shade of white certainly doesn't do it any favours, but it's a clean, crisp looker. The panels align perfectly well on the Grazia and the textures are tasteful – even if they aren't enthralling like those on the Ntorq. It just about skims a sporty outlook in this company but its popularity suggests that this is a good recipe. It's not a scooter you'd turn around to look at one more time after you've parked it, however.
That scooter would have to be the Aprilia SR 125. The SR is blatantly sporty and with its tall-ish, edgy stance it looks most suitable to be a motorcycle alternative. The beak at the front-end is done just right and its slim, minimalist tail-end looks fantastic – this is the best-looking sporty scooter in the country right now, by a long shot. It isn't the best built one, though. The plastics seem dated, overall, and while nothing on it comes across as flimsy, it's a fair distance away from the premium touch-and-feel experience the other two scooters here offer.
To summarise, it's the SR you've to have if you're in college and want to look like the coolest whizzing blur your classmates have ever seen; the Ntorq if you're in college and want to stand out in a crowd; and the Grazia, if you were once in college, some years ago.
NEED FOR SPEED
That these scooters need to satiate one's performance appetite goes without saying, and each makes a credible attempt, in this aspect. In a market with sky-high expectations, however; speed alone isn't enough. Refinement, tractability and efficiency are things a 125cc scooter has to be held accountable for and here's how this trio goes about it. Let's start with the slowest – the Grazia.
This is a typically-Honda package – muted and linear but not exhilarating. The Grazia's 124.9cc motor produces 8.5hp and 10.54Nm of torque; it starts off on a refined note and stays that way till about 65kph. It has a lot to offer beyond that, of course, but it loses steam and composure, past that mark. It registers a top speed of 87.9kph if you persist – but that's clearly out of its comfort zone. This isn't apparent in isolation but in comparison to the others, it's impossible to ignore. The Grazia is a city-happy scooter, however. It accelerates from 0-60kph in 9.2sec and is stress-free at urban speeds, but it simply lacks the excitement you'd want out of a 125.
The Ntorq fares better. Its 124.7cc, 3-valve motor makes 9.4hp and 10.5Nm of torque – likably healthy figures – and it translates to an encouraging performance package. It feels strong being launched and it is the quickest of the lot, going from 0-60kph in just 8.81sec. TVS has lent it a rather RTR-ish exhaust note, as well, which stays racy till about 60kph before fading away into a scooter-ish soundtrack. The motor does a fine job of being vibe-free and consistently tractable, and the Ntorq retains momentum all the way to its top speed, which is 95.4kph. The heavy throttle-twist action may not appeal universally but it lends a substantial feel to its performance, which is terrific in the city and out on the highway. This motor gives you the impression of being conceived with a higher power output (ooh, that would have been nice!) but since efficiency can't be sidelined, it's still a good balance.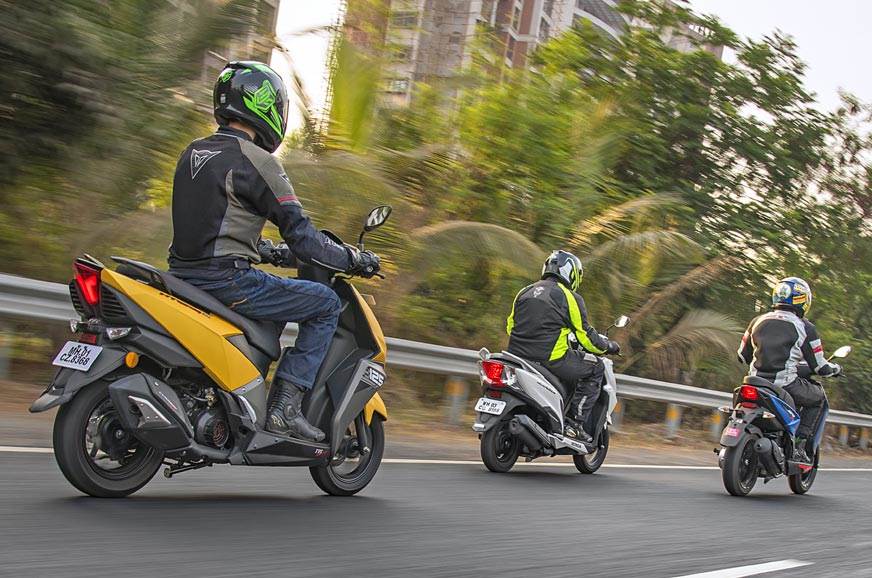 The SR's 125cc, 3-valve motor is gruff-sounding but feels just as effortless as the Ntorq. It is also forever game for speed, thanks to its 9.52hp power figure, although at 9.8Nm, it makes less torque as compared to the others. Its throttle-weight feels lightest to the wrist and despite being the heaviest scooter here (122kg; 116kg for the Ntorq and 107kg for the Grazia), it feels the peppiest. It does seem to hit a flat spot momentarily – near the 60kph mark on the speedo – and this shows in its 0-60kph acceleration time of 10.9sec, making it the slowest of the three scooters, here. Do keep in mind that the SR's is a fairly optimistic speedometer (also the only analogue unit among the three), so while it displays a dramatic 120kph, it registers a nonetheless impressive 100.6kph. What take away from the sensation of speed (by introducing more stability), however, are the large, 14-inch wheels – not that I'd trade them in for a smaller size, though!
In the real world, a 125cc scooter is meant to be, both, a step-up from your average 100cc scooter and a legitimate alternative to a motorcycle (for one reason or another) – and in that sense, it's a close call between the Ntorq and the SR 125. The Ntorq's motor is sufficiently quick on its feet and its low-end performance (and the accompanying exhaust note) is addictive, but it's the SR 125 that can substitute for a motorcycle the best. The Aprilia is effortlessly confident, although I wish it had a stronger engine feel – oh wait, we have the SR 150 for that!
HANDLE WITHOUT CARE
What's the point of a fast motor if you let the road dictate the terms, right? Without intending to sound unlawful, a fast scooter is really one that can handle corners, bumps and, essentially, everything that real-world road conditions have to offer – in addition to being powerful, that is.
We'll start with the lightest, the Grazia, which gets a 12/10-inch front/rear tyre combination. It's fun but that's not the same as being sporty. The Grazia is flickable and fairly stable, too, but its ergonomics aren't most suitable for the urban cut and thrust, or for taller riders. Its seating position is such that the handlebar fouls with your knees when executing a U-turn. It does have the most generous floorboard of the three, however, and is certainly roomy enough for a pillion, who gets substantial, body-coloured grab rails to hold on to. In comparison to the other 125s here, its telescopic fork feels almost like a trailing-link unit – it's moderately pliant but doesn't take to potholes and undulations as nicely as one of the other scooters in this test. The rear is sprung softly, however; on the whole, this is a conservative handling package. It's indulgent in the corners but its limits are well within sight – this is clearly not a scooter you will win races on (not that you should be racing, but...). The CBS (combined braking system) is a proven fixture on Hondas, and paired with the small disc brake up front and drum at the rear, it makes for a poised braking package – not spectacular in terms of feel, but it does the job well.
The SR 125, on the other hand, is nothing but fun and sporty – and it shows. It's not the best scooter for those below average height. If you can get past that, though, the incentive is that it doesn't feel its weight, one bit. The SR is the sharpest handling scooter I've ever ridden and its responses are intuitive and addictive. Thanks to riding on 14-inch wheels, it feels supremely confident being leaned over and the seating position is quite aggressive, too. This means that I didn't quite miss my motorcycle as much as I usually do when scooter-bound. Its brakes, too, are the sharpest and the levers offer great feel – something you will adapt to instantly, especially if switching over from a motorcycle.
Hereafter, it's all downhill for the SR, however. The brakes are sharp, but also demand respect and can result in dramatic front end lock-ups if you're careless with the brake lever; it does stop from 60kph in the shortest distance, however, with the Grazia and Ntorq being second- and third-best, respectively. This isn't something you can't learn your way around, but it is an area of concern nonetheless, especially for newer riders. Then there is the suspension. This is, by far, the least pliant scooter I've ridden and it's disappointing how Aprilia seems to have done nothing to address this from the original SR 150. While the setup favours hard cornering, it works only on smooth-as-glass surfaces – and you and I already know such a thing doesn't exist in the Indian realm. The telescopic fork comes across as almost rigid, and its constant jarring (which comes through, unfiltered, to the handlebar) is acceptable as character at first but turns annoying, quickly enough. Be it concrete or even visibly smooth tarmac, the SR's front-end picks up all minor of minor surface roughness and just makes for a bumpy ride, which is hard to live with unless you are a 17-year old with no concept of self-preservation. The SR's tall seat is also the least comfortable of the three, being narrow, firm and downward-sloping – it's certainly not suitable for longer stints.
The Ntorq is a revelation! Almost a polar opposite to the SR 125, the Ntorq is – if my memory serves me well – the most mature ride quality a scooter has ever offered in India. It handles potholes with a muted 'thump' rather than the crashy 'thwack' you get on most scooters and there is a plushness to the way it approaches speed breakers that's almost addictive. I've been taking an alternative route home these days (one with more speed breakers) just so I can witness the Ntorq do its thing. Alright, it isn't a razor-sharp handling package, but with 12-inch wheels at either end, it still has refined reflexes and responds to inputs with poise. The seating position is commuter-ish, which is disappointing for a sporty-looking scooter; but all is forgiven, thanks to the soft seat (perhaps a bit too soft) – certainly among the best in its class. The conservative riding position also works in its favour in the city, since the handlebar steers clear of one's knees, even in the tightest of situations. Lastly, while the Ntorq is confident and strong on the brakes, the front brake lever feels slightly wooden. This is perhaps better than the SR's sharp front brake, from a safety perspective, but TVS could surely have found a better balance.
Overall, then, it's the TVS which is safer to ride faster in the real world – and also the comfiest of the lot, by a huge margin. But we can't help wishing that it felt just a little bit sportier...
STUFF TOYS
Unlike in a bygone era, the scooters of today are expected to be loaded with tech and cool bits. It's not a by-product of need but more of value perception – and either way, manufacturers cannot ignore the diktat; TVS hasn't ignored it, either. The Ntorq, in addition to a disc and a telescopic fork (present on all three), gets an engine-kill switch, a comprehensive digital instrument cluster with its SmartXonnect phone-pairing feature, an under-seat USB charger and also an illuminated storage area – which is a thoughtful touch. The pass light is integrated into the headlight beam switch – not intuitive but it's better than omitting it, altogether – and while the switchgear is of good quality, most of it is oddly tiny. The instrument cluster is clearly the highlight of this package (even if a bit gimmicky, with its lap timer and engine temperature gauge), because it displays an array of information (no tacho, however) and gets two neatly integrated buttons for operation, as well. The Ntorq's headlight, though, is quite poor and thoroughly out-done by the next scooter.
The Grazia is the first Indian scooter to offer an LED headlight – and it impresses. The beam and output of the LED unit is genuinely good and has raised the bar high for scooters from other brands to catch up. In addition, it also gets a fully digital instrument cluster and the only gimmick it offers is a tachometer – its novelty fades away a few weeks into ownership. The digital instrument cluster isn't easiest to read in sunlight, thanks to the curvature of the plastic shroud that sits atop it, but its uncomplicated layout works well, under everyday use. While a USB charger is an optional accessory on the Grazia (Rs 500 a pop), it does get an enclosed stowage compartment (non-lockable) in the apron area. Three months into living with our long-term Grazia, the bin has been handy for carrying keys and even a wallet, at times – but with a flimsy lid and a hard texture, my phone's never going in there.
In comparison, the SR 125 feels austere. In the name of features, it gets an analogue instrument cluster and, well... that's about it. In modern 125cc scooter terms, the SR 125 is so archaic; you'd almost expect it to ask you for your BB Pin. Okay, it does have the biggest fuel tank of the lot (7 litres; the Grazia and Ntorq offer 5.3 litres and 5 litres, respectively). Moving on, though, the side-stand and even grab rails are offered as extras on the SR, and while the seat strap is usable, it does make your pillion look very questionable. You don't get a brake-lock clasp, either. Aprilia clearly wasn't paying attention in marketing class and the SR 125 has to bear the brunt of this. A couple of years ago, the SR may have gotten away with this austerity, but that just doesn't fly, anymore.
CHEQUE, MATE
Somebody's going to have to pay for your thrills – and if it's going to be daddy dearest, he'll be most pleased with the TVS Ntorq. At Rs 58,750, the Ntorq impressively undercuts its rivals, despite offering as much – and in some aspects, a lot more. It scores high on features, ride and handling, practicality and appeals to a balanced demographic. After all that, with that price tag, it spells terrific value for money. Also pleasing to the ears is its 45kpl fuel-efficiency figure in the city, and a respectable 49.1kpl on the highway.
The Grazia's Rs 62,505 isn't easy to digest – perhaps in isolation, but not in the seriously potent company it has found itself in – since it's neither the quickest nor the comfiest scooter around. I suppose it's the LED headlight that contributes to its price tag, which is a feature worth paying for. On balance, the Grazia may not be exciting, but it is also something you just can't go wrong with. If you're looking for a 125cc scooter but not necessarily a sporty outlook, the Grazia may be more up your alley. It's also the most efficient of the three scooters, returning 44.9kpl in the city and a remarkable 57.6kpl on the highway.
A real shocker of a price tag, however, is the SR's. At Rs 66,764 (all prices, ex-showroom, Delhi), the SR 125 isn't too cleverly priced (if at all) since it's not only the most expensive in its class, but also has the least to offer. Yes, its motorcycle-like demeanour is lovable, but even that's not an aspect Aprilia has executed to perfection – case in point being the stiff, unsettling front suspension. Of the three, it's the SR which has the narrowest focus – it's the best scooter for boy racers. Period. However, the SR 125's undoing comes from within its own family – the SR 150, that is – which is priced enticingly close (Rs 70,939) and is more fulfilling in its all-round performance. Buying an SR 125 means you'll have to accept some drawbacks and the SR 150 presents those very same issues – but with a stronger hit of power. We can't see why you wouldn't go for the SR 150. Lastly, it's also the least efficient of the three, returning 40.6kpl in the city and 43.3kpl on the highway.
The result is clear enough – the TVS Ntorq 125 wins. It's a well-rounded scooter that appeals to the widest audience, and that makes TVS the most deserving recipient of a cheque from you – or your parents, for that matter.
Also see: