Sales of electric two-wheelers, the low-hanging fruit of the EV industry in India, along with the three-wheeler segment, are on a roll. Autocar Professional's analysis of the high-speed e-two-wheeler industry's sales for the first 11 months of this Calendar Year (CY) reveals that sales have surpassed the 1,00,000-unit mark for the first time.
355 percent year-on-year increase

The top three players are Hero Electric, Okinawa and Ather
Total sales from 25 EV OEMs (as exclusively detailed in the accompanying data table below) are 1,16,669 units. This constitutes a 355 percent year-on-year increase (CY2020: 25,598 units), albeit on a low-year total and a pandemic-impacted year. Given the monthly average sales of 18,948 units for the September-November period, total industry sales for CY2021 should be in the region of 1,35,000 units.
Hero Electric maintains leadership position
Market leader Hero Electric, which sold a record 7,102 units in November – its highest monthly tally yet – has chalked up total sales of 40,318 units between January and November. Do the math, and it works out to 3,665 units a month, or 120 Hero e-scooters sold each day of the year till November. What's more, its 11-month sales are a near-400 percent YoY increase (CY2020: 8,111 units).
This performance gives the company a market-leading share of 34.56 percent, thanks to its number of models on offer, including the popular Optima, Photon and Nyx across varying price-points. Its sizable and expanding sales network is also helping the company stamp its presence – over 700 sales and service outlets across the country – along with a widespread charging network and EV-trained roadside mechanics. It is also investing in expanding the EV charging network. Last month, it partnered with Charzer, a Bangalore-based EV charging start-up, to set up 1,00,000 charging stations in a year, further standardising electric vehicle infrastructure between manufacturers.
Okinawa stays plugged in at No. 2, Ather unseats Ampere
Maintaining its CY2020 ranking of India's second biggest e-two-wheeler OEM is Okinawa Autotech – with sales of 23,899 units from January-November, clocking a 329 percent YoY growth (CY2020: 5,564). This gives it a market share of 20.48 percent. The company is averaging monthly sales of 4,257 units and clocked its monthly best numbers in November: 5,421 units.
To future-proof itself in terms of manufacturing capacity, Okinawa is investing between Rs 200 crore-250 crore in a new plant at Bhiwadi, Rajasthan. The company aims to achieve 100 percent localisation by next financial year end (FY2022) and also plans to introduce an e-motorcycle.
Fast-growing Bangalore-based start-up Ather Energy has taken the third place in the Top 25 EV OEM list, unseating Ampere Vehicles. The smart e-scooter maker has sold 14,152 units in the first 11 months of this year. Despite having just two models on offer – Ather 450X and 450 Plus – the company has seen a smart uptick in demand. In addition to investing in its fast-charging network, Ather Grid 2.0, the OEM is also working on a sub-Rs 1,00,000 affordable e-scooter, which is expected to bring in more numbers.
The top three players – Hero Electric, Okinawa and Ather – have together sold 78,369 units, accounting for 67 percent of the total sales. They are also the only ones among 25 OEMs to cross the 10,000-unit sales mark.
Pure EV jumps three ranks to be No. 4
IIT-Hyderabad incubated Pure EV and Greaves Cotton-owned Ampere Vehicles are at fourth and fifth rank, clocking sales of 9,363 units and 9,155 units, respectively. Pure EV's performance is noteworthy, given that it has jumped three ranks, moving up from seventh position in CY2020.
Ranked sixth is TVS Motor Co with 4,068 units, although the tally could be more because November numbers are not in. TVS and Bajaj Auto (which is ranked No. 8 with 3,841 units), are the only ICE players who have diversified into EVs. Their numbers are still on the lower side, but that can be put down to the fact that both their products – the Bajaj Chetak and the TVS iQube – are currently available only in a few cities.
Is the industry headed for overcapacity?
Given the rapid pace of demand for electric two-wheelers, sales can only grow. The recent hike in the FAME II subsidy, wallet-busting prices of petrol (even after the Central Excise duty cut on November 4), and over 20 states across India announcing EV-friendly policies, the scope and potential for these emission-free vehicles on two wheels is immense.
Understandably, EV makers are bullish about growth this year and beyond. While Hero Electric's managing director Naveen Munjal says EV sales are expected to hit the 30-million mark by 2030, Ather Energy's CEO Tarun Mehta believes around 40 percent of petrol-engined scooter sales can be converted to electric scooters by 2025.
The EV buzz is in the news headlines too. Not a day passes without an announcement of new equity infusion, high number of claimed bookings or increased manufacturing capacity.
With new players like Ola, with its S1 and S1 Pro achieving over 1,00,000 bookings, Simple Energy getting over 30,000 bookings and Boom Motors having over 25,000 bookings, EV sales in India are expected to grow substantially.
However, with most OEMs announcing manufacturing capacities running into millions of units with total industry sales at just 1 percent of total ICE two-wheeler sales of 16 million units, it gives rise to many questions: How real is the demand in the Indian electric two-wheeler industry and do the massive manufacturing capacity announcements in the recent past from multiple OEMs warrant it? Is the e-two-wheeler industry headed for overcapacity? What about the supply chain ecosystem and charging infrastructure? Nonetheless, EV start-ups and established OEMs are optimistic that the tide will shift in a bigger way towards e-mobility.
Also see:
Sales down by 36 percent for top four two-wheeler companies
Ather Bikes
Ather 450 Plus
₹ 1.41 lakh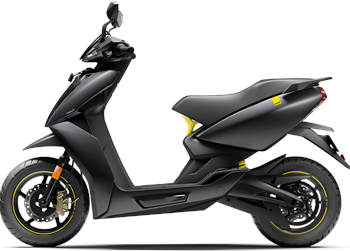 Ather 450X
₹ 1.63 - 1.64 lakh
Ather 450X Gen 3 video review
9867 Views|8 months ago
Yamaha Aerox 155 vs Ather 450X drag race video
16028 Views|1 year ago