A vehicle on fire isn't really something new, but an EV in flames gets a lot more attention, and understandably so. EVs are in the news virtually every day and a fire will naturally find mention. What makes it sensational, however, is the fact that these fires happen when EVs are operational, or even while charging, and once ablaze they are very dramatic with high flames and plumes of smoke and are nearly impossible to control.
EV safety: Fire Fighting
With the Ola, Pure EV EPluto 7G scooter incidents and the tragic loss of lives in Vellore where another electric scooter caught fire, the central government has now deputed a team to probe the incidents and submit a report and is also expected to develop a strategy and SOPs around handling EV fires.
The plumes of rapidly rising smoke and often uncontrollable flames make EV fires very dramatic.
Local firefighting units are also developing their own strategies just like units abroad. Our sources in the Mumbai Fire Brigade say that they have increased the cool down and observation period from 48 hours to 72 hours for EVs. They have also established that massive amounts of water is required to douse an EV fire and they will thus tend to it with a bigger arsenal of water tenders.
So while EV firefighting SOPs are being developed around the world, a global standard is yet to be established. Common in all techniques is the use of immense quantities of water, essentially to cool the battery, or simply letting the fire burn itself out. Using gas extinguishers to 'suffocate' the flame does not really work, as being a chemical blaze, it does not require oxygen.
The area around must also be checked for battery cells that could have been propelled from the pack by an explosion and might spontaneously ignite later. Following containment, the burnt-out EV must be removed and deposited in a compound away from buildings and other vehicles. (In the UK, some 25 percent of scrapyard fires are caused by spent lithium ion batteries.) More radical steps include immersing the vehicle in water, although not sea water because chlorine gas can be released.
For electric cars that are on fire or at risk of being so, the fire service in Copenhagen, Denmark, has developed a truck-mounted vehicle containment solution. The smouldering EV is lowered into the container, which, like a skip, is then hoisted onto a flatbed truck. Nozzles in the floor and sides of the container allow water to be pumped into it. Once full, the container and car are taken to a safe storage area and left, possibly for weeks, until the vehicle is no longer a hazard. All being well, the water is then filtered and treated for its safe disposal.
EV safety: Fanning the Flames
The problem is even when empty, cells contain a small amount of charge and together the many cells that make up a battery still hold a lot of energy. Full or 'empty', the risk of this energy escaping in an uncontrolled fashion is what leads to 'thermal runaway', when heat and gases fuel even higher temperatures and still more gases, including hydrogen and oxygen, in a self-fulfilling loop until the cells begin to burn and burst. A toxic vapour cloud develops, bringing with it the risk of deflagration. Once thermal runaway has started, no battery management system or circuit breaker can stop it.
"A battery fire can be controlled but it cannot be extinguished," says Paul Christensen, professor of pure and applied electrochemistry at Newcastle University speaking to Autocar UK. Perhaps the most infamous example is the crash and subsequent fire that engulfed the Rimac Concept One car driven by the Grand Tour's Richard Hammond, its massive battery burned for five days.
While battery packs catch fire through overheating or while being charged, they can in rare instances spontaneously combust with contamination of even a single cell during its manufacturing being a possible explanation. "Even experienced and careful manufacturers have defective cells passing through their careful quality control systems," says Christensen.
Another complication is a group of EVs going up in flames presents an extremely difficult task. As Christensen points out, "In Germany, three bus depots have gone up in flames in the past six or so months," he says. "Tunnels, ferries, car parks, cargo ships transporting EVs – all the places you find electric vehicles should be considered a safety risk and appropriate steps taken." Words that proved to be prophetic just a month later.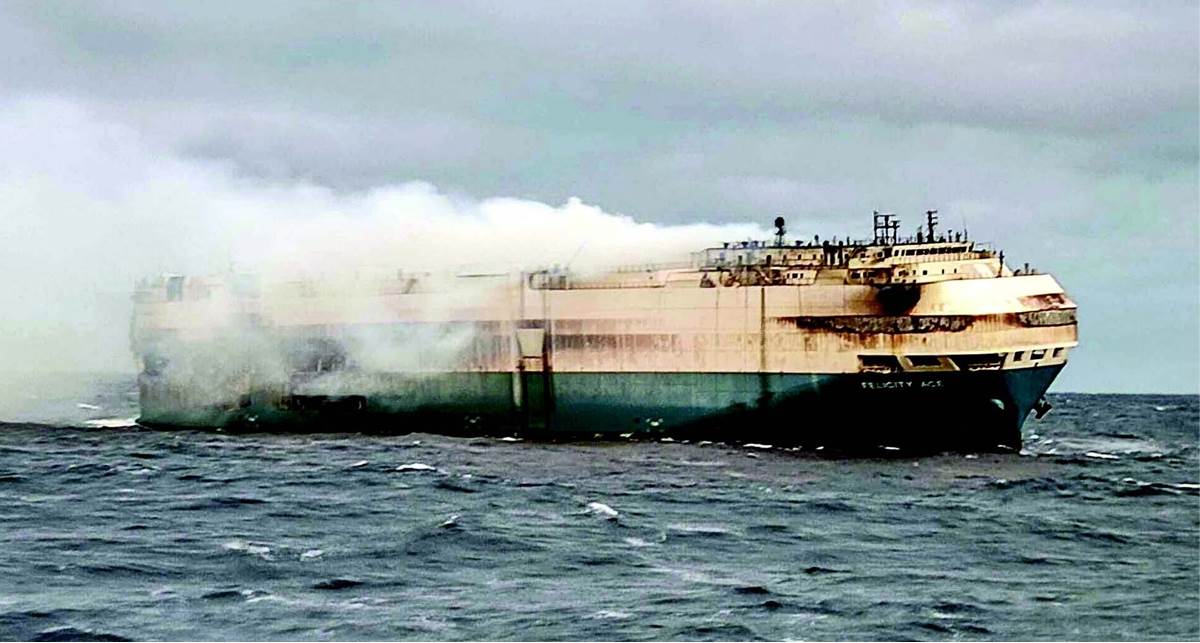 EVs present onboard added fuel to the fire.
The Felicity Ace, a car carrier carrying mostly Volkswagen and Porsche cars – many EVs – went up in flames sometime in February. And while it's as yet not known if an EV started the fire, their presence, according to authorities, meant the fire spread very rapidly. The crew could do little to contain the fire and had to abandon ship. It eventually sank a few days later while being towed back to harbour.
Besides this there are various reasons a battery can catch fire and this is why quality control needs immense focus. Whispers in the industry point to manufacturers – driven by competition and pressure of meeting funding targets – rushing their EV development and potentially taking risky shortcuts. It's here where the government needs to focus as simply pushing ambitious EV plans could literally fan the flames.
EV safety: Cool Running
Cell shape and chemical type are also important considerations in battery safety. Pouch cells – think cell phone battery – bunch closer when bundled together in battery modules that make up a pack and thus offer a better space to energy ratio. However, cylindrical cells – think standard AA battery – offer better thermal management thanks to the air gap around them. Thus cylindrical cells offer a small safety advantage.
Further to this, however, is the cell chemical structure, there are numerous chemistries of Li-ion batteries available: lithium ferrous phosphate (LFP) and lithium 'metal' oxide (where the metal can be NMC [nickel-manganese-cobalt] or NCA [nickel-cobalt-aluminium], among others)
LFP batteries have an energy density of around 150Wh/kg compared to the 200-250Wh/kg of NMC cells thus NMC cells are favoured by many automakers. However, some brands – mostly Chinese – use LFP as they are cheaper, but they can be safer too. LFP's cathode structure requires higher temperatures to decompose when compared to NMC and NCA cells plus LFP cells also release less heat compared to the nickel based cells, if they do eventually decompose. The blade cells chemistry and construction also allow it to perform better in the nail penetration test - which effectively short circuits a cell - where it does not burst into flames unlike pouch cells.
Chinese battery firm BYD has also used LFP chemistry and has a new blade cell construction. The blade – elongated pouch – construction allows for better heat dissipation through the large surface area and the company also uses cell to pack construction, meaning the large blade cells directly make up the battery pack with no module used, thus this increases the space efficiency which the company says compensates for the inherent energy density deficit with LFP.
The chemistry and construction of a blade cell helps it fare better in the nail penetration test. (Image Courtesy: BYD Company Limited)
Either way, nickel based batteries are well protected and built to extremely high standards and are just as safe in operation. It's clear then that a lot of development and changes are underway in the world of batteries and electric vehicles.
Should you stay away from that EV you've been eyeing then? No, says Christensen. "As someone who assisted Nissan during the creation of its battery plant, I would, if I could afford one, have a Nissan Leaf tomorrow. We don't need to be worried about small incidences of EV fires, but we need to be aware. A lithium ion battery stores a huge amount of energy in a very small space. Since 2008, the adoption of such batteries has outstripped our appreciation of their risks. We're running to catch up but we will do so."
And if you do own an EV a few simple practices can keep you and your vehicle absolutely safe. Follow all the manufacturers recommendations when it comes to charging and vehicle use. As far as possible, avoid fast chargers as it loads the system and also decreases the lifecycle of the battery, and always use the correct cables and a proper well-earthed socket.
Why EVs catch fire
Short circuit
A short circuit brought about from a wiring fault to even a puncture in the cells can cause a rise in temperature and subsequently a fire.
Faulty charging
Using incorrect and/or faulty cables or wall outlets can also trigger a fire with an incorrect amount of electricity
Cell quality
Even a single contaminated cell can spark a massive fire, igniting itself and then leading to the dreaded thermal runaway igniting subsequent cells thanks to the temperature rise.
BMS issues
The key safety task in any battery management system (BMS) is temperature control. This entails carefully managing both charge and discharge speed and cycles, any fault here can raise the battery temperature sufficient enough to combust and high ambient temperatures exacerbate the issue.
Accidental damage
Though protected very well, a battery getting punctured or even dented in an accident can lead to cell ruptures and thus ignition. An accident can also spill oil – yes EVs have oil for lubrication and cooling – onto hot electrical components which can ignite and lead to a bigger blaze
With inputs from Autocar UK