Ducati India in partnership with Corporate Warranties India Pvt. Ltd. has launched an extended warranty programme called Ever Red. This programme offers a 24-month warranty extension on its entire range, with unlimited mileage.
The extended warranty programme can be activated on the purchase of a new Ducati or during the standard warranty period. Ducati says this should ensure a hassle-free ownership experience for new as well as existing Ducatis in India. As a special initiative for motorcycles bought after March 2015 (whose warranty would have expired) the Ever Red extended warranty can be subscribed to, for a limited period of time – until June 30, 2018. However, this only for bikes bought officially from Ducati India and also only valid within the country. This extended warranty also has the same terms and conditions as the manufacturer's standard two-year warranty.
In case the ownership of the motorcycle changes, the extended warranty coverage is transferable and remains active until the validity period. The Ever Red extended warranty programme is valid across all Ducati dealerships in India and starts at Rs 22,000 for the Ducati Scrambler. You can check out the entire break-up in the table below.
Ducati Streetfighter V2 video review
6390 Views|10 months ago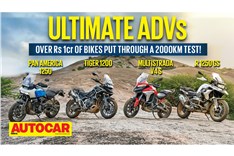 BMW vs Ducati vs Harley vs Triumph - 2000km ADV road trip...
7500 Views|1 year ago