Back to Basics: 2017 Gulf Monsoon Scooter Autocross
We head down to Madhya Pradesh to participate in the first-ever Gulf Monsoon Scooter Autocross to be held there.
Published On Sep 29, 2017 06:00:00 AM
30,210 Views
Follow us on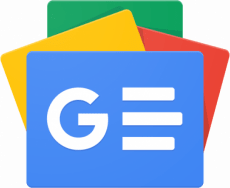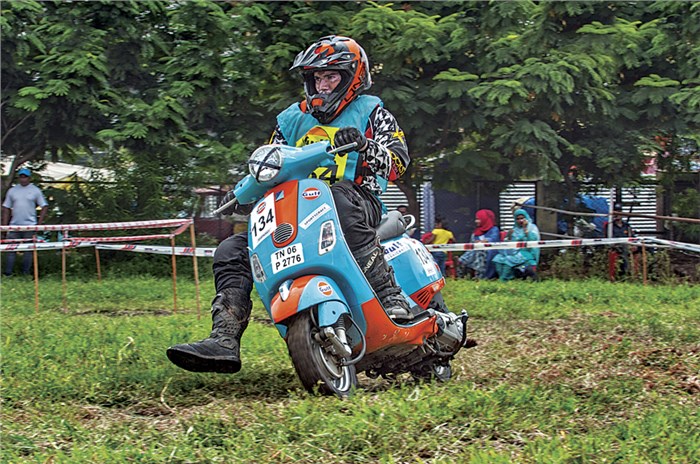 The TVS racing team clocked the three fastest times.
Syed Asif Ali and Nidhi Shukla took top honours.
Getting the bike prepped for the scrutiny and race.
It's been a while since I've participated in any off-road races. An off-roading tumble about five years ago left me with an injured right shoulder that restricts me from any overly strenuous activity. But when I was told I could participate in a scooter race, I couldn't pass up the offer. Scooters are after all a lot less demanding to ride than actual motorcycles. After flying down to Bhopal and reaching the location of the event, however, I was greeted with the familiar pre-race jitters that haunt you right until you cross the starting line.
The entire event was organised by Sportscraft, and boy did things run smoothly. Gulf presented me with a completely stock Piaggio Vespa LX125 that would be my steed in this race; the only change was the button tyres. I would be participating in the Group C category which consisted of scooters between 110cc and 160cc. Unfortunately, this meant I would be going up against Aprilia SR150s that are superior in every way when it comes to racing. In spite of feeling like a bit of an uncle who should be riding to the grocery store instead of on a racetrack, I decided I would just give it my all.
Now for those of you that aren't familiar, an Autocross race format is a timed event, where you race the clock in a closed course that could either consist of road or off-road, or both. The course Sportscraft laid out for us was about 900m long and off-road; it consisted of hard-pack gravel surfaces, mildly slushy turns, and some grassy sections. We would get one practice session – two laps – the day before the race; the race itself would be just two laps.
Before taking the bike for scrutiny, I made sure the brakes were checked, none of the body panels were damaged or loose, the lights were taped up, the race stickers and number were stuck on, the side stand was removed, and the main stand secured with wire. Once I handed the bike over to the scrutiny official, all went smoothly and the bike was accepted for the race.
There were six different categories in total; I was up against Suzuki Access 125s, Yamaha Ray-ZRs, Mahindra Flytes, and Aprilia SR150s. I hadn't ridden my race Vespa at all before the practice session, so I wasn't quite sure what to expect. And the other riders had obviously put in a fair amount of practice in preparation for the race, probably when I was busy with magazine shoots.
As I pulled away from the start line, everything seemed to fall into place and the fear faded into focus. The scooter seemed to be happy ambling along, but I struggled to figure out why the speedo needle was hovering around the 40kph mark. Evidently, this was an extremely slow scooter, not what I was expecting from a 125cc engine. Probably because of the beating it took in the Gulf Monsoon Rally, and then not being worked on after. So I summoned my prior off-road experience to figure out the only strategy that could maybe help my times a little; carrying higher corner speeds was the only one that came to mind. Well, after a measly two laps there's not much you can figure out about how to tackle specific corners in the best way possible. In any case, the next time I would be riding would be directly for the race.
The actual race was a bit of a blur. All I remember is trying as hard as I could to slow down as little as possible and pray that momentum works. I almost certainly expected to be one of the slowest riders that day, and it turned out that... I was. I managed to get an overall time of 3.46sec, which was about fourth slowest in the category and a whole 40sec off the fastest time.
The two shining stars of the day, however, were Syed Asif Ali, from Team TVS, and Nidhi Shukla from Aprilia Racing. Ace rider Syed Asif Ali set the fastest time of 2.57sec aboard TVS Racing's SXR150, while Nidhi Shukla, undoubtedly the best lady rider of the day, set a time of 3.18sec on the SR150.
But the icing on this cake of fun had to be that I actually got to take a spin on the SXR150 racing scooter from TVS. The manufacturer claims this 150cc scooter puts out about 18hp; very impressive for a scooter on dirt. It's unfortunate that our laps on the race scooter weren't timed; it would have been nice to compare the difference with my lap time on the Vespa.
In any case, this scooter race event from Gulf is a great platform for riders to showcase their skills in a safe environment, and the process to apply for an entry is a rather easy one too. All you need to do is submit your entry online, apply for your FMSCI racing license, and you're good to go.
Copyright (c) Autocar India. All rights reserved.