0-100: 100 years of Moto Guzzi
Published On Jul 19, 2021 07:00:00 AM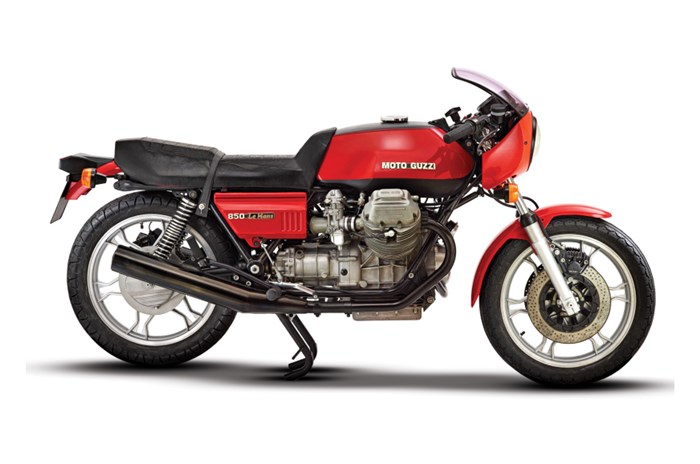 The iconic Italian motorcycle company, Moto Guzzi has touched 100 years.
Italians are known for a lot of things, one of them being the creators of ridiculously pretty and potent motorcycles. Moto Guzzi has pitched in, in a big way, for a little over 100 years now. That's no simple task, but Moto Guzzi isn't an ordinary company either. Just the story of its formation will give you an idea of the passion and effort that went into creating the legendary brand.
Three friends, flight engineer Carlo Guzzi, decorated aviator Giorgio Parodi and an experienced pilot Giovanni Ravelli, were fascinated by engines and motorcycle racing. All three had served together in the Italian Royal Navy's Aviation Corps and the story goes that Guzzi proposed to Parodi and Ravelli, who enthusiastically agreed, that they should enter the motorcycle space once WWI was over. Ravelli died in 1919 during a test flight and his two friends wanted to honour his memory with the military aviation symbol. Since then, the Italian Naval Aviation eagle has been Moto Guzzi's emblem.
THE RIGHT DIRECTION
In the same year of his death, the G.P. (from the initials Guzzi-Parodi) prototype made its debut, but it didn't make it to production due to high production costs, as it featured a series of then aeronautical technologies, including dual ignition. However, the prototype had potential, and on March 15, 1921, the "Società Anonima Moto Guzzi" was formed. The company founders were Emanuele Vittorio Parodi, who was a well-known Genoese shipowner, his aviator son Giorgio Pardio and their flight engineer friend Carlo Guzzi.
Not before long, Moto Guzzi launched a more basic version of the G.P., called the Normale (do you see what they did there?). The Normale was the first motorcycle to bear the eagle logo along with Moto Guzzi branding. Powering it was an 8hp, 500cc, horizontally-mounted, single-cylinder engine that came paired to a 3-speed gearbox. The Italian company only made 17 in the first year and sold it from 1921 to 1924.
In 1928, founder Carlo Guzzi's brother, Guiseppe Guzzi, set out on a 6,000km round trip to the Arctic Circle on the G.T. 500 Norge.
Another important motorcycle for Moto Guzzi was the G.T. 500, dubbed 'Norge' to commemorate the expedition by the Italian airship that carried out the first verified trip of any kind to the North Pole. While the 1928 G.T. 500 used the same powertrain as the Normale, it featured upgraded brakes and suspension. More particularly, the rear suspension was now a pivoting system.
Rival companies and journalists wrote off this motorcycle because the technology was unproven at the time. What Moto Guzzi did to tackle this was genius. Founder Carlo Guzzi's brother, Guiseppe Guzzi, set out on a 6,000km round trip to the Arctic Circle on the G.T. 500 Norge. He rode through Germany and Denmark, to arrive safely at Norway's North Cape. Not only did this ride prove all the naysayers wrong, but it also demonstrated the motorcycle's reliability.
Eleven years later, in 1939, came Moto Guzzi's move into the lightweight segment with the Airone 250. This one continued to use the same horizontally-mounted engine configuration, but it was sized down to 250cc. This bike earned a reputation for being sporty and lightweight, and remained Italy's bestselling medium-capacity motorcycle for over 15 years. This was quite impressive, considering that after WWII it was the smaller capacity and more economical bikes that were selling like hot cakes.
Moto Guzzi was the first motorcycle company to begin using a wind tunnel.
Speaking of smaller and more economical machines, Moto Guzzi wanted a piece of that action as well. As lightweight motorcycles and scooters became more popular after the war, the Italian company launched a step-through offering called the Galleto. It was a highly successful model for the company, with 70,000 units sold in its 16-year lifespan.
After WWII, the 1950s also saw Moto Guzzi take a revolutionary step in the motorcycle industry. The Italian company was the first to begin using a wind tunnel. It is said that the engine room, extending another 32 feet, housed a 900hp, military surplus Fiat V-12. Both, the motorcycle and the rider could make full use of it while facing winds of around 190kph. The wind tunnel was the first of its kind in this industry, but it is said to have worked. During this period, the company introduced multiple race machines with large 'dustbin' fairings, including the 285kph, V8-powered 500 GP racer.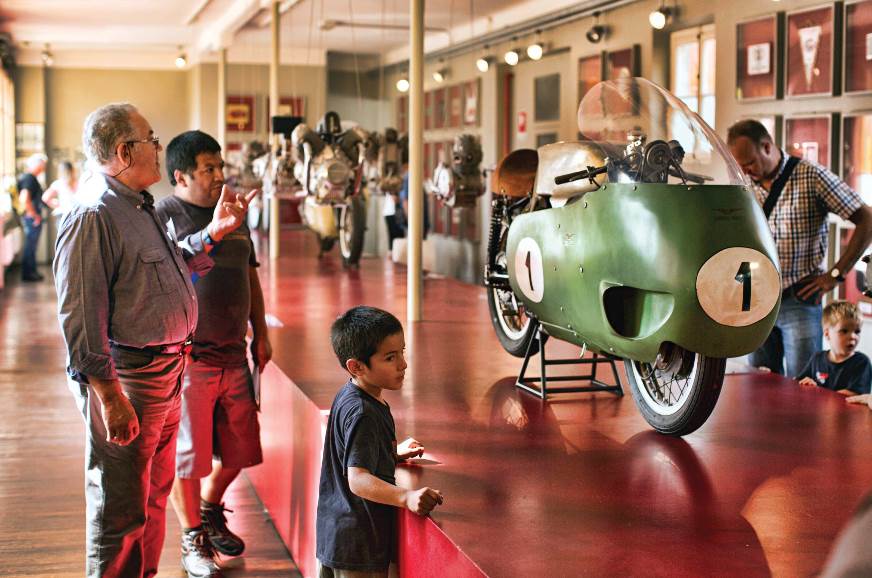 The 'Otto' grabs attention and rightly so, it's a V8 engine powered motorcycle after all.
Nicknamed Otto (eight in Italian), the 499cc, V8 powered race machine made 78hp in the year 1955. This engine could be paired to a 4-, 5-, or 6-speed gearbox, depending on the racetrack. While this beast of a motorcycle led races and posted fastest lap times quite often, its unreliable and complicated engine never allowed it to win a race.
LIFE IS A RACE
The Otto may not have won many accolades for Moto Guzzi, but its other motorcycles sure did. The Italian company claims that it has 3,332 wins in official competitions! Moto Guzzi began racing the same year it started making motorcycles, with its first win in Targa Florio in 1921. Stanley Woods, aboard a Moto Guzzi, also won both the lightweight (250cc) and senior classes (500cc) of the 1935 Isle of Man TT. One of the Moto Guzzi's most successful race machines, the 250 Compressore took 11 victories in its first year of racing alone. It is said that it broke a total of 34 records in 21 years. Yes, you read that right, it was used as a race machine for 21 years.
Bruno Ruffo won the inaugural 250cc World Championship on a Moto Guzzi Gambalunghino in 1949.
Bruno Ruffo also won the inaugural 250cc World Championship riding for the Italian Moto Guzzi factory in 1949. In 1951, he went on to become the 250cc World Champion for the second time, with four victories on his Moto Guzzi. Riders on Moto Guzzis also took second, fourth, fifth, and sixth place the same year. When Moto Guzzi retired from racing in 1957, its track record included 14 world speed titles and 11 Tourist Trophy titles.
In the 1960s, Moto Guzzi brought out the 700cc, V-twin engine that was used on well-known models like V7 Special, the V7 Sport, the California and the Le Mans. The company's current range consists of the V7, V9 and V85 TT and they all use the same unique transverse, V-twin engine layout, although with far more modern technology.
In December 2004, Moto Guzzi became a part of the Piaggio Group, which is a giant in the two-wheeler space. Sadly, it doesn't look like Moto Guzzi will get back to its exciting racing roots anytime soon, but what is nice is that the company remains fully aware of its remarkable heritage. Even today, its motorcycles are quirky in their uniqueness and ride like no other. Here's to a 100 more years.
Also see:
20/20: 20 years of the Honda Activa
Buon Compleanno, Vespa: Celebrating 75 years of the icon
What do you think about this Feature