Last year was another turbulent one for the global car industry. China, the biggest market, suffered its second successive yearly drop, while the US, Japan, the UK and India all experienced declines. This accounted for nearly 3.2 million fewer new vehicles sold. But there was growth in Germany, France and Brazil.
China's decline may continue this year mainly due to business disruption from the coronavirus.
Meanwhile, Volkswagen continued to defy the Dieselgate scandal to beat Toyota for the global number one spot, SUVs maintained their grip on consumers' wallets and GM continued to outsell Ford in the US.
Global overall vehicle sales by country*
China's drop is the biggest recorded for more than 20 years, a seismic reduction of nearly two million new cars. Given the reliance of most Western OEMs on China for sales and profits, a turnaround is much needed to boost balance sheets in 2020.
"China needs a return to consumer confidence and lower household debt to boost sales in 2020," says Felipe Munoz, Jato Dynamics' global analyst.
The US decline was less concerning given overall sales remain near the historic high of
above 17 million. "That's a very good number historically," adds Munoz.
Of all the global markets, India suffered the biggest reverse, while the anticipation in 2018 of overtaking Germany subsided. "India suffered a lot from new regulations on safety and emissions, plus taxation, which forced many consumers to postpone or cancel purchases," says Munoz.
Europe's slight recovery was linked to booming December registrations as higher-CO2 models were sold off ahead of 2020's fleet average 95g/km regulations.
*Includes cars and light commercial vehicles
France vs the UK
Jato's global sales figures for both cars and light vans show France jumping slightly ahead of the UK in the world rankings to sixth position.
Two factors in 2019 explain this: UK new-car sales declined by 56,000 (due to uncertainty related to Brexit and lower diesel sales), while the French market grew by 38,000. French van sales also grew by a bigger margin than the UK's.
The end result was still a bigger car-only market in the UK – with the UK in its customary sixth position globally. But with vans included, the French overtook the UK.
Electric cars: Tesla Model 3 vs low-cost Chinese models
The Tesla Model 3 has a strong lead as the world's best-selling electric car, outselling its nearest rival nearly three to one. Last year it was the best-seller in both the US and EU, and it should make inroads in the Chinese market in 2020 as local production starts in Shanghai.
The second-best-seller is the BAIC BJEV EU, a Volkswagen Golf-sized saloon with a 41kWh battery and a £15,000 post-subsidy price tag.
Nissan's Leaf maintains a solid position as global number three, but didn't lift sales as much as might have been expected for a new model.
What Europe is buying
There was talk last year that mid-size SUVs such as the Nissan Qashqai, Volkswagen Tiguan and Ford Kuga might outsell C-segment hatchbacks and estates for the first time. But they fell just short.
"If they keep posting big annual sales growth, they might do it next year," says Munoz, "but they are still behind if all bodystyles are included."
Superminis continue to be Europeans' favourite bodystyle and they may get a boost in the next few years as city cars (A-segment) come under pressure owing to the incoming 95g/km fleet average regulations.
Merc beats BMW and Audi in luxury scrap
In the battle of the luxury nameplates, Mercedes saw off a strong surge from BMW to retain its global crown with 2.32 million sales in 2019.
The top five brands all improved their sales or stayed static, with Lexus and Volvo recording the biggest percentage increases. Last year was good for Lincoln, too.
BMW's strength was its renewed range of SUVs, a new 3 Series and strong sales in China, where Mercedes suffered a decline. "But the negatives are further down the field," says Munoz, "with Infiniti and Jaguar struggling."
Infiniti quit the European market, while Jaguar's core saloon line-up struggled. Tesla might overtake Land Rover in 2020 to become the seventh-biggest global luxury brand, which would be a significant achievement.
Global groups: Which was the biggest of them all?
The Volkswagen Group's launch of multiple new SUV models from all brands helped it remain the top car maker in 2019.
It faced strong competition from Toyota, whose 20-year investment in hybrid technology is paying off: it was the only top-10 car maker to grow sales in 2019. "Toyota improved thanks to the latest-generation Corolla and RAV4 and its continuous hybrid car sales growth," says Munoz.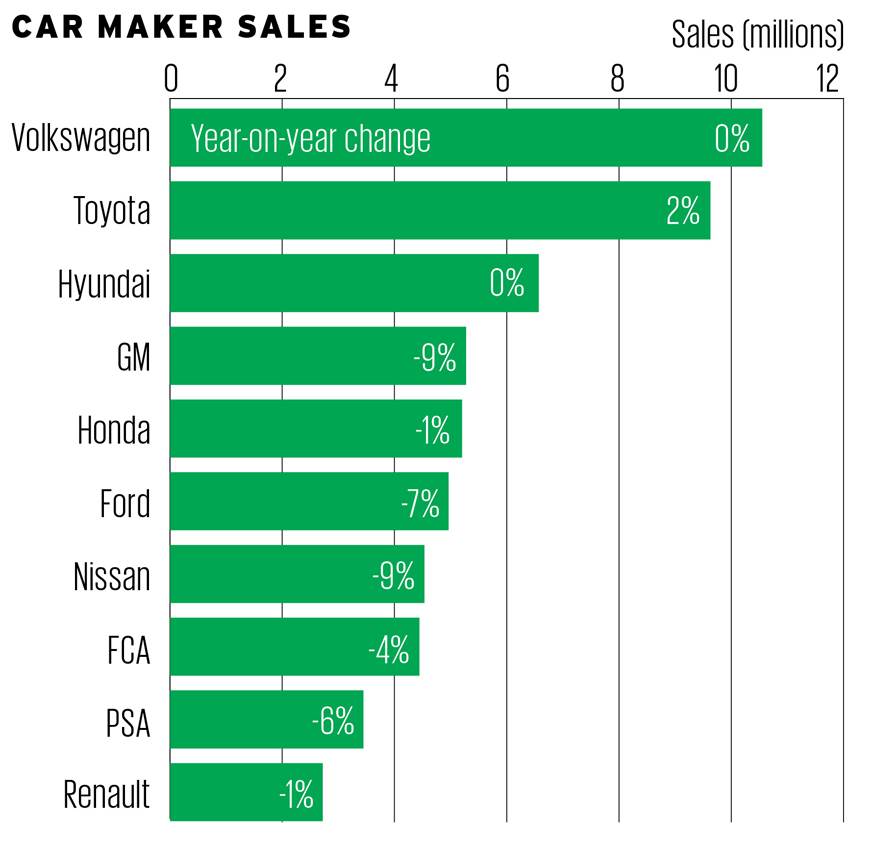 Tesla's big year
Tesla controlled 23 percent of global electric vehicle sales in 2019. The US accounted for 52 percent of its total sales volume, followed by Europe and China.
"Looking forward, it will be interesting to see if the Model 3 maintains its strong position when more electric SUVs hit the markets," says Munoz. "The Model 3 is a saloon, which are losing ground to SUVs."
Sports cars: 911 remains the favourite
Porsche's evergreen 911, entering its eighth generation, maintained its position as the world's best-selling sports car. While sales did drop slightly, that was largely because of the changeover from 991 to new 992. Its closest rival was the Chevrolet Corvette, which also stuttered due to a new model.
BMW will be very pleased that its new flagship performance two-door (Gran Coupé four-door sales are excluded from these figures) has made an immediate impact. Due to the arrival of the 8 Series, the Mercedes-AMG GT dropped to fourth place.
Europe's winners and losers
Tesla was the biggest winner in Europe, outselling other key brands such as Porsche, Jaguar, Alfa Romeo and getting very close to Smart. The reason: the Model 3.
Value brand Dacia also did well, despite a limited model range of two ageing small cars plus the new Duster. The Sandero is among the top sellers in Spain and France, while the Duster became Italy's best-selling SUV.
Nissan was the biggest market-share loser due to an ageing SUV line-up, which lost traction to more modern competitors. The Juke should have been replaced earlier and the Qashqai also faces tough new competition.
Super-luxury: Rolls on a roll
The seven top ultra-luxury brands combined for 35,454 sales – and at transaction prices conservatively averaging £250,000, that's £8.8 billion worth of cars.
Lamborghini and Rolls-Royce benefited from their new SUVs, while two new Aston Martins – the Vantage and DBS Superleggera – helped lift sales above 5000 a year.
Bentley bucked the trend because its saloons fell back. The new Flying Spur might arrest that decline this year.
The continued rise of the SUV
An astonishing 28 million SUVs were sold globally last year, although their sales growth dipped to just 1%, compared with 6% in 2018.
"SUVs are like a drug for car makers. They increase sales and profits but at the same time have a negative effect on average emissions," says Munoz.
Luxury electric SUVs: I-Pace vs E-tron vs EQC vs Model X
Tesla's Model X is just ahead of the new Audi E-tron but, as the Audi ramps up and the Model X ages, there is a strong chance the E-tron could grab the market lead in 2020.
Mustang dominant, Boxster slides
Ford's Mustang continues to dominate the performance car market. But the real story in the segment is the decline in Porsche 718 Boxster and Cayman sales, which dropped 20% last year.
No wonder Porsche is bringing back flat-six powerplants, three years after the 718 switched to turbocharged four-cylinder units, to much unhappiness from Porsche aficionados.
Mazda's lovable MX-5 took a slight dip, but continues to sell well for a four-year-old design in a fashion-led
market. BMW's new Z4 made a strong market entry and closed the gap on the well-established 718, a result that will please Munich.
Alpine's fabulous A110 hit just under 5000 units – but there are concerns in some quarters that its sales do not reflect the quality of the product or its glowing road test reviews. Munoz notes that two-thirds of A110 sales were in France.
GM stays on top in the US
GM has held the number one spot in the US since the 1920s. Its sales did drop by around 100,000 units, but rivals Ford, Toyota and Fiat Chrysler Automobiles suffered the same small market-average reductions, too.
The most significant move was the 10% drop in sales at Nissan, sufficient to push it down behind Japanese rival Honda.
In the segments, the big winners were full-size SUVs, like the Chevrolet Suburban, which posted a 22% rise, plus compact pick-ups and full-size vans.
Minivans and the three main car segments continue their decline as blue-collar workers and 'soccer moms' switch to SUVs.
China: Will sales recovery come in 2020?
China's sales fall will take a lot of stopping as consumer confidence and the wind-down of incentives on electric cars take their toll.
"It seems we can expect a long correction unless the EV boom grows enough to offset the drop posted by gasoline cars," says Munoz.
All figures supplied by Jato Dynamics from preliminary data for 53 markets (with December estimates for some) that account for 85 percent of the global total.
JULIAN RENDELL