Vehicle scrapping: Steps to bid your old vehicle goodbye
Published On Nov 25, 2021 09:00:00 AM
14504 Views
Follow us on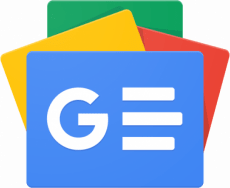 You can scrap your old vehicle at an authorised centre and get a discount while purchasing a new vehicle. We guide you through the whole process.
Scrapping an old vehicle is always tough in India and used to be done solely by the unorganised sector. Mahindra Cero and Maruti Suzuki Toyotsu India or MSTI, however, feel differently. Mahindra entered the scrappage business in 2018 and Maruti recently set foot in it in a joint venture with Toyota Tsusho. Both carmaker's plants are situated in Noida, Uttar Pradesh and more such centers are expected to commence operations in many Indian cities in future.
Customer is paid vehicle's scrap value (4-6 percent of ex-showroom price)
Different vehicle components removed at different stations
Scrapping certificate is provided, can help avail various concessions
So, how can you get your vehicle scrapped from either of these official recyclers? And what happens during the scrapping process? Here's the complete lowdown.
1) Contact the scrapping centre
You can call an authorised recycler, like Cero or MSTI, or reach out to them using their websites. After taking an appointment, either drive your vehicle to their scrapping facility or have them collect the vehicle from your place; although towing charges will be applicable if you choose to do the latter. As such, automobiles which are no longer in running order, can also be picked up and scrapped.
2) Complete the documentation
You will need to handover the vehicle's original documents. If you have no pending legal liabilities (like challans, bank loans, accident and insurance claims and so on), the recycler will assume responsibility of the car/bike. The vehicle will be weighed to determine its scrap value, which is around four-six percent of the original ex-showroom price.
3) Let the scrapping begin!
Your automobile will now be sent for scrapping. Here's how the system works at MSTI centers. First up, the tyres and CNG kit (if present) come off. The battery is removed as well, and an apparatus is used to drain the refrigerant from the air conditioning system.
Dismantling of various vehicle components happens at multiple stations.
The vehicle moves on to a "de-pollution station", where all liquids, such as fuel, engine oil, transmission oil, brake oil, steering oil, coolant and windshield washer fluid are drained out and collected. The fuel tank and muffler/silencer are removed too.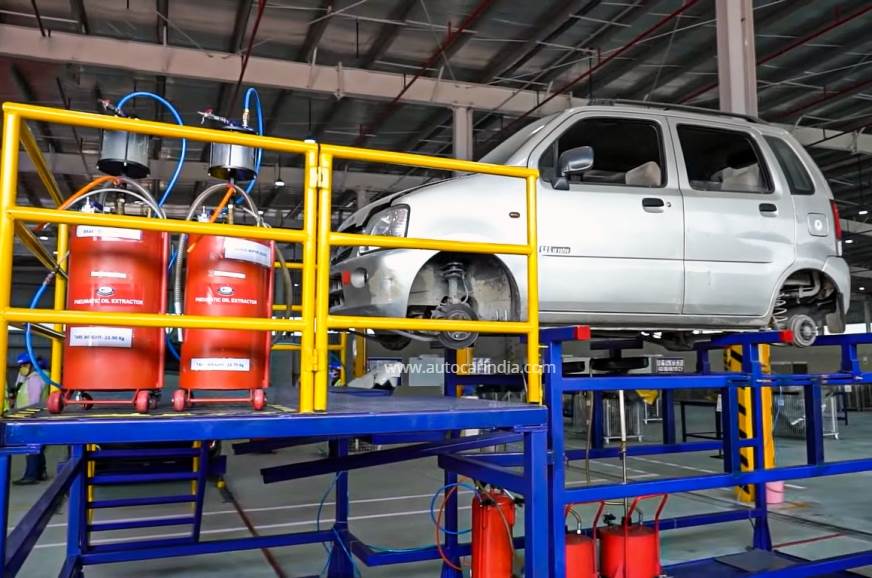 De-pollution station.
Next come the body panels and the bonnet, boot lid, doors, fenders, bumpers and headlights and tail-lights which are manually taken off.
Then, everything inside the cabin, ranging from the steering and dashboard to the seats, floor mats, roof lining and all other interior parts, are taken out. With the majority of the trim out of the way, the car's nervous system, or the wiring harness, is also removed.
At the next station, the running gear is separated. The car is hoisted for easy access and the engine, suspension and brakes are removed. Lastly, the VIN plate is cut out.
Running gear, including the engine and suspension, being taken off.
4) All that's left is recycled or reused
With the car stripped down to its barebones, the body shell is lifted by a crane and dropped into a crusher. The steel bale that comes out will later be sold for smelting. The various body panels and trims collected earlier on will be sold off as spares. These authorised recyclers also assure that no oils or AC gases are discharged onto land or in air, ensuring that the process remains safe and environment-friendly.
Barebones body shell being taken to the crusher.
5) Get your certificate
Once the scrapping is complete, the recycler will provide a 'certificate of destruction' that can be used at the RTO (regional transport office) for getting the vehicle de-registered. The previously agreed upon scrap value will also be paid to you digitally, or through a cheque.
With the recently announced vehicle scrappage policy, the scrapping certificate has more uses than just the one. It can also be used to get a 5 percent discount from the automaker on the purchase of your next (new) vehicle, in addition to getting 25 percent knocked off the road tax and availing a full waiver of the registration charges.
More scrapping centres to come up
Though these organised scrapping centres will help in getting some old, polluting vehicles off our roads, access to their services is quite limited for now, as both plants are located in Noida.
Still, one can hope for the situation to improve in the future. Mahindra Cero, as well as Maruti Suzuki Toyotsu India, have expressed their interest in expanding their operations across the country, contingent on the demand. And then, there is Tata which is readying a scrapping facility in Ahmedabad.
Also see:
Renault partners with Cero Recycling for vehicle scrappage
India's vehicle scrappage policy explained
Copyright (c) Autocar India. All rights reserved.