Electric vehicles or EVs may just be the single largest disruption to hit the car industry in its 133-year history. No, the world may not be moving as fast as initially expected towards e-mobility, and there still are massive hurdles to overcome. But as Victor Hugo said, "nothing can stop an idea whose time has come." So, as the age of the electric car is almost upon us, here are a few FAQs to help you navigate through all the jargon. It's not an exhaustive list, by any stretch of imagination, and as it often happens, answers could lead to more questions. Still, for those of you interested in understanding the fundamentals, read on.  
What are the basic components that make up an electric car?  
Electric cars are pretty simple on the surface. They each have a place to store electricity, which is normally in a battery, and a device to deliver drive to the wheels, which is in the form of an electric motor. Electricity is either sourced from the grid or produced by an on-board source like a petrol engine.
What are the types of motors that are used in EVs?
In today's world, generally two kinds of motors are used in electric cars. The brushless DC motor is the more popular choice and is used by two-wheelers and electric cars. It generally uses two or more permanent magnets to generate a magnetic field that helps drive the motor. Despite being known as DC motor, these motors run on AC. The AC Induction motor invented by Nikola Tesla in 1889 is the other motor that is in use, and it uses no permanent magnets but induces an electromagnetic field. Induction motors cannot operate directly off the direct current put out by a battery; an AC or alternating current is needed. This issue is resolved by adding an inverter, and once you do that, there are many advantages to be gained. Speed control, for example, becomes possible by simply adjusting the frequency of the current (from the inverter). And the motor can even put out more power by simply increasing the amplitude of the current sent.
How many motors does an EV use?
That depends on the EV in question. A front-wheel-drive car will have a motor placed at the front, while a rear-wheel-drive setup will see the same shifted to the aft. Having two motors, one at both the axles, effectively makes the car an all-wheel drive. Some hardcore performance vehicles in the future will even come with a motor dedicated to each wheel.
How does a dedicated EV platform differ from a regular one?
Whereas regular vehicles have space dedicated to the engine, transmission and fuel tank, pure EV platforms don't. In contrast, they have a shorter or smaller bonnet, the space between the wheels is designed to take a flat battery pack, and there is no dedicated area for the fuel tank. As a result, space isn't wasted, there are fewer materials used, and the lifespan of the car is significantly improved.
What is the difference kW and kWh? Which is used for a battery and which for the charger?
The unit kilowatt (kW) is a measurement of power. Thus the amount of power chargers provide to the EV's battery is measured in kilowatts. Kilowatt-hour (kWh) on the other hand is the unit of measuring electrical energy, which is why the energy stored in a battery is denoted in kilowatt-hours.
Batteries come in various forms and kinds. Which one does an EV use and why?
A battery cell consists of a positive electrode, a negative electrode, and an electrolyte. We all know that lead-acid batteries are the ones used in regular cars and some hybrids also use Nickel Metal Hydride (NiMH) batteries. Lithium ion (Li-ion) has, however, become the de facto choice for most EV manufacturers today. A single cell can be layered and rolled into a AA type battery or cylindrical cell, as used by Tesla today, or it can be layered to form a pouch or a prismatic cell.
The Li-ion battery of a smartphone degrades in just a couple of years. Will the same happen to that of an EV?
No, it shouldn't, because all Li-ion batteries are all not created equal. The difference lies with the metal used in the lithium-metal oxide cathode, which can be nickel, cobalt, aluminium or manganese. The choice of the metal affects the battery's energy density, lifespan, charging rates and operation at higher temperatures. A smartphone uses a battery chemistry that gives it a higher energy density, albeit a shorter lifespan, because owners are expected to replace their phones in a few years' time anyway. EV batteries, on the other hand, rely on a combination of metals that give them more longevity.
How much driving range does a Li-ion battery offer?
Driving range depends on the size and chemistry of the battery, weight of the vehicle and driving style, among other things. So, while a Mahindra e2o Plus might offer just 110km with its minuscule 11kWh power pack, the upcoming Hyundai Kona can take you 312km using its 39.2kWh battery. On the other end of the spectrum, a 100kWh Tesla Model S can deliver a humongous 539km range on a single charge.
Where is a battery pack located in an EV?
While batteries were located under the boot floor or rear seats in older EVs, today's cars have the pack located below the cabin floor for better packaging and distribution of weight.
Why don't electric cars have multiple gears?
Electric motors produce almost maximum torque as soon as you start them up. As a result, they remain efficient across a wide rev range and you don't need to multiply the torque of the engine to gain momentum.
Why are car batteries so expensive?
Unlike your phone battery, which is miniscule, car batteries are massive. Your iPhone battery may only weigh around 200g, while automotive batteries could weigh more than 500kg. A regular 30kWh battery currently cost $5,280 (about $176 per kWh and roughly Rs 3.68 lakh in total). Greater adoption of EVs and economies of scale could bring down these prices in future, but there's no saying when. 
Does ambient temperature affect the battery's range?
A battery always has an optimal operating temperature. A surrounding environment that is either too hot or too cold will adversely affect the battery's range. So, on more expensive cars, EV makers generally build in a climate control system that either cools or heats the battery pack to protect it during extreme weather conditions.
What are the major DC charging standards?
Charging with DC can be a bit more complicated, due to the sheer variety of standards out there.
CHAdeMO is a Japanese standard that is the result of collaborative efforts from Toyota, Nissan and Mitsubishi. It allows vehicles to be charged from 60kW all the way up to 400kW. The European Combined Charging System (CCS) is fast gaining popularity too. Akin to AC standards, CCS incorporates two variants – Type 1 (for the US) and Type 2 (for Europe). Ionity, a joint venture of Daimler, BMW, Volkswagen Group (Audi and Porsche) and Ford, is working towards creating a robust network of about 400 CCS charging stations across Europe by 2020. These will be capable of high-speed charging capacities of up to 350kW. The upcoming Hyundai Kona, which will hit Indian showrooms soon, uses this DC standard to juice up its batteries. GB/T is the charging standard recommended by China. It is currently capable of capacities of about 230kW, with an upgraded 900kW version said to be in the pipeline. The Bharat DC 001, a standard formulated by the Government of India, is based on GB/T. It has an output of 10-15kW and is used by most of the DC charging stations installed in the country. Cars like the Mahindra eVerito can be charged with the Bharat DC 001.
How can we talk about charging stations and forget the Tesla Supercharger? Tesla's proprietary standard, the Supercharger can power up a Model S, Model X or a Model 3 at 120-250kW. As of early 2019, the American automaker boasts of an extensive spread of 1,441 Supercharger stations with 12,888 Superchargers around the globe.
What are solid-state batteries?
The next big step appears to be a move to solid-state batteries; BMW, Toyota and Volkswagen, among others, are aiming to start mass production in the mid-2020s. Solid-state batteries have the potential to deliver shorter charging times and greater ranges than lithium-ion ones, while being smaller and potentially cheaper. They would also last for longer and be safer. A range of around 800km could be achievable.
Are EVs truly green?
It is true that EVs put out zero emissions. But since they don't produce any power themselves, they are only as green as the power that comes out of the wall socket. Unfortunately, around 80 percent of all the electrical energy generated in India comes from thermal or coal power plants. Electricity does, however, put a very high amount – 90 percent – of that energy to good use. The best petrol and diesel engines only manage 35-40 percent.
What are the various charging standards and plugs?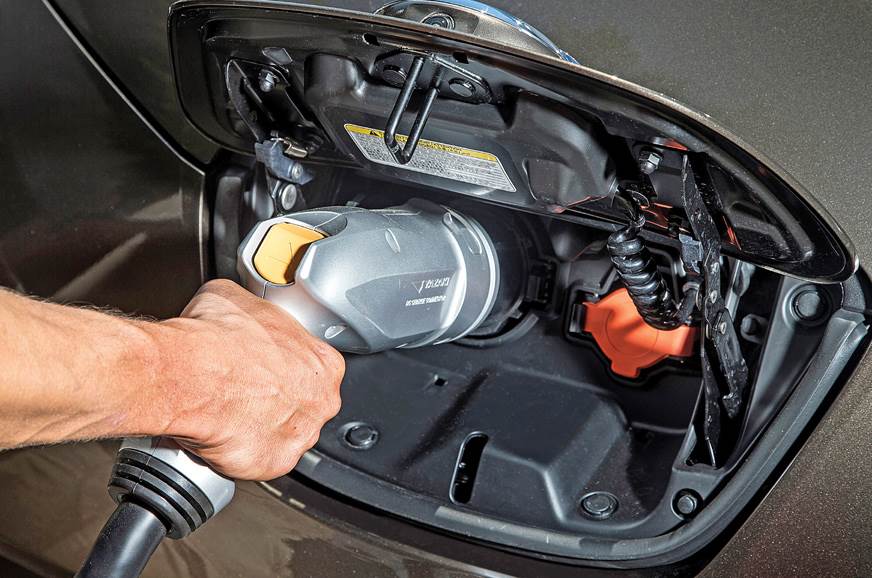 Just like different countries have different plugs, so too do EVs that come from different regions. And it isn't just the design of the connector or plug that differs, the standard dictates how the two communicate with each other and at what wattage, voltage and amperage the charging happens.
What are the different ways to charge an EV?
 Most EVs can use both, AC as well as DC, to charge the batteries. AC stations are generally the ones you have at home, and they are slow. This is because they have to rely on a device installed in the EV, called a rectifier, that help convert AC power from the grid into DC power to charge the battery.
DC stations are faster, and the better ones can charge a depleted battery to 80 percent in less than an hour. AC chargers normally charge a battery in between one and three kW, while fast-chargers, in general, put out between 10-100 kW and can charge your battery quickly.
What are the AC charging standards?
AC charging generally has two standards. Type 1 uses a 120V supply for charging the vehicle and is meant primarily for the US. Type 2, on the other hand, uses a higher 240V supply, as is found in India and most of the European countries.
Can an EV be powered by installing solar panels on its roof?
Yes, if you simply want to power its headlights, and no, if you want to power the electric motor too for more than a handful of miles.
That is because solar cells deliver charge very slowly. To get a sizeable output, they have to be installed in huge numbers, oriented at an angle, pointing towards a particular direction in the sky. All of this isn't really possible on the rooftop of a car.