Tata Elxsi, Blackberry unveil safety-certified digital cockpit at CES 2019
Published On Jan 10, 2019 11:00:00 AM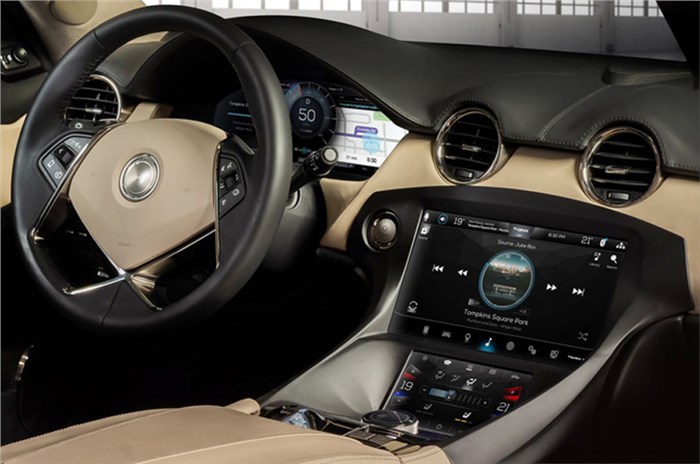 Based on Blackberry's QNX platform, the digital cockpit provides a reliable and secure digital instrument cluster and infotainment system from a single ECU.
Blackberry and Tata Elxsi have revealed the world's first digital cockpit solution that enables automakers to provide a safe, secure and reliable digital instrument cluster and infotainment system, which provides access to the Android-based applications such as Google Maps and Google Play Music, all from a single ECU. While the digital cockpit is based on Blackberry's QNX platform, Tata Elxsi is the technology provider.
BlackBerry's ISO 26262 safety-certified hypervisor makes sure the multiple operating system environments powering the cluster, infotainment, and other driver information systems do not interfere with one another. This isolation is important because if an app crashes, is compromised, or needs to be updated, it will not impact critical-driving functions.
New go-to-market strategy
BlackBerry's QNX Platform for Digital Cockpits illustrates the company's new go-to-market strategy, which is to develop and sell vertical solutions that bundle complementary products. For example, the QNX Platform for Digital Cockpits combines BlackBerry's safety-certified QNX Hypervisor for Safety, QNX Platform for Instrument Clusters, QNX CAR Platform for Infotainment, and a secure Android implementation. By delivering this cockpit solution, it will help accelerate automakers' development timelines and reduce the risk and cost of moving projects from research to production.
"As the ECUs in a car consolidate, automakers are seeking safe, secure, and reliable solutions that are flexible enough to deliver a unique driving experience," said John Wall, senior vice-president and co-head of BlackBerry Technology Solutions, BlackBerry. "After two years of constant improvement and testing, we have built the world's first safety-certified digital cockpit that enables secure Android apps in the car. We believe being able to provide this level of security will be a key differentiator for automakers as consumers begin to weigh security and data privacy when purchasing a vehicle."
Speaking to our sister publication, Autocar Professional, Grant Courville, VP - product management and strategy, BlackBerry QNX said, "QNX has helped to rework and tune car acoustics, as well as integrate ADAS functions into new vehicle platforms. QNX 1.0 was released in 2016, with the second update coming out in 2018, and enabling premium carmakers such as Daimler to bring their products quickly to the market. At CES 2019, we have showcased the highest level of safety for the vehicle cockpit. Android applications are subject to security threats and that is a big challenge for automakers. As a result, we have used our QNX car platform for infotainment systems and make them encrypted with multiple security layers to not be vulnerable."
"Our relationship with Tata Elxsi is very close and we have partnered with them so as to expand in one of the major growth areas in Asia, other than China. We have already seen a very good growth in this region and we are expecting the space of vehicle connectivity to boom in the future in India," Courville added.
India's Tata Elxsi partners Blackberry for QNX Platform
BlackBerry's QNX Platform for Digital Cockpits is made in partnership with Tata Elxsi, which provides customisations and support for Android, and ensures the Android updates and customisations are available for the lifetime of the vehicle.
The development builds on the companies' multi-year partnership, first announced in 2017, that saw Tata Elxsi sign on with BlackBerry as a value-added integrator to help companies design and develop secure, mission-critical solutions using BlackBerry QNX technologies. BlackBerry provides OEMs around the world with state-of-the-art technology to protect hardware, software, applications, and end-to-end systems from cyber attacks.
What do you think about this News