October 2018 issue out on stands now
Published On Sep 29, 2018 09:38:00 AM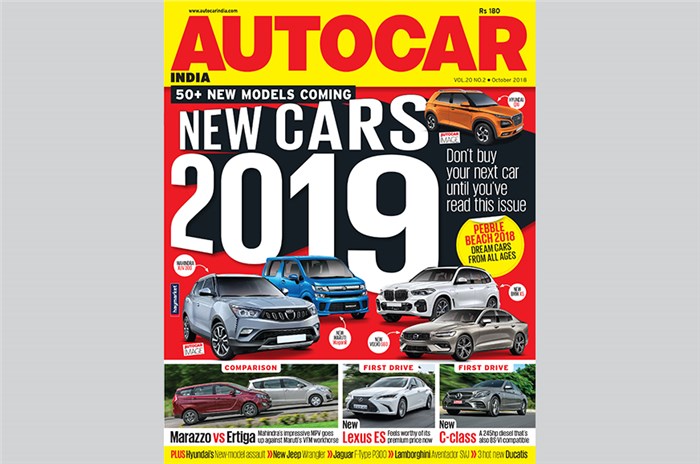 If you're in the market for a new car, this month's issue is an absolute must-have for you! We bring you a list of over 50 new cars that will be launched in India in the next 12 months. To go with it, we have a face-off between the Mahindra Marazzo and the current-gen Maruti Suzuki Ertiga. Topping that off, we also have drives of the soon-to-be-launched Honda CR-V, the new Lexus ES, the updated Mercedes-Benz C-class and the all-new Jeep Wrangler. Read more news, reviews and features in our October 2018 issue.
Are you looking to buy a new car but want to wait for what's around the corner? We bring you an extensive list of new cars, SUVs, MPVs, sports cars and EVs that are all set to be launched in the coming months in our October issue. There's also a mighty face-off between two people-carriers – the Mahindra Marazzo and the current-gen Maruti Suzuki Ertiga. Also part of this issue are reviews of the Honda CR-V, the Mercedes-Benz C-class facelift, all-new Jeep Wrangler and more. Here are the highlights:
New Cars 2019
Looking to buy a new car? Hold on to that cheque, for the coming year will see the arrival of a number of new offerings – from hatchbacks and sedans to a slew of SUVs, and even some electric vehicles!
Mahindra Marazzo vs Maruti Suzuki Ertiga
Can the promising Mahindra Marazzo make a case for the premium it demands over the popular, value-for-money Maruti Suzuki Ertiga? We find out.
Lexus ES
The seventh-generation ES 300h petrol hybrid sedan looks sharper and feels plusher than before. We tell you what's it like to drive.
Mercedes C-class facelift
A midlife update for the popular luxury sedan adds modernity and a 245hp, BS VI-compliant diesel engine.
New Jeep Wrangler
We take on the famed Rubicon Trail in the United States in the India-bound 2018 Jeep Wrangler. How well will it fare?
Jaguar F-Type P300
Following the recent facelift, the Jaguar F-type now also gets a smaller, 2.0-litre, four-cylinder petrol engine. Can it still deliver a big punch?
2018 Pebble Beach Concours
It's that Sunday of the year when the golf carts at the Pebble Beach Golf Links in California give way to vehicles a whole lot more glamorous. We bring you the gorgeous cars on display at the 2018 Pebble Beach Concours d'Elegance.
Kawasaki Ninja 300
The baby Ninja now gets ABS and a massive price cut, thanks to localisation. But does that mean a drop in quality levels? We investigate.
Ducati Monster 821
The Monster 821 returns, this time, with some more goodies in store. Is that enough to keep it relevant?
TVS Ntorq SXR
A scooter with over 20hp and knobby off-road tyres must be a whole lot of fun, yes? Yes! We've tried out TVS' rally scooter and have plenty to say about it.
What do you think about this News