Mitsubishi's new Mi-Tech compact SUV concept for the Tokyo Motor Show previews a new type of plug-in hybrid drivetrain that doesn't use a conventional petrol or diesel engine. It also gives hints at the next ASX's design, which is due in 2021.
The roofless concept's downsized plug-in hybrid range-extender system replaces the petrol engine used in Mitsubishi's existing plug-in hybrid drivetrain with a gas-turbine engine-generator.
Mitsubishi claims the lightweight, compact generator is around half the size of a conventional combustion engine but is just as powerful. It is able to run on a variety of fuels, including alcohol, kerosene and diesel, to allow it to adapt to different regional requirements.
The generator powers four electric motors, two on each axle, in what Mitsubishi calls its Quad Motor 4WD System. Mitsubishi has not revealed any specific performance, range or output figures for the new plug-in hybrid drivetrain in the Mi-Tech, but it is understood to be intended as a high-performance system. The system is a development of that seen on the e-Evolution concept from 2017 – which used three motors, and demonstrates Mitsubishi's desire to continue to offer high-performance drivetrains – having killed off the Evo as a separate model.
Presenting the buggy style Mi-Tech concept at the Tokyo Motor Show, the company's CEO Takao Kato said that the firm remained "dedicated to electrification, particularly plug-in hybrids."
The Mi-Tech's new system is intended to preview an application for plug-in hybrid technology for smaller SUVs, although such a radical switch towards gas-turbine technology is not something as yet with serious production intent.
The pure-concept-car positioning and the looks of the Mi-Tech means it's not intended as a direct preview of a new model, in the way the Engelberg Tourer previewed the next Outlander, but it does still provide some clues to the next-generation ASX and a desire to make that car stand out more. These include features such as the front and rear light designs, and the 'Dynamic Shield' front grille.
The Mi-Tech's off-road buggy style brings with it chunky off-road tyres, flared wheel arches, and aluminium skid plates, while on the rear deck there are four turbine-like additions to give clues to the concept's more unusual power source.
The simplified cabin has chunky grab handles and pared-down switchgear, and notably no interior touchscreen on the centre console. Instead, there is a small screen behind the steering wheel for driver information and an augmented reality windscreen that displays not only the information that would have been displayed on a central infotainment screen but also real-time driver assistance features for both on and off-road driving.
The four-motor system is said to improve on-road handling and off-road control through integration with a revised version of Mitsubishi's Super All Wheel Control (S-AWC) system. One such feature is an ability to maintain drive even with two wheels off the ground, and another allows for 180-degree spins by counter-rotating the left and right-hand side tyres. Further improved control comes from the adoption of electric brake calipers.
Also see:
Tokyo Motor Show 2019 image gallery
Mitsubishi Pajero Sport facelift revealed
Mitsubishi Cars
Mitsubishi Outlander
₹ 31.26 lakh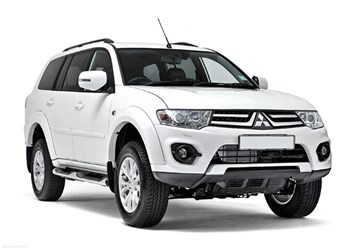 Mitsubishi Pajero Sport
₹ 33.86 - 35.47 lakh