Koenigsegg Jesko hypercar breaks cover at Geneva
Published On Mar 10, 2019 08:00:00 AM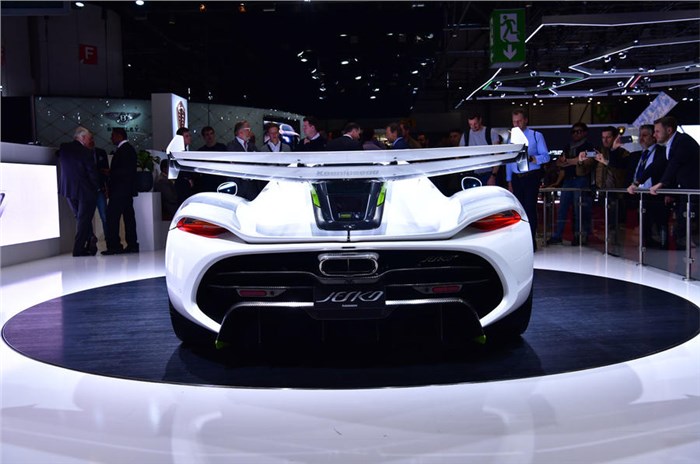 The new successor of the Agera to be quickest road-legal hypercar; limited 125 units will sell at just under Rs 21 crore per unit.
The 2019 Geneva motor show isn't short on hypercars. However, the newly unveiled Koenigsegg Jesko may just redefine the word 'hyper'. The car aims to have a power output going up to 1,600hp, up to 1000kg of downforce and a targeted top speed of 483kph. Production of the Jesko will be limited to 125 units, each sporting a price tag that starts at just under USD 3 million (over Rs 21 crore) plus taxes.
Company founder Christian von Koenigsegg took the wraps off the model at the Koenigsegg stand alongside his father, Jesko von Koenigsegg – the namesake of the hypercar. Von Koenigsegg Senior backed his son to start in the car business as a near-penniless 22-year-old and was visibly moved at Geneva stand to discover Christian's tribute to him.
The Jesko effectively replaces the Koenigsegg Agera, sitting on a new platform and with a modest increase in dimensions. Its power comes from a heavily reworked version of Koenigsegg's own V8 petrol engine with a forged crankshaft and twin-turbochargers and an all-new air-injection system to cut down on lag. Power is quoted as 1,600hp when the car benefits from the extra cooling effect of E85 ethanol. The Jesko's torque peaks at 2,177 Nm.
We don't have any acceleration figures for the car yet – and let's be honest, we don't really need them – but Koenigsegg says that it plans to sell the car in two different configurations; one of these would be for track use and one to maximise on-road top speed. The latter version will aim for a 483kph top speed on road. If it delivers, that statistic would be enough to make the Jesko the fastest road-legal car in the world and break the record set two years ago by a Koenigsegg Agera in the US.
The Jesko's transmission is really clever: a new, Koenigsegg-developed 9-speed gearbox with each gear having a separate wet clutch. As a result, the car has the ability to swap between any two speeds in just 20ms without the need for one to be pre-selected (as in a normal twin-clutch). Labelled the 'Light Speed Gearbox', Koenigsegg claims the transmission's total weight to be just 90kg. The gearshift will allow a driver to either swap ratios one at a time, or immediately shift to the lowest or highest possible ratio by holding it for slightly longer.
Koenigsegg confirmed that the Jesko will be homologated for sale on both sides of the Atlantic. The hypercar it will weigh-in at just 1,200kg dry, and 1,400kg in fully wet road configuration owing to its carbon-fibre structure and a minimum of fripperies. One of the Jesko's features is its "Display Mode", which opens doors and the car's clamshell to better show it off. It also gets a steering wheel with a built-in digital display screen that always orientates text upright to make it easier to read under cornering.
Von Koenigsegg says his company has already taken 83 deposits on the car ahead of its official unveiling. "Be fast if you want one," he told the crowds at Geneva. "We will have to see how many are left at the end of the show."
Also see:
Koenigsegg Jesko image gallery
What do you think about this News