India Speed Week 2016 report
Published On Dec 20, 2016 10:18:00 AM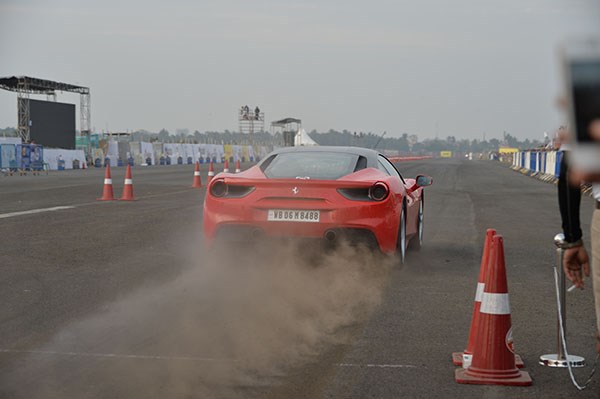 Here's all the action from the first ever drag-race weekend held in Kolkata
East India witnessed its first ever drag race at the Behala flying club in Kolkata on December 10-11. Organised by Elite Octane, in association with the Federation of Motor Sports Clubs of India (FMSCI), India Speed Week was a two-day-long drag-race fest that saw over 370 participants tear down the airstrip on cars and motorcycles of every type and size. The cars ranged from a Hyundai Eon to Lamborghini Huracans and Audi R8s of the world, along with some seriously souped-up cars.
How about a mid-engined Skoda Octavia that puts out 340hp plus through its rear wheels? Or drag-racer Joel Joseph's 445hp turbocharged Honda City VTEC dragster that could give an Audi R8 a run for its money? And we haven't even gotten to the bikes yet.
The two-wheelers at the event included everything from Yamaha RX100-turned-featherweight dragsters to modded Yamaha RD350s that could blitz the quarter-mile in under 13 seconds, to sports bikes of every imaginable cubic capacity. While the KTM 200s and 390s came to test their mettle in boatloads, there was absolutely no dearth of big-boy toys like the Suzuki Hayabusa, Yamaha R1M and the BMW S1000RR, some of which even wheelied their way from start to finish. To top it all off, a couple of Kawasaki Ninja H2s and India's only turbocharged ZX14 R also made it to the starting line.
But the rides serve no purpose without their riders. Among the participants, one who really stood out was Ranchi's Rohan Singh. You wouldn't notice anything different about this 26-year-old lawyer and motorcycling enthusiast when he's flying off the starting line on his Suzuki Gixxer 1000. Unless, of course, you have keen eyes like those of Autocar photographer Paul Dewars.
The fact that Rohan is differently abled hasn't kept him from his passion of riding. So much so that he rides over 5,000km a month. Besides the big Gixxer (the same bike that was used in the movie Dhoom 2), he also owns a KTM Duke 390 and a Ducati Monster 696 that he rides regularly. He plans on taking up racing as a full-time career, reserving his duties at the court only for pro bono cases.
Due to the tarmac not holding together well under extreme braking, the racetrack was limited to 350m, instead of the traditional 402.3m quarter-mile stretch for safety reasons. And after tonnes of wheel-spin, with both cars and bikes hunting for traction, and some seriously quick dashes to the finish line, we have the winners from every category listed below.
For a better look at the action from the Behala air strip, check out our imagegallery of the 2016 India Speed Week.
CARS
| | | | |
| --- | --- | --- | --- |
| Category | Name | Car | Time (S) |
| K2 Diesel Cars from 1451 to 1750 cc | Rishav Chawdhury | Hyundai Verna diesel 1.6 | 15.463 |
| A1 + A3 Indian Cars up to 1650cc | Debdeep Rakshit | Honda City VTEC | 16.040 |
| K4 Diesel Cars above 2050 cc | Subhodeep Saha | BMW 530d M Sport | 16.224 |
| A4 Indian Cars from 1651 to 2050 cc | Silas Paul Pachigalla | Volkswagen Passat | 15.927 |
| B1/B2 UP T0 1450CC | Anuj Gupta | Maruti Suzuki Esteem | 16.506 |
| B5/B6 Indian cars 2050cc+ | Vivek Ramchander | Skoda Laura | 13.695 |
| F (Indian open Petrol/Diesel) | Siddhartha Mallu | BMW 328i | 13.397 |
| G (Indian open Petrol/Diesel) | Stephen Pachigalla | Skoda Laura | 13.493 |
| K1 Diesel Cars up to 1450 cc | Gurpreet Singh | Maruti Swift | 17.532 |
| K3 Diesel Cars from 1751 to 2050 cc | Vivek Ramchander | Skoda Laura | 13.511 |
| H2 Foreign Cars from 2001 to 3000 cc | Atul Surana | BMW Z4 | 13.699 |
| H3 Foreign Cars from 3001 to 4000 cc | Suresh Tolani | Porsche 911 Carrera | 12.950 |
| I3 Foreign Cars from 3001 to 4000 cc | Siddhartha Mallu | BMW328i | 13.629 |
| H4 Foreign Cars above 4001 cc | Parveen Agarwal | Ferrari F488 | 11.535 |
| J Unrestricted (Petrol / Diesel) | Neeraj Sharma | Audi R8 | 12.277 |
BIKES
| | | | |
| --- | --- | --- | --- |
| Category | Name | Time | Motorcycle |
| M1 100cc to 225cc - 2 stroke | Syed Afsar | 12.708 | YamahaRX135 |
| M2 250cc to 360cc - 2 stroke | Kaleem Pasha | 11.144 | Yamaha RD350 |
| M3 100cc to 225cc - 4 stroke | Iqbal Shaikh | 13.543 | KTM200 |
| M4 250cc to 360cc - 4 stroke | Debanjan Mondal | 13.622 | KawasakiNinja300 |
| M5 361cc to 500cc - 4 stroke | Shabbir Ansari | 12.699 | KTM390 |
| M6 600cc to 850cc | Neeraj Kumar Sharma | 10.044 | Yamaha R6 |
| M7 649cc to 899cc | Mirza Jahangir | 11.049 | Ducati 848 |
| M8 851cc to 1050cc | Amit Sharma | 9.542 | BMWS1000RR |
| M9 1051cc to 1450cc | Amit Sharma | 9.614 | Suzuki Hayabusa |
| W1 Fastest Wheelie - Indian (550cc & below | Usman Khan | 15.439 | YamahaRX135 |
| W2 Fastest Wheelie – Foreign | Nadeem Shah | 10.650 | KawasakiZ1000 |
| O1 (Indian open up to 500cc) | Kaleem Pasha | 11.292 | Yamaha RD350 |
| O2 (Foreign open above 600cc) | Zahir Shah | 9.432 | BMWS1000RR |
| P1 Foreign Cruiser open 700cc+ | Sundeep Singh Sokhi | 16.945 | Suzuki Intruder |
| P2 Indian Cruisers open | Arpan Das | 17.049 | RoyalEnfield500 |
| P3 Muscle Bike | Nadeem Shah | 10.346 | Ducati Diavel |
What do you think about this News