The Audi RS Q8 has just set three SUV lap records at all three racing circuits in the country as part of Autocar India's The Fastest Lap initiative. The man behind the wheel of the RS Q8 at the MMRT, Kari Motor Speedway, and the BIC was none other than champion racer Aditya Patel.
Audi RS Q8 proves it is the world's fastest SUV on Indian race tracks
Covered over 3,500km from Chennai to Coimbatore to Greater Noida to set the records
The RS Q8's lap times - MMRT (1:52.911); Kari Motor Speedway (1:13.691) and BIC (2:16.767) — were staggering. The SUV's 4-0-litre, 600hp engine and remarkable handling prowess made short work of the technical MMRT and the point-and-squirt Kari Speedway, before it went on to ace the BIC, India's only F1 circuit. Officials from the Federation of Motor Sports Clubs of India and The India Book of Records were at hand to ratify the lap records.
The Fastest Lap, though, was not just about the high performance version of the Audi Q8 blitzing race tracks across the country. It also had another dimension — that of everyday usability. And that was evident in the over 3,500 km that it covered from Chennai to Coimbatore to Greater Noida — all this in the span of just over a week earlier this month. The way it cosseted the Autocar India crew all through the journey was proof that the world's fastest production SUV — it earned the title after clocking a stunning time of 7:42.253 around the legendary Nurburgring Nordschleife two years ago — can also be both luxurious and versatile.
"I thought it was a cool concept," said Patel. "The RS Q8 was not transported on a flatbed and rather driven from circuit to circuit. As for its performance at the tracks, I kept forgetting it was a huge SUV and that was because it was extremely nimble and went exactly where I wanted it to."
"We are thrilled that the Audi RS Q8 has set the SUV lap records at all the three race tracks in India as well, establishing new benchmarks. The Audi RS Q8 has once again reaffirmed that our sportiest Q is a large SUV coupe with the genes of a true high-performance sports car on the road. With its road-run from Chennai to Noida in addition to the exploits on the track, it stands out as an all-in-one model that is at home in the rough as it is on the racetrack," said Balbir Singh Dhillon, Head of Audi India.
To find out more about The Fastest Lap and our thrill-a-minute ride in the Audi RS Q8, make sure you pick up a copy of our April 2021 issue.
Also see:
Atal Tunnel vs Rohtang Pass route ft. Audi Q8, RS Q8 feature video
Atal Tunnel vs Rohtang Pass in an Audi Q8
Audi RS Q8 India review, test drive
Audi e-tron, e-tron Sportback India launch in the first-half of 2021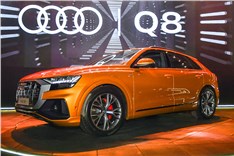 2020 Audi Q8 India image gallery
9580 Views|3 years ago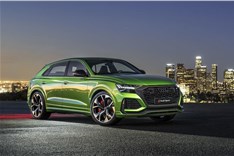 Audi RS Q8 image gallery
5775 Views|4 years ago
Audi SQ8 image gallery
8299 Views|4 years ago