It isn't exactly summer in India (a look outside will definitely tell you that), but this time period is well-known all over the world; it's when summer blockbusters – big ticket (and budget) movies – are released. This summer, there's just one major movie a car enthusiast can look forward to – Fast & Furious Presents: Hobbs & Shaw.
Watching a movie – even one that's chock-a-block with action sequences – doesn't quite fulfil your need for speed (or satisfy the urge to drool over some of the most loved cars). Hence, we've brought you a list of the most popular movie cars to drive in.
1. Shelby Mustang GT500 Eleanor – Gone in 60 Seconds (2000)
This iconic Shelby Mustang GT500 Eleanor, which Nicolas Cage drove like he stole it (which he did), takes the top spot. The Dupont Pepper Grey 1967 Ford Mustang fastback, which was depicted as a Shelby GT500 in the movie, came with a customised body kit but no other changes.
2. Ford Escort RS MK1 – Fast & Furious 6 (2013)
This pristine, rally-prepped Ford Escort featured in a heart-thumping scene where Brian O'Conner (the late Paul Walker's character), rescued one of his comrades from a tank! We really have to hand it to Tej Parker (Ludacris) for 'liberating' the car from that auction in London.
3. Audi R8 – Iron Man (2008)
Not only did Robert Downey Jr nail his appearance as Tony Stark/Iron Man, the beautiful silver Audi R8 suited his self-proclaimed "genius, billionaire, playboy, philanthropist" lifestyle. While it may not have performed any outrageous antics in the movie, the supercar's brilliant 5.2-litre V10 Lamborghini-sourced engine is just one of the many reasons why it was chosen to be a part of this list.
4. Shelby Cobra – Bad Boys
There's nothing in the world quite like the Shelby Cobra and when it's a part of Michael Bay's signature slow-mo, 360-degree pan action shots, then the feeling is even stronger. It may have been driven by the villain of the movie (he ends up crashing head-on into a concrete barrier and survives) but it definitely lit up the big screen big time in the scene where it was being raced against an almost equally gorgeous 964 Porsche 911 Turbo. No wonder its 492hp, 7.0-litre V8 motor is in high demand.
5. Nissan GT-R R35 – Furious 7
Another model driven by Brian O' Conner, this 2012 Nissan GT-R has been featured in the Forza games as a special edition and for good reason. Not only is the GT-R an outstanding performer that punches far above its weight class in many aspects, the specific model used in the movie came with an even lower suspension that allowed O' Conner to duck under a high-riding truck to avoid gunfire and missiles from a drone. The car – like most cars used in the franchise – met a fiery end.
6. Aston Martin DB5 – Goldfinger
There are few cars that are as iconic as James Bond's Aston Martin DB5. It may have met its doom a number of times in the movie franchise – most recently in 2012's Skyfall – though it was always restored to its former glory, as seen when Bond (Daniel Craig's last appearance as the character) drives away in it at the end of Spectre (2015). An absolutely mad car for its time, the DB5's 4.0-litre straight-six motor made over 286hp and 390Nm of torque, and was capable of hitting a top whack of 233kph!
7. Dodge Challenger SRT Demon – The Fate of the Furious
Seen in the opening chase scene from the movie, the reasons for it being on this list and featured in the movie are the same. Picture Car Coordinator for the movies Dennis McCarthy was quoted saying, "Any car that has over 800hp and is drag strip ready, capable of 9-seconds in the quarter-mile from the factory, is a perfect fit for Fast and Furious."
8. Ford Mustang GT Stage 3 ROUSH – Transformers
The Mustang GT in V8 form is no slowpoke – the 401hp/515Nm 5.0-litre V8 motor is nothing short of a hoot to drive. For those who think this isn't enough, tuning company ROUSH Performance can soup it up for you so that the motor delivers a whopping 710hp and 827Nm of torque! It's no surprise that this badass car (which transformed into a Decepticon – the villainous robots – named Barricade) could keep up with the good guys and is a part of this list.
9. Dodge Charger – The Dukes of Hazzard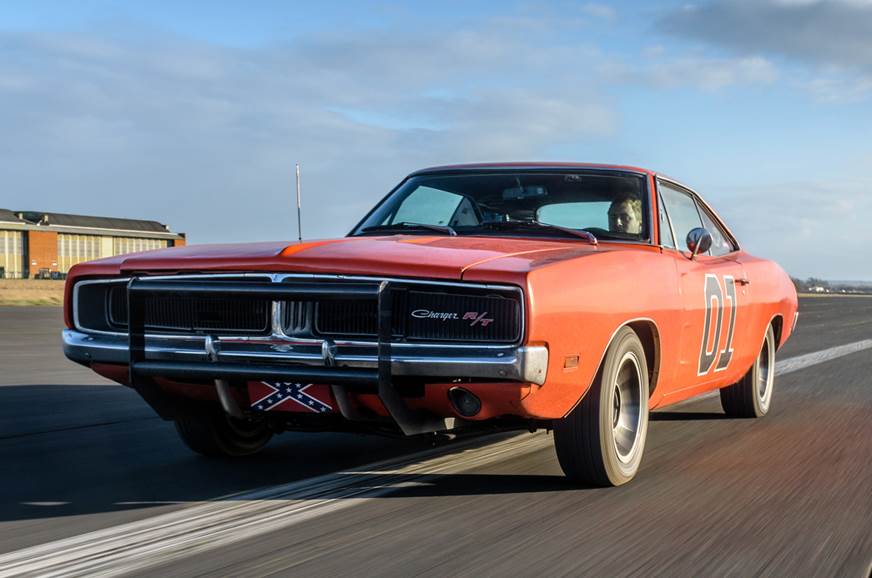 Also known as the General Lee, the 1969 Dodge Charger that featured in The Dukes of Hazzard is iconic not just for its loud 'Dixie' horn, getting in and out via the windows and the dual-tone body (Hemi Orange with the Confederate flag on the roof), but also for the big-block 6.3-litre V8 that made 335hp and 624Nm of torque.
10. Toyota Supra – The Fast and the Furious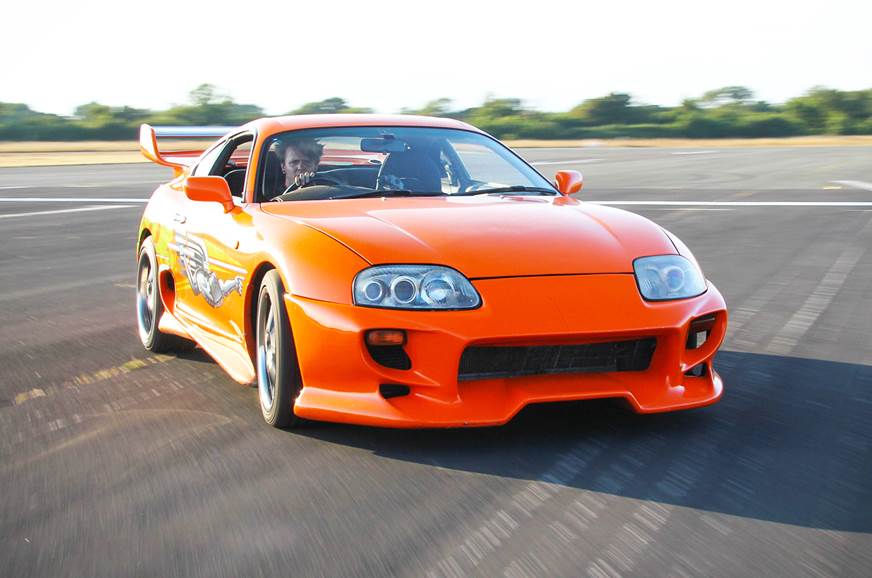 There might be an all-new model on sale now in quite a few international markets but JDM fans will still talk about the absolutely brilliant last-gen Supra till they're blue in the face. They'll go on about how the 2JZ engine (the 3.0-litre inline six-cylinder motor) has become the gold standard for tuning and modding. The now famous Supra that was used in the first movie from the Fast and Furious franchise (again, Paul Walker's character drove it) has been recreated by many fans, down the extensive list of modifications done to make it even faster.
Images courtesy www.trackdays.co.uk