The top-spec XL 100 is greener and more distinguishable for 2020.
The TVS XL 100 might look a little insignificant, but this lightweight machine is a heavyweight in the Indian two-wheeler market. The XL is also a truly important offering for TVS, as it's not only the successor to their first-ever two-wheeler but also a product that sells like hot cakes. It even outsold their entire motorcycle portfolio last month.
This success is no accident, and the XL has shown its worth by continuously being one of the most affordable and utilitarian two-wheelers on sale in India. However, the 2020 Comfort i-Touchstart variant has taken a slightly different route. I never thought I would say this, but this XL looks fancy. The load-carrying moped now features brighter colour options, beige-coloured plastics, a dual-tone seat, a backrest that sits on a blingy chrome grab rail and my favourite bit, a retro headlight cowl.
USB charging socket is a nice addition.
To be honest, I initially thought these cosmetic revisions were a bit unasked for, given the space the XL sits in. However, after noticing how people are reacting to it, it's very clear that the company is quietly pushing it as an alternative to low-priced motorcycles and scooters.
Powering the top-spec XL 100 is the same 99.7cc fuel-injected engine that can be found across the range. Peak power and torque figures are 4.4hp at 6,000rpm and 6.5Nm of torque at 3,500rpm, respectively, which are the same as the BS4 model. While it's quite impressive that the engine hasn't lost power, we found that it doesn't feel any more refined than the carburetted unit. What also remains the same is that the powertrain is still setup for its carrying capacity, more than anything else. As for vibrations, they come in as early as 40kph and become quite strong in the foot pegs towards the XL's top speed of around 60kph.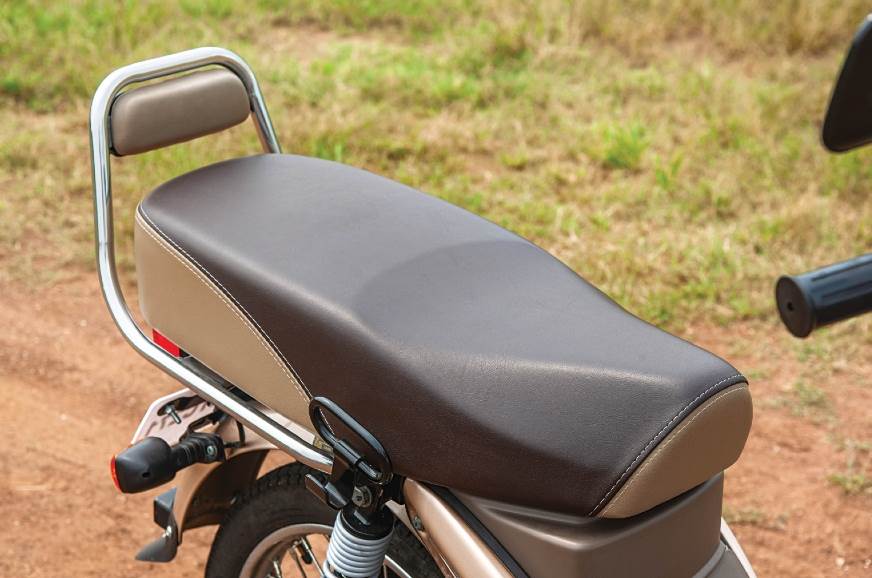 New backrest improves comfort.
Speaking of the moped's top speed, you will find yourself hitting it often on the highway and even on an open stretch in the city. What is nice is that, even at that speed, it'll give you 64.7kpl. At slower speeds within the city, that figure will go up to 72.4kpl. However, as before, the drum brake setup is quite weak.
At Rs 48,839, the XL 100 Comfort i-Touchstart costs around Rs 6,000 more than the 2019 BS4 one, but around Rs 12,000 more than the corresponding model from 2018. This also makes it around Rs 2,000 more expensive than the kick-start variant of Bajaj CT100. Of course, it is the most expensive of the six variants available (all fuel-injected) and if affordability is your primary need, the XL range starts at Rs 39,990. That means it remains the most affordable petrol-powered two-wheeler available in India. With the financial implications of the pandemic hitting just as the price of all two-wheelers having gone up, the XL's future looks brighter than ever.
TVS Ronin vs Royal Enfield Hunter 350 comparison video
17198 Views|5 months ago
2022 TVS Apache RTR 160 4V vs Bajaj Pulsar N160 compariso...
19774 Views|6 months ago