Brings mesh connectivity at a reasonable price, but needs to be refined.
TVS is the only Indian two-wheeler OEM who has entered the largely untapped Bluetooth communicator market, with its self-branded S10X & S20X models. In this review, we'll be focusing largely on the latter, which is essentially the same as the S10X, but gets the bonus of mesh connectivity and a small visual upgrade.
The S20X is based on the same platform as the BluArmor C30 we recently reviewed but has a very different design. With the C30, the buttons are bunched up together quite closely and that makes it difficult to tell apart each button especially with a gloved hand while riding. The S20X eliminates this problem by having three large, well-spaced out buttons with which you control its functions.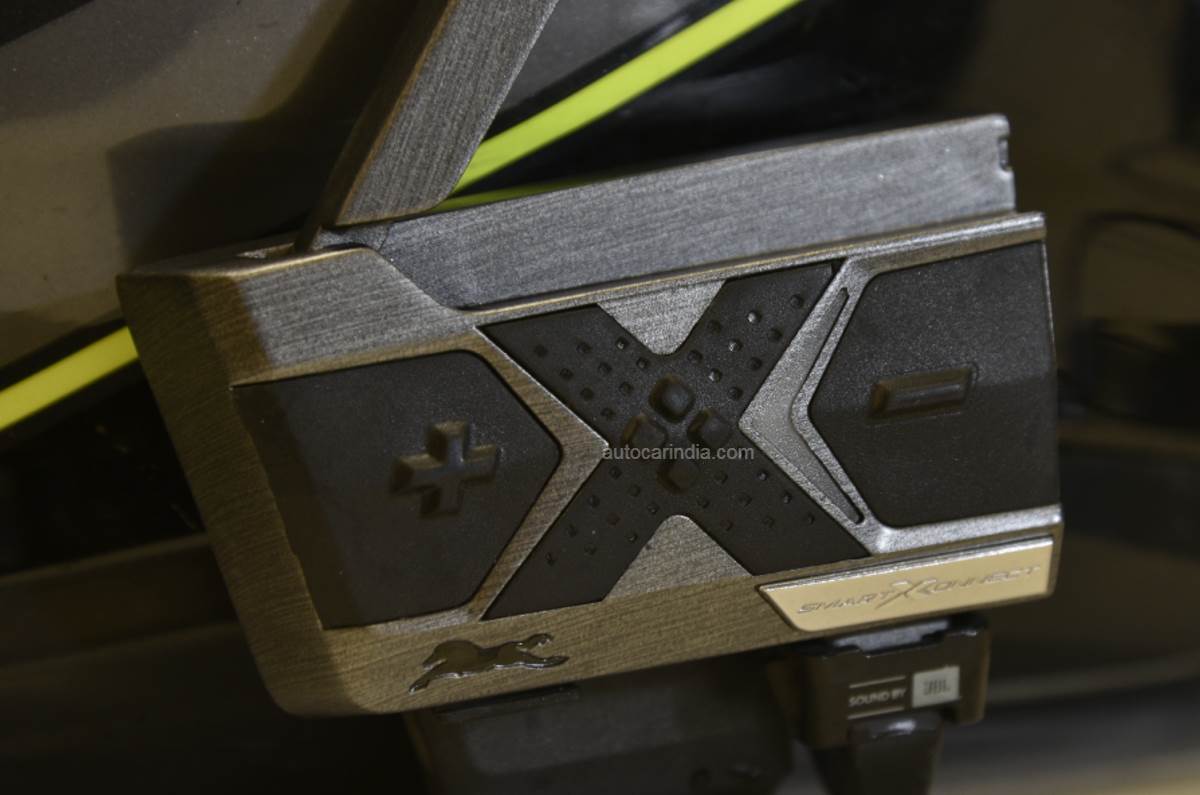 With the S20X connected only to my phone via Bluetooth for music, calls and navigation, it worked perfectly well. When you delve deeper into TVS' proprietary app you'll appreciate its straightforward interface, and you can do everything from changing the unit's settings, adjust audio settings (add more bass, 'High Output' audio further increases volume, etc.). And you can even manage the Bluetooth and mesh intercom connections very easily with just a few taps from the app instead of through the unit itself.
In a Bluetooth communicator audio is key and the S20X is a bit of a mixed bag in that department. Audio quality is great (even when compared to my Rs 30,000 Sena 50S) but the volume level is a little low for my liking (even at its most powerful 'High Output' setting), and post 85/90kph, I really struggle to hear the navigation prompts or music that's playing. Now, one thing that bears mentioning here is that I always ride with my trusty 3M foam earplugs and if you don't, this probably won't be an issue for you. Each helmet has different levels of wind noise and placement of earpieces but in my AGV K6 this was my experience, which might vary with a different helmet. Zaran, on the other hand, has been using the S20X on his HJC IS-17 sans earplugs and has found the audio levels to be adequate.
Audio pickup from the mic is excellent and the person on the other end has almost never been able to tell if I'm talking while riding, another nice thing carried forward from the C30.
The disappointing Bluetooth connectivity of the S20X is perhaps the biggest fly in the ointment here. When me and Zaran have been connected via Bluetooth intercom (RideLynk, not the RideGrid mesh system), range is very limited and we faced frequent cut-outs, sometimes even when we were separated just by just a few car lengths. And even when it isn't cutting out, the audio quality is just about acceptable. Happily though, once you switch over to mesh, the range increases drastically and the connection is much more stable. Audio quality also improves, though not quite as dramatically as the range, with a bit of crackling and the odd garbled word still present here and there.
The S20X does claw some ground back with its impressive battery life. I've never run it dry but it's comfortably been on track to cover well over 24hrs of on-time on a single charge, even when using the mesh connectivity as well as being connected to my phone. We have tested the S10X (review coming soon), two units of the BluArmor C30 and my S20X, and they have all proven to have long-lasting batteries, so by and large, battery life is a positive.
One issue from the BluArmor that has been carried over is the design of the microUSB connector for the earpieces and mic. With this design, the helmet ends up resting on the connector when the unit is connected, and this sharply kinks the wires at this point, which can't be good in the long run.
Overall, at Rs 10,999, the S20X is a good VFM proposition if you want mesh connectivity at a very digestible price along with a decent set of features to boot. If you frequently ride in large groups, this is the most affordable way to stay connected with all your riding partners, and you will have to shell out much more money to make this possible with a big brand like Cardo or Sena.
If TVS (and BluArmor) can iron out the few teething issues here this is a product that has the potential to carve out a neat space for itself. If, on the other hand, you are more likely to use your communicator for handling phone calls, listening to music and the occasional one-to-one intercom connection, then there are slicker alternatives available for not a lot more money. In that vein, you can check out our review of the Cardo Spirit HD here.
Also See: