We took the the shiny new Harley-Davidson Softail Breakout out on the highway, and here's what it felt like.
Set your eyes on the Harley-Davidson Breakout for the first time, and you see a low, muscular and an almost menacing profile. With a seat height of 660mm, this is one of the lowest slung among all the Harleys currently on offer in India. The overall Breakout design has been inspired by Gasser drag bikes. The front mudguard is quite short, and the handlebar is straight, but slightly pulled back towards the rider. The handlebar incorporates notification lights, and on the centre sits a chrome-coated single dial speedometer, which houses a small multi-function LCD display. The switchgear on the handlebar has a glossy-matte finish to it and the mirrors mounted on either sides are small, with chrome treatment. There's chrome all over the Breakout as well, something that's pretty usual to motorcycles from the Milwaukee based manufacturer. Front forks, headlamp housing, engine block, stock air intake housing, gear and brake levers, and the Breakout exhaust pipe - everything has a mirror-like finish. The fit-and-finish on the Breakout is brilliant, but that is something that's expected from a Harley bike – visually, there's barely anything that seems out of place – and unlike the last Harley, the Street 750, there are no visible cables that spoil the look of the motorcycle.
The Breakout gets the same 1,690cc, four-stroke, V-Twin, air-cooled engine as the Heritage Softail Classic. Crank it, and you're rewarded with a soft, yet throaty grunt from the exhaust. Mechanically, the engine is quite silent, and while riding, the only sound you'll actually hear is the all-business speaking exhaust note. Mated to the big powerplant is a six-speed gearbox, which is a disappointment as it lacks refinement. However, the gears shift with a mechanical feel and sound. The Breakout's engine makes a massive 13.2kgm of torque at 3,000rpm, and despite it being a cruiser at heart, the big bike surges forward with urgency when the throttle is wrung to the top. The first and second gears feel rather short, but then again, higher gears are reached rather quickly and you can cruise at relaxed engine speeds. The big Harley cruiser feels most comfortable between 1,500-3,100rpm. Cross that, and vibrations creep in through the handlebar and mirrors. This gets annoying in the long run. However, upshift early, crack open the throttle and you are rewarded with a pleasant, well spaced out thumping melody. Fuelling is a touch snatch though, and can improve.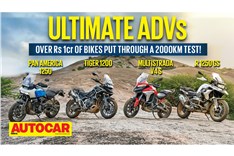 BMW vs Ducati vs Harley vs Triumph - 2000km ADV road trip...
6189 Views|7 months ago
Harley-Davidson Road Glide Special video review
6660 Views|11 months ago