The power of a sport bike with the go-anywhere ability of an enduro. Is this Multistrada all the bike you need?
It's easy to make judgment without knowing enough, isn't it? There are times you form an opinion by just looking at something.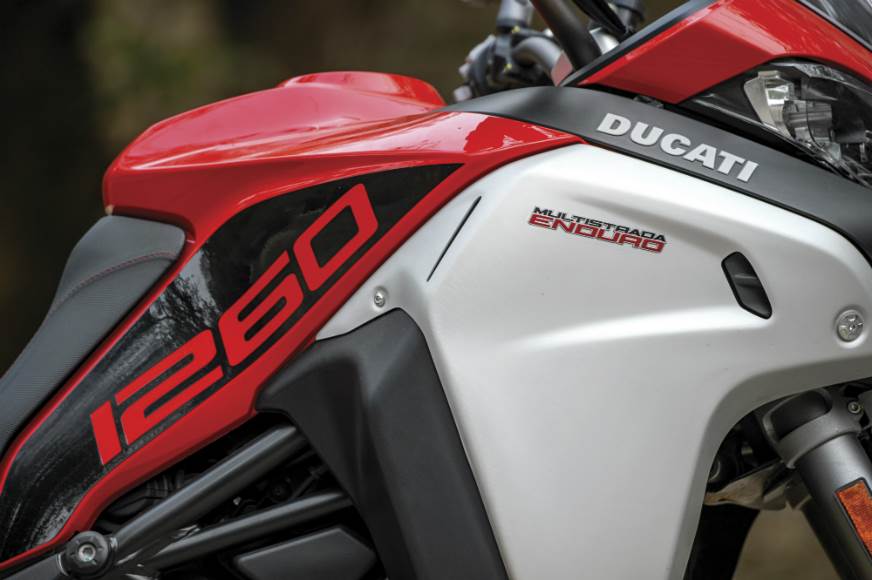 30L fuel tank great for 500-600km range.
Take the Ducati Multistrada 1260 Enduro, for instance. This is a large, 159hp, 250kg+ adventure tourer that seems intimidating even before you get on it. The brochure says it'll manage riding off-road too, but I shudder at the thought of muscling this massive motorcycle down a trail, considering my nascent skills when it comes to riding big ADVs off road. But you know what they say about books and their covers.
Size doesn't matter
There's no denying that when it comes to design, the Italians are an innately talented bunch, and what Ducati has managed with the Multistrada is exceptionally good. To my eyes, the Multistrada Enduro is a great example of the synergy between form and function. One may assume a purpose-built adventure tourer should look like an ungainly mass of exposed frames and other odd body panels, but the Multistrada Enduro is anything but. Its signature LED headlamp, fairing, beak, deeply scooped seat and sleek tail section are reminders that a globetrotting motorcycle can look good. And this is without taking away any of the long-distance comfort you'd expect from an ADV.
Bright LED headlamps have a long throw and sufficient spread.
Ducati, in fact, has worked on making the ergonomics less intimidating than the previous Multistrada 1200 Enduro. This has been achieved primarily by reducing suspension travel to 185mm at either end. The handlebar also sits 30mm lower, making it easier to stand on the pegs and ride. They've also lowered the standard seat height to 860mm (low-seat option drops to 840mm); so unless you are under 5ft 8in, placing your feet firmly on the ground won't be an issue.
Spacious seat is immensely comfortable and supportive.
The best thing about being seated on a big adventure tourer is the relaxed riding position and the commanding view of the road; after all, you sit almost as high as the guy in the Fortuner next to you. The wide handlebar and tight turning radius also makes light work of squeezing through narrow gaps in traffic – almost as effortless as steering a smaller-capacity bike! But that's not the only surprising thing about this Multistrada. Let's find out.
Power commander
The 1,262cc, Testastretta DVT L-Twin is the same engine that powers the road-biased Multistrada 1260 S and the bonkers Diavel 1260, making 158hp and 129Nm of torque. Those figures may seem overwhelming, especially for someone new to big machines, but that's where Ducati's clever suite of electronics shine. The Multistrada 1260 Enduro has four riding modes – Urban, Touring, Sport and Enduro – along with 8-level traction control, and these ensure that you never put a wheel wrong.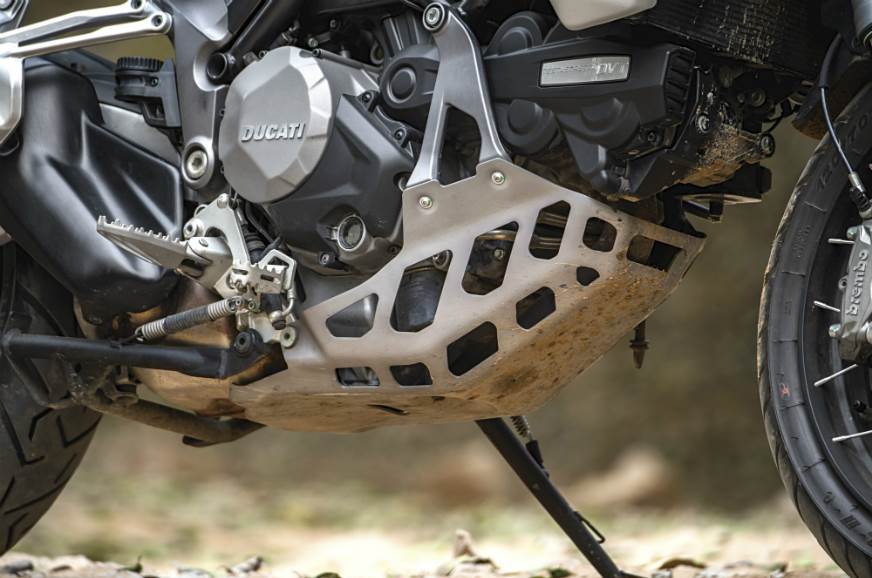 Comprehensive metal bash plate is standard fitment.
In the city, for instance, the relaxed throttle response in Urban mode, along with the engine's stronger mid-range torque (between 4,000rpm-6,000rpm) helps in everyday city traffic. Touring mode is ideal for long journeys, while 'Sport' makes this Multistrada think it's a sport bike built to set lap times. I love this L-Twin engine for its power, character and relentlessness in gobbling miles at serious speeds. But when you find yourself wandering down a trail, the Enduro mode just transforms the motorcycle – and how! It instantly feels easy to ride as the throttle response feels crisper and more measured, making it easier to control what the rear wheel wheel is doing. And in case you get a little ham-fisted, the electronics cast such a wide net that you don't spend half the time fretting about dropping the bike. This is especially good for someone cutting their teeth on the enthralling world of trail/off-road riding.
Auto-hold function makes it easy set off from a steep gradient.
Besides the flexible engine and sorted ergonomics, it's the electronic suspension that completes this well-rounded package.
Glide machine
The new-generation Ducati Skyhook suspension works like a charm, and the fact that you can customise the stiffness and preload using just a button is a boon, considering the unpredictability of our roads. This, along with the long-travel suspension and 19-inch front wheel with tubeless wire-spoke rims, allows you to glide over potholes and undulations without wincing in the anticipation of a huge thud! And when you come up to a set of twisties, the Enduro handles predictably, the grip from the Scorpion Trail tyres seemingly never-ending. The tyres are quite adept off-road as well, and you will only need the OEM Pirelli Scorpion Rally tyres if you intend to ride over sandy surfaces or gooey mud.
Electronic preload-adjust makes set-up a breeze.
Cruise missile
Lowered stance makes it more friendlier that the 1200 Enduro.
Let's get one thing straight: if riding a big adventure motorcycle off-road scares you, or if you intend to stick to riding on tarmac, you'd be better off with a Multistrada 1260 S. In fact, it seems like a sport bike on stilts, and is a far more capable machine if carving corners figures high on your agenda. However, if you love the idea of exploring what lies beyond the tarmac, the 1260 Enduro makes a compelling case. Get past the initial apprehensions and it's amazing how natural this big Ducati feels. In my books, it represents all the motorcycle you'd ever need.
Ducati Streetfighter V2 video review
4775 Views|4 months ago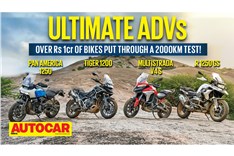 BMW vs Ducati vs Harley vs Triumph - 2000km ADV road trip...
6161 Views|7 months ago
2022 Ducati DesertX video review
8409 Views|9 months ago