Reaffirming its plans to emerge as a full-service electric vehicle maker, Bengaluru-based Ola Electric has said it will make its entry into e-motorcycles business by the end of 2023 and cars by December 2024. Ola launched its mass-market scooter Ola S1 Air at an introductory price of Rs 79,999 on Saturday. 
Ola electric car launch "on track" for December 2024

S1 Air bookings open for Rs 999
Founder Bhavish Aggarwal said Ola Electric will look to make its presence felt in all three market categories mass, mid-segment and premium superbikes. "I have studied the Rs 80,000 to Rs 10 lakh motorcycle market and such hyper segmentation in EVs is not needed. In bikes, there is a lot more room for bringing a new sphere of technology and we will be announcing this by the end of next year," he said. 
In his trademark style, Aggarwal said he wasn't quite impressed with the electric motorcycles that are making their debut in the country. Obviously, he was taking a dig at the upcoming TVS-backed Ultraviolette F77 launch on November 24.
Speaking about the Ola car launch, which is set to be around December 2024, he indicated that "it was very much on track."
Ola S1 Air: details
Ola S1 Air scooter gets three riding modes – Eco, Normal, and Sports. In Eco mode, it has a claimed range of 101 km. The Ola S1 Air is equipped with a smaller 2.5kWh battery pack (0-100 percent home charge in 4 hours 30 minutes) and a hub-mounted motor making peak power of 4.5 kW. You can read more about the entry-level S1 scooter's features here. 
Bookings for the scooter have been opened at Rs 999 during the festive season. The purchase window is expected to open by February 2023 and deliveries are likely to commence in April.
The Ola S1 Air will compete with the base TVS iQube, Bajaj Chetak (in terms of powertrain, not pricing), Hero Electric, Okinawa and Ampere products in the EV scooter space and go head to head with the Honda Activa and TVS Jupiter in the ICE category.
Outlook on India's 2W EV market
Aggarwal also refrained from giving numbers on the annual estimates of total sales he would be looking to close, but instead said that the company is seeing a "strong momentum at the premium end of the electric scooter market."
Regarding the current cell chemistries being used, Ola has said that they are using 2,170 category cells and once the company starts its cell production it will undertake the necessary migration. On the overall growth of India's two-wheeler EV market, Bhavish Aggarwal said that when they started off India was doing very limited numbers at around 4,000 units. Now EVs stand for 15 percent of the entire scooter segment. "In cities like Delhi, Bengaluru and Pune, the number is even higher at 40 percent of the new scooter sales."  
Ola Electric Bikes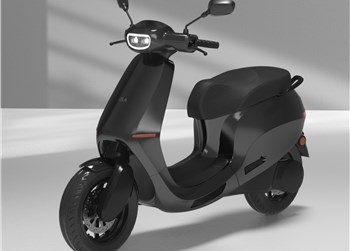 Ola Electric S1
₹ 1.18 lakh
Ola Electric S1 Pro
₹ 1.15 lakh