According to documents published by the California Air Resources Board (CARB), a part of the Environmental Protection Agency (EPA) working towards reducing air pollution, it has been revealed that the new Ducati Multistrada will come with a higher capacity motor. The current Multistrada 1200 models are powered by Ducati's 1,198cc, Testastretta DVT L-twin motor that features variable valve timing and makes 152hp, along with 128Nm of torque.
The CARB documents point to three variants (standard, Pikes Peak and S) of the updated bike which is now called the Multistrada 1260, and lists the engine capacity as 1,262cc. Now this same 1,262cc, Testastretta motor, which is basically the 1,198cc motor with a longer stroke (71.5mm vs 67.9mm) and same 106mm bore, has already been used very successfully on the XDiavel. In the XDiavel's configuration, this 1,262cc engine makes the same 152hp of peak power, but has its peak torque kick in at just 5,000rpm rather than 7,500rpm – a conscious move to make the power delivery characteristics of the XDiavel more cruiser like with lots of bottom to mid-range pull.
However, it is expected that in the Multistrada configuration, this 1,262cc version of the Testastretta motor will produce 165hp, finally giving Ducati's adventure tourer a power advantage over KTM's 1290 Super Adventure.
But a more interesting aspect is the weight loss. The document lists the Equivalent Inertia Mass (EIM), the mass obtained by adding the rotating mass of the front wheel to the total mass of the motorcycle, rider and instruments when strapped to a chassis dynamometer, of the 1260 as 340kg, while the Multistrada 1200's is listed as 350kg. So, this new bike is looking at 10kg weight reduction.
It's not clear how this dramatic weight loss might have been brought about. One thought is that since Ducati's upcoming V4 superbike is expected to use an aluminium twin-spar frame, the new Multistrada 1260 might be built on it as well rather than its traditional steel trellis. Coupled with a redesigned swingarm, we're looking at a dry weight under that magical 200kg mark, which would make it the lightest bike in its category by a big margin.
At this point, there is of course no word on when we can expect the Multistrada 1260 to hit the streets. But given that the 1200 has seen a new variant this year in the form of the Enduro Pro, and Ducati busy getting its V4 superbike ready this year, it's likely that this new Multi might debut sometime in 2018.
Ducati Streetfighter V2 video review
5765 Views|8 months ago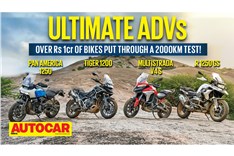 BMW vs Ducati vs Harley vs Triumph - 2000km ADV road trip...
7144 Views|11 months ago