Italian superbike manufacturer Ducati has said that it is set to gradually return to normal, with steady resumption of production in its Borgo Panigale factory scheduled to begin on April 27.
Ducati temporarily suspended production in its Bologna plant on March 13 due to the COVID-19 crisis. The Italian company has said, "the gradual improvement in health conditions has allowed the government today to enable companies deemed strategic for the national economy, whose activity is mainly aimed at exports, and for which a prolongation of the suspension would risk losing our country additional market shares, to resume production."
Only those who are not in a position to carry out their work from home will be allowed to re-join work at the factory. All those employed in the commercial, marketing, IT, personnel management, finance, purchasing and logistics areas will therefore be working remotely.
Ducati has also reorganised work timings, going from an 8hr shift to two 7hr shifts, allowing only a minimum number of people to be in the plant at the same time, thus minimising physical contact.
All the rules of conduct in force in Ducati comply with the updated shared protocol of April 24. On some points, they are even more restrictive. For example, there is an absolute requirement to use masks when working, regardless of distancing.
Ducati has said that the two-wheeler market is highly seasonal, and the stop to production in March and April has already had negative effects on sales. The Chinese market is already booming, sales in Korea and Japan are doing well. In Germany, dealers have been open for a week and they already have a shortage of product.
Also see:
646-piece Lego Ducati Panigale V4 R to go on sale from June
Ducati India extends warranty validity on bikes in light of COVID-19
Ducati Streetfighter V2 video review
4775 Views|4 months ago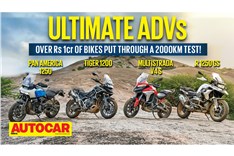 BMW vs Ducati vs Harley vs Triumph - 2000km ADV road trip...
6161 Views|7 months ago
2022 Ducati DesertX video review
8407 Views|9 months ago