- 82 percent of respondents prefer owning a personal vehicle over relying on public transport or using shared services on grounds of safety. This perception of one's own vehicle being a safe haven could play out in increased demand for vehicles, both new and used. Auto makers (and retailers) would sure hope things turn out this way.
- Using your own vehicle might reduce the risk of infection but it'll never be as effective as the other alternative, which in social media lingo goes by the hashtag, #StayHomeStaySafe. 34 percent of respondents intend to leverage technology to work from home and minimise travel.
- Only 8 percent of respondents would hire a car, provided it's not shared with other users. 7 percent were open to considering self-drive options rather than buying their own car.
COVID-19 impact: Subdued buying sentiment
- 57 percent of the respondents were open to buying a vehicle before the COVID-19 outbreak. An SUV was the vehicle of choice for over half of these respondents. However, the pandemic has forced 27 percent to reduce their new vehicle buying budget. In effect, many buyers originally planning for an SUV could end up opting for a more affordable hatchback or sedan. Similarly, scooters could be in more demand, even though motorcycles (18 percent vs 9 percent) were the preferred two-wheeler option prior to the pandemic. Demand for used vehicles could get a boost too.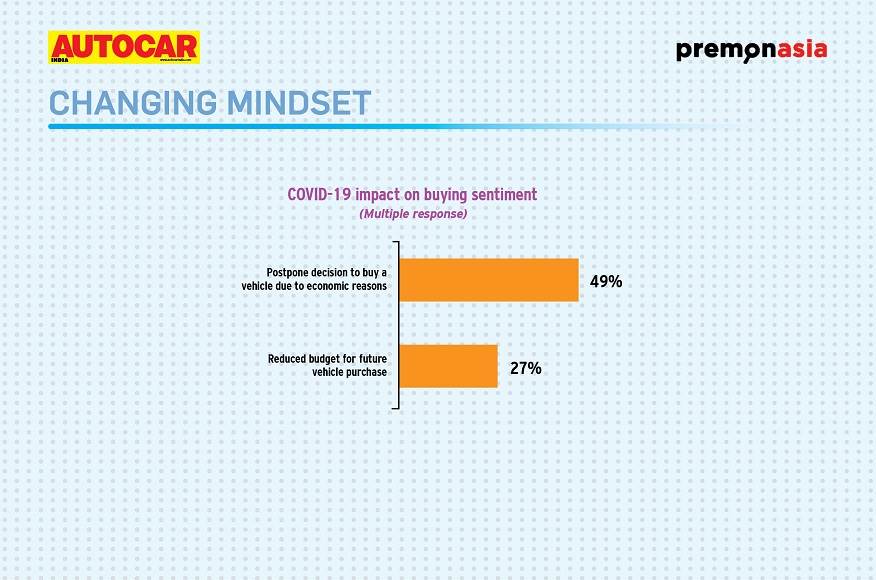 - The COVID-19-related lockdowns have come at an enormous financial cost and the unfortunate fallout is that business closures, job losses and salary cuts are very real scenarios. And this explains why nearly 1 in 2 respondents have decided to postpone their purchase of a vehicle. For their part, auto makers are going the distance to entice buyers with innovative finance schemes, including programmes that cover EMIs in the event of a job loss.
COVID-19 impact: Buy online or offline?
- 50 percent of respondents will continue with the established practice of visiting a showroom, test-driving a vehicle, and eventually buying from the dealer.
- Digital vehicle sales have seen a strong push in the last two months. Some carmakers want online vehicle buying akin to ordering pizza. Perhaps the idea is a bit far-fetched at the moment, as only 9 percent of respondents would research and buy their next vehicle completely online.
- In what could be a growing trend in the post-COVID 19 era, 41 percent of respondents were comfiest with the idea of research online and buy offline. Testing a vehicle at one's own residence and completing booking and payment formalities without the need to visit a dealership could even become the standard practice soon enough. Auto makers and dealers who don't offer this option stand to lose.
COVID-19 impact: The feature of interest
- When queried which feature they'd like incorporated on their vehicle, the majority of respondents felt an air purifier was a must. Germ filters and sanitisation kits were other popular answers. The COVID-19 pandemic has instilled a fear among vehicle owners and the top choices of feature inclusions are reflective of this. Would, say, the introduction of a COVID-19 vaccine impact the choice of desired feature is anyone's guess. Interestingly, affordable electric cars and voice-activated systems also found mention in the responses.
The wheels are turning
Electric vehicles, autonomous cars and shared mobility might have long been the buzzwords in the auto industry but, as things have turned out, it's the COVID-19 pandemic that's brought about the ultimate disruption. Could COVID-19 change the way we think of, use and buy vehicles for good? We wouldn't bet against it.
What do you think about this News