The idea of a road car with 1,000hp seemed faintly ridiculous not long ago. But now, there's a growing number of members in this exclusive club. Many far exceed that entry requirement and even take help from electric motors – that points the direction hypercars are taking.
To find out what your options are to join the 1,000hp club, here's our list of those that make the grade in ascending order of power output:
Bugatti Veyron 16.4 - 1,001hp
Kicking things off, is the original Veyron 16.4 that made its debut back in 2005. The original Veyron just scrapes its way into this list with an 8.0-litre, W16 quad-turbocharged engine, that churned out a mammoth 1,001hp and 1,250Nm, allowing the hypercar to go from 0-100kph in just 2.5 seconds (claimed). These numbers were impressive when the Veyron was introduced, and continue to impress to this day.
Tesla Model S Plaid - 1020hp (2021)
If the regular Model S from Tesla wasn't enough to give you the visceral thrill you were after, the brand's recently revised Model S Plaid will certainly change that. With just over 1,000hp on offer and an official kerb weight some 200kg lesser than that of a Porsche Taycan Turbo S, the Plaid can go from 0-100kph in a claimed 1.99 seconds. Whilst this may only be achievable in the most ideal conditions, these are still some eye-watering numbers.
Lucid Air - 1,126hp (2022)
The 2022 Lucid Air certainly earns it's keep within this list, yet achieves it with no tailpipe emissions, lithium-ion batteries and twin-electric motors. Lucid will sell you a slightly less performance-oriented model if you're simply looking to do your part for the planet. However, this is the version to have if you want to keep company with other 1,000hp cars. Choose the more potent version and it goes from 0-100kph in 2.5 seconds with a restricted top speed of 350kph.
Impressive stuff for a four-door saloon aimed at the luxury end of the market. Just as relevantly, the Air can manage up to 537km between recharging halts, and rapid charging ensures you can be ready to go in 30 minutes.
Aston Martin Valkyrie - 1,176hp (2021)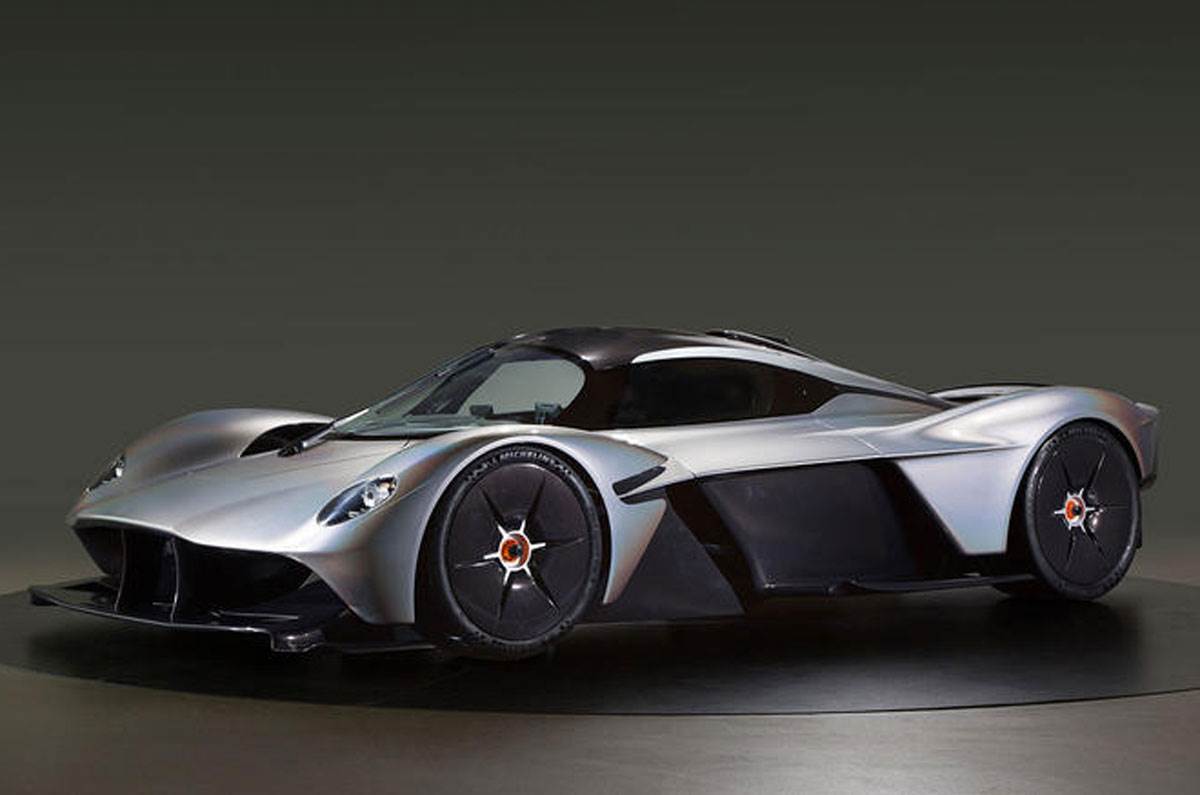 It didn't take Aston Martin long to shift all 150 road-going Valkyrie cars as customers clamoured for the V12-engined hypercar, each selling for an impressive £2.8 million (around Rs 27.99 crore). With 1,176hp, it's easily the most powerful car the company has ever produced, and the quickest too. Aston says the car can lap the Silverstone Grand Prix track in the same time as a current Formula 1 car, thanks to huge amounts of downforce that allow for high cornering speeds.
The 6.5-litre V12 petrol engine puts out 1,014hp, while the electric motor adds another 162hp to the mix. To build these engines, Aston sought help from Cosworth, for the V12, and Rimac, for the electric motor, and combined them to offer over 1hp/kg thanks to the car's 1,030kg weight.
Zenvo TSR-S - 1,193hp (2021)
Having previously taken the guise of the lesser-powered (if you can call it that) 'TS1 GT' which made its debut in 2016, the TSR-S takes itself just that little bit more seriously and incorporates a revised and even brawnier powertrain producing 1,193hp, along with some seriously impressive active aero. With a twin-supercharged 5.8-litre V8 sitting just ahead of the rear-axle, the TSR-S is able to complete the 0-100kph dash in as little as 2.8 seconds and go on to hit a limited top speed of 325kph.
Having only manufactured around five units per year previously, the TS1 GT derivative never seemed to catch on as a viable alternative to other mainstream options available at the time.
Bugatti Veyron Super Sport - 1,200hp (2010-2011)
The Veyron may have been usurped by the Chiron now, but Bugatti's original hypercar remains the most recognisable and the Super Sport was its ultimate incarnation. Its 1,200hp was some 199hp more than the standard Veyron and pushed top speed up to 431kph while the 0-100kph sprint remained unchanged at 2.5 seconds.
Only 25 Super Sports were made. It's also worth considering that the engine could drain its 100-litre tank in less than eight minutes, if driven flat out.
Mercedes-AMG One - 1,248hp (2022)
The idea of a Formula 1 car for the road has never really been realised, but Mercedes-AMG gets closer than most with its Project One. Using an F1-derived hybrid power set-up, the Project One comes with a 1.6-litre, V6 petrol engine and four electric motors to deliver up to 1,248hp.
Electricity isn't just for the quadruple motors either, as the Project One's turbocharger is electrically powered to get the most out of every drop of fuel. As a result, the Mercedes covers 0-100kph in less than 2.5 seconds and doesn't stop till 350kph is registered on the speedo. Only 275 units have been given the go ahead for production. It's been quite a while since Lewis Hamilton unveiled the concept car, named Project One, at the Frankfurt motor show in 2017. But, we hope to finally see customers getting deliveries in 2022.
NextEV NIO EP9 - 1,379hp (2016)
The NextEV NIO EP9 has recorded a 6min 45.9sec lap of the Nürburgring Norschleife, putting it just half a second behind a Lamborghini Aventador LP770-4 SVJ on very sticky tyres. So, the EP9 is the quickest EV so far around this track and very quick in corners as well as in the straight line.
It does help when you have 1,379hp, or 1-megawatt, on call from the NextEV's four electric motors. Just as vitally, the EP9 comes with active suspension and aerodynamics that generate 2.5-tonnes of downforce at 240kph, to come close to matching a Formula 1 car.
Koenigsegg Agera RS - 1,379hp (2017)
The Koenigsegg Agera RS is a derivative of the Agera, with power and output dialled up to eleven! Weighing in at 1,395kg, the hypercar is powered by a 1,379hp (1-megawatt), 1,280Nm, 5.0-litre, twin-turbo V8. The most impressive thing about the Agera RS was its top speed record for a production car, which it took from the Bugatti Veyron Super Sport, after it recorded a two-way average speed of 447.2kph. With this record, Koenigsegg also took the record for the highest speed ever recorded on a public road, previously held by Mercedes-Benz since 1938, when a highly modified W125 Grand Prix car managed 431kph on a closed stretch of the Autobahn.
Bugatti Chiron - 1,500hp (2016)
Questions were raised by many over how the Chiron would trump the Veyron, when Bugatti launched the new model. But, a leap of 300hp (over the Veyron Super Sport) to come up with 1,500hp, was still a surprise. That's a lot of power needed to hit its 420kph top speed. Interestingly, this is electronically limited, as standard tyres will not be able to cope with more. A modified Chiron, however, currently holds the production car world speed record, cracking 490.48kph in 2019.
While that top speed is attention-grabbing, it's what the 8.0-litre, quad-turbo W16 engine does that's entertaining. Nought to 100kph in 2.4 seconds isn't as quick as some, but the Bugatti just keeps forcing its way forward with no let up, before it butts into its 400kph limiter, like a bull annoyed at being held back by a gate. It's a demonstration of just how powerful the Chiron is.
Koenigsegg Regera - 1,520hp (2016)
Koenigsegg is unapologetic about not chasing ever larger numbers from its turbocharged 5.0-litre V8 motor. It reckons that's plenty, and instead sought better throttle response with smaller turbos. This is possible thanks to the engine making 1,115hp on its own and any lag from the turbos is filled in by the 710hp electric motor, giving a combined 1,520hp.
So, the Regera is a hybrid hypercar that has a 410kph top speed reined in by an electronic limiter. It can also cover 0-100kph in 2.8 seconds and sprint from rest to 300kph in 10.9 seconds. All of this is managed without a traditional gearbox as the Regera uses the Swedish firm's Direct Drive transmission, that helps keep weight down to 1,590kg, compared to the Bugatti's Chiron heft at 1,995kg. The Ragera's production was capped to just 80 units.
Koenigsegg Jesko - 1,622hp (2019)
Revealed at the 2019 Geneva motor show, the Jesko is the Swedish carmakers newest model, that aims to claim the top-speed record. The Jesko uses a twin-turbocharged, 5.0-litre V8 engine that churns out 1,622hp and 2,177Nm of peak torque. The engine is mated to a unique multi-clutch 9-speed transmission which will allow for a theoretical top speed of 531kph (330mph) in its top-speed set-up.
Koenigsegg also plans to sell the car in two different configurations – one for track use and one to maximise on-road top speed (the Jesko Absolut).
Hennessey Venom F5 - 1,842hp (2020)
Hennessey describes the Venom F5 as 'America's Hypercar'. That's about as fair a description as you can get before the numbers begin to boggle your brains. It's easily done when you consider this sleek looking machine packs a 7.6-litre, twin-turbo V8 with 1,842hp. This is enough for a claimed 0-100kph of less than 3.0 seconds, 0-300kph in under 10 seconds and 0-400kph needing less than half a minute.
Another consequence of the Hennessey's huge power output is a top speed of 484kph (claimed). Only 24 Venom F5s are planned for production.
Rimac Nevera - 1,941hp (2021)
Rimac had already made its mark with the Concept One electric hypercar. Each of the eight battery-powered cars were capable of 0-100kph in 2.5 seconds courtesy of its 1,241hp. But that's not enough for this Croatian firm, so it's come up with the Nevera with 1,941hp from its two front and two rear motors.
The company is planning to build 150 models of the zero emissions car that's able to dash off 0-100kph in 1.85 seconds and carry on to 415kph, thanks to new liquid-cooling for the battery packs. Fully charged, they offer a range of 549km as tested under WLTP conditions.
Lotus Evija - 1,999hp (2020)
Having previously only ever manufactured cars that were massively capable through the bends, Lotus's new Evija is a far cry from Elises and Exiges of old. With four 500hhp electric motors sending power to each wheel individually, Lotus has created the most powerful road-going production car to date. Although Lotus draws attention to the fact that the Evija is not simply a one-trick pony, its straight line credentials are certainly noteworthy. 0-300kph happens in just nine seconds, although a top speed is yet to be confirmed.
Production of the Evija will be limited to just 130 units and Lotus also claims the car will deliver around 346km of range on a full charge (WLTP). However, if the boundaries of its performance are even remotely explored, you'll likely get nowhere near that.
Which of these high powered automobiles is your favourite? Do let us know in the comment section below.