The Multistrada 1260 Pikes Peak is an incredible machine that eats our roads for breakfast.
Last year, Ducati upgraded the Multistrada to the new 1260 model, which featured a bigger engine packing an even harder punch of performance. The bike you see here belongs to that new family, but this one sits at the very top of the 1260 food chain. You see, Ducati didn't just build a fast motorcycle and stop there, they also took it racing. In the hands of American racer Carlin Dunne, the Multi has won the famed Pikes Peak Hill climb three times since 2011, which is just incredible when you consider that it's effectively a tall and heavy machine. In fact, it was this same bike that won last year. Well, almost the same, because aside from swapping the stock tyres for a set of racing slicks, some revised ergos and a different front brake master cylinder, Dunne essentially rode the same bike that you and I can ride out of a Ducati showroom. How special is that!
The sixth element
To celebrate, Ducati launched the Multistrada 1260 Pikes Peak, a motorcycle that uses the base engine and chassis of the Multistrada 1260, but gets a sprinkling of some carbon-fibre exotica on top, along with a high-spec Ohlins suspension setup. If you know your Multistradas, you'll immediately realise you're looking at an extra special one, thanks to the new windscreen that is much smaller than the more touring appropriate one on the 1260 and 1260 S. Apparently, Dunne knows his way around Pikes Peak with a blindfold on, because this windscreen is made out of naked carbon fibre, and being able to look through it is not on the options list. Fans of this exotic and fiendishly expensive material will also find it in the front fender and on a big strip that runs around the forward edge of the fuel tank. This strip streams down on either side to culminate near the strange beak-like area that is synonymous with the Multi's design.
Naked carbon is great to show off, but in this quantity, its weight savings over plastic aren't going to be dramatic. What does save weight more significantly is the forged aluminium wheels that this bike proudly wears. Factor in the less complex, mechanical suspension and that sexy carbon-fibre slip-on Termignoni exhaust and you have a bike that weighs just 4kg more than a Royal Enfield Interceptor 650 when dry. Even with the massive engine, vast cooling system and 20-litre fuel tank filled with the appropriate fluids, the 229kg kerb weight is still lower than a Benelli TRK 502's. Have fun with that math.
Staying grounded
Colour scheme and these changes aside, the Pikes Peak looks just like its 'normal' siblings. It's got a wide and striking front end, a deeply scooped-out seat and a single-sided swingarm that puts the rear wheel on display. While not traditionally pretty, it's a damn good-looking machine and the level of kit and technology on offer is so in-depth, it borders on overwhelming.
If you've read my column this month, you already know that these LED headlamps with their cornering function are sensational, but the real techfest faces the rider. The crisp TFT display is controlled via the fairly complex switchgear setup and it's going to take a while to master how it all works. The electronics package is identical on this bike; so you get the same combination of four riding modes that can also be individually set up via three power modes, multi-stage traction control, wheelie control and tunable cornering ABS. It might sound excessive, but you'll be thanking your stars it's all there every time you find the courage to whack the throttle open.
Beast mode
The Pikes Peak packs the 1,262cc, liquid-cooled L-twin from the 1260 and 1260 S models in the same 158hp/129.5Nm state of tune. Performance is incredible and anything above 3,000rpm feels absolutely mega. This is no lazy-revving V-twin, and if you can hang on post the brutal mid-range, there's a raging top-end to experience as well, one that gets interrupted for the briefest of moments at 10,500rpm, as you snick through the smooth up/down quickshifter to repeat the whole process.
Speeds can spike from comfortably legal to alarmingly quick, all the way to downright idiotic faster than your brain can keep up. It takes serious self control to ride at a pace our roads dictate, instead of what the Multi can so easily sustain. On the plus side, this isn't one of those bikes you have to ride flat out to enjoy and its completely effortless ability to flit between 70 and 130kph makes it the highway machine right out of a dream.
For a bike with such a large front section, the Multi feels surprisingly slim and manageable.
Superbike-spec M50 brakes mean that this bike can evacuate you from a sticky situation just as quickly as it got you there. The only thing I'd change is perhaps add in a bigger rear sprocket, because the gearing feels too tall for the way we tend to ride bikes in India. As we've grown to expect from big Ducatis, the engine dislikes anything below 2,500rpm, the clutch is heavy and things get properly toasty if you're stuck in heavy traffic.
Brembo M50 brakes are mighty.
Peak fever
But this is exactly what you'd experience with the standard Multi 1260. What's unique with the Pikes Peak is the fully adjustable Ohlins suspension. Like its siblings, it packs 170mm wheel travel at both ends; so it laughs off the worst our roads can throw at it just as easily. Despite the extra travel, suspension control is just what you'd expect from a sporty set of Ohlins, and the Pikes Peak is a seriously impressive handler, even with the stock Pirelli Scorpion Trail tyres, probably even better than the 1260 S. But the difference isn't that wide, and it's here that I wished for just a tiny bit more.
You see, when Ducati upgraded the 1200 to the 1260, they also tried to tone down the sports bike-like dynamics a bit, in exchange for more stability. Wheelbase went up by over 50mm and the steering rake angle was increased to 25 degrees from 24. The result was just what Ducati and apparently many of its customers were after. Dynamically, the Multi was still amazing, but it lost some of that urgency and eagerness to react, and that, in my eyes, accounts for the difference between 'incredible' and 'magical'. If not the 1260 S, the Pikes Peak deserved to have some of that reactive magic back.
To the mountain top?
The last-gen 1200 S stands as one of the most amazing motorcycles I've ever ridden in India. That was primarily down to its ability to instantly change character from sports bike-happy to shred at the track to comfy tourer eager to head back home no matter what roads lay ahead. Switching modes on the 1200 S (and now the 1260 S) not only adjusted the engine and electronics, but also set up the electronically adjustable Sachs suspension. Being able to set up the bike so easily for your riding mood, or for when you have a pillion/luggage at the back was what made it so very special, and the manually adjustable Ohlins on the Pikes Peak doesn't allow that.
As blown away as I am by this bike, I can only suggest you buy it if you love its exclusivity and the fancy carbon trinkets. As for me, I'd rather save the substantial Rs 4.5 lakh and get myself the full Multi experience with the 1260 S.
Ducati Streetfighter V2 video review
4849 Views|4 months ago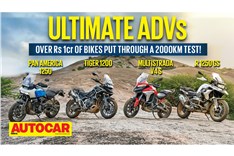 BMW vs Ducati vs Harley vs Triumph - 2000km ADV road trip...
6216 Views|8 months ago
2022 Ducati DesertX video review
8455 Views|9 months ago