Size matters, but not in the way you think. We find out if the smaller Multistrada 950 actually offers more excitement than its larger siblings.
Year by year, adventure touring motorcycles get more and more complicated, and the best example of this is the Ducati Multistrada 1200. Don't get me wrong; it's an absolutely wonderful motorcycle, probably the best in the class, but to ride it the way it's meant to be ridden, it needs more sensors and electronics than NASA owns. However, Ducati does have a solution for those who would like their adventure-tourers to be a bit more 'direct' and the approach it has taken starts with
a smaller engine.
Scaling down
Ducati has done some brilliant scaling-down jobs in the past with something like the Panigale 959, which is more manageable and, dare I say, more fun than the 1299, and even the Monster 821 which we like more than the 1200. So that's exactly the route Ducati took with the Multistrada – it plonked in a smaller 937cc L-twin engine (from the Hypermotard and SuperSport) and cut back on some of the more high-tech features. The end result is 113hp of power on tap and 96.2Nm of torque. It doesn't get the two spark plugs per cylinder from the 1200 either, nor does it get Desmodromic Variable Timing (DVT).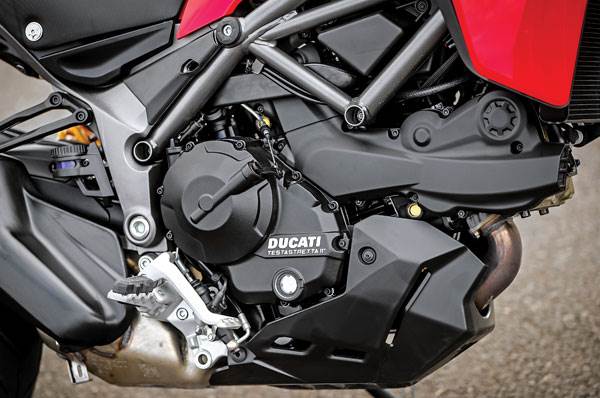 Motor is borrowed from Hypermotard.
Gone is the 1200's absolute ferocious acceleration which was enough to put the fear of god in riders who got too excited with the throttle. That's not to say that the 950 is a slouch; open the tap and the bike briskly builds velocity, all thanks to 80 percent of the motor's 96.2Nm of torque being available right from 3,500rpm. Our test ride in Fuerteventura in Spain's Canary Islands provided plenty of opportunities to test the motor's tractability at slow city speeds, and even when in slightly higher gears, the bike would pull away without the need for any clutch inputs. This same bottom and mid-range tractability also make for good thrust coming out of tight corners. For outright blasts on stretches of straight roads, the 950's motor performs quite admirably up to speeds of 150-160kph. Beyond that, of course, it's quick, but don't expect the kind of peppiness you get from the 1200. In almost all conditions, the 950's performance is far from disappointing. However, for those seeking sheer thrills, the larger motorcycle would be the one to go for.
Ducati Streetfighter V2 video review
4821 Views|4 months ago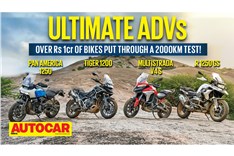 BMW vs Ducati vs Harley vs Triumph - 2000km ADV road trip...
6189 Views|7 months ago
2022 Ducati DesertX video review
8439 Views|9 months ago