Hero Electric has partnered with Bangalore-based fintech start-up Autovert Technologies to introduce alternative ownership models for Hero Electric's new customers.
Under this partnership, Autovert will allow Hero Electric customers to avail for subscription-based plans for an all-inclusive price at the time of a new purchase. The all-inclusive subscription plan starts at Rs 2,999 per month and includes the electric vehicle, along with bundled services such as comprehensive insurance, service, and maintenance and upgrade options.
The partners say these subscription plans will cater to the increasing demand from customers for alternative ownership options; and will offer more flexibility and features than traditional auto finance.
Also see:
Hero Electric introduces online bookings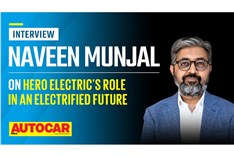 Naveen Munjal on Hero Electric and its future
2834 Views|9 months ago
Hero Electric AE-47 first look video
10297 Views|3 years ago