Hero Electric and Mahindra announced a partnership for electric two-wheelers some months ago, and now, the first batch of Hero Electric Optima and NYX scooters has rolled out of Mahindra's Pithampur facility. However, the company also sent us a communication back in February saying that the first Hero Electric vehicle had rolled-out from the Pithampur plant. The only difference in the two press releases from the manufacturer is that the February release mentions vehicle roll-out while today's communication says batch roll-out. It would appear, then, that February's occasion was a one-off, and now, batch production has begun. We reached out to Hero Electric for an official clarification and they have now confirmed this.
Another discrepancy is the manufacturing targets for Hero Electric. When the deal between Hero Electric and Mahindra was announced in January this year, Hero Electric declared a target of manufacturing "over 1 million EVs per year by 2022". Today's press release, however, contains a statement from Mr. Sohinder Gill, CEO, Hero Electric, saying that the company is "now well on its way to the half a million capacity that it planned a few months back". Hero clarified to us that the target is half a million at the Ludhiana plant and half a million at the Pithampur plant.
Mahindra doesn't have an electric two-wheeler presence in India, but it does own Peugeot's two-wheeler arm, for which it manufactures and sells electric two-wheelers overseas. The Pithampur plant is also where Mahindra manufactures electric two-wheelers for Peugeot. The partnership between the two companies entails not only manufacturing, but also joining forces in the R&D department.
If you were in the market for an electric two-wheeler, would you consider the Hero Electric offerings?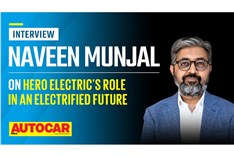 Naveen Munjal on Hero Electric and its future
3324 Views|1 year ago
Hero Electric AE-47 first look video
10694 Views|3 years ago